Loft interior design is convenient and functional solution for bathroom, which is perfect for people cheering unusual interior design ideas. The main features of loft bathroom are open space and combination of stylish and unusual details. Today we will share with you «Bathroom decor ideas: Loft bathroom».




Modern materials are commonly used in design of loft bathroom, which effectively blend with texture elements and finishing. Loft interior design is characterized by rough brick wall surfaces and concrete floors, causing the association with attic rooms of Manhattan. Particularly interesting loft design looks on background of objects made of metal and white plastic. If desired, walls in bathroom decor can be made like ceramic "Brick" or decorated with self-colored mosaics, and as floor covering could be used waterproof laminate or granite tiles with natural stone imitating surface.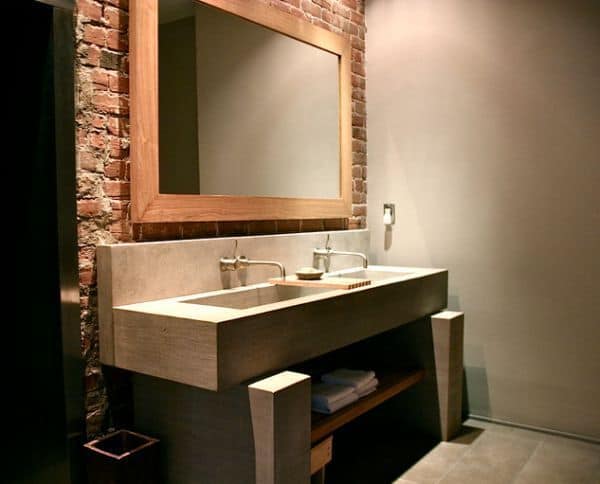 The ceiling in bathroom decor is recommended be painted in dazzling white color which will make it visually more bright and spacious. If wooden windows are installed in loft bathroom, color of walls can be given to them as well. Glass partition walls and shelves will complement bathroom decor, as well as parts made of chromium: legs for furniture, faucets and towel warmers.




In loft interior design must be a minimum number of furniture pieces as possible. Traditional cupboards in loft bathroom are recommended to substitute open shelves and racks, which can significantly save room area. Speaking about the choice of sanitary ware, steel bathtub made in retro-style will perfectly fit into loft design, as well as sink that have simple rectangular shape. More modern look to the space in loft bathroom will provide cutting-edge shower stall and large screen TV, located on one of walls.
Loft interior design also assumes use of small amounts of decorative details. The main emphasis in loft design is on play of variety of textures and design elements that give to room an "industrial" look, such as the paraded pipes or ducts, having a copper coating.
As stylish decoration in bathroom decor can act large mirrors, glass containers for storing various bath accessories, as well as different items with sparkling metal surfaces․




Hopefully our touch on «Bathroom decor ideas: Loft bathroom» will help to decorate your bathroom.