It is impossible to imagine modern human housing without a bathroom. Bathroom – one of the major important premises, which are of functional character: here we make hygiene and beauty treatments, relax in a warm bath or under the shower, when working day is over, freshen up ourselves after the night's sleep.

Bathroom design ideas 2017 are aimed to making modern bathroom design stylish, comfortable, beautiful and fashionable, without sacrificing functionality.
You will also like: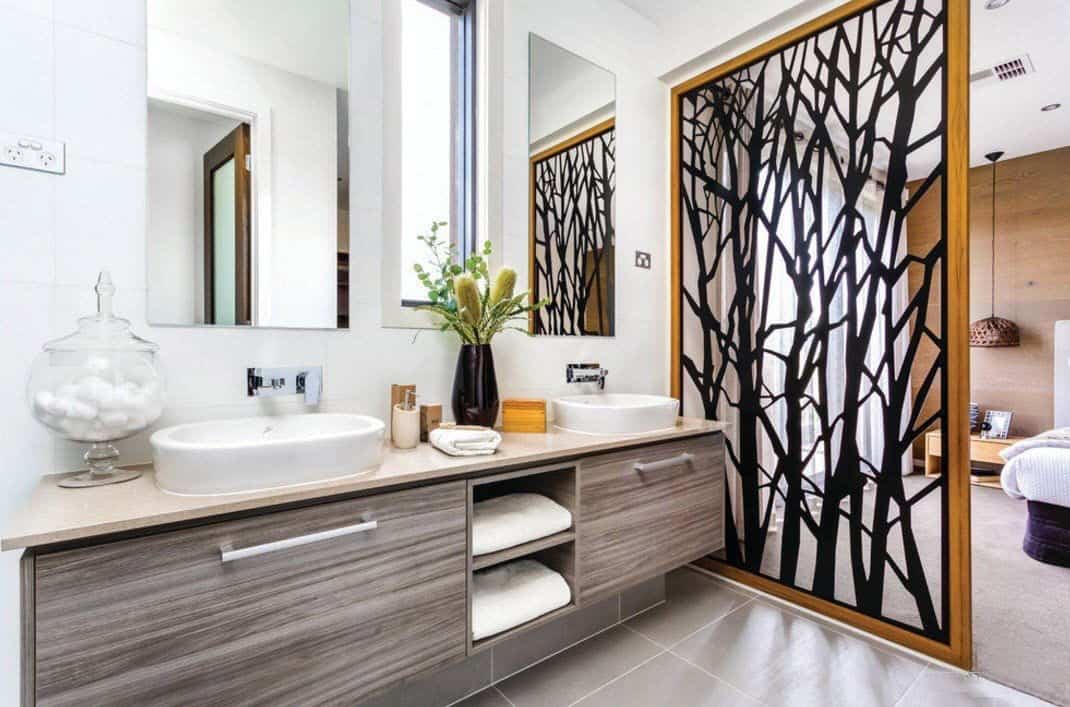 Modern bathroom design 2017
2017 recommends making choice in favor of minimalism and simplicity. Pithiness of forms changes frilly lines and the fullness of decoration that is why high-tech style is one of the favorites in modern bathroom design.
You can be original in your bathroom space, and this creativity is available only for large bathrooms. In 2017 it is worth trying to place sanitary engineering or furniture items not at the walls, but, for instance, at the middle of the bathroom.
New ideas are outlined in the use of decorative materials. Ceramics, glass, wood, natural stone or its imitation are widely used in modern bathroom designs and will be at the peak of the popularity.
According to bathroom design ideas 2017 lighting is also changing and instead of one main light source will appear multiple lighting devices highlighting separate areas.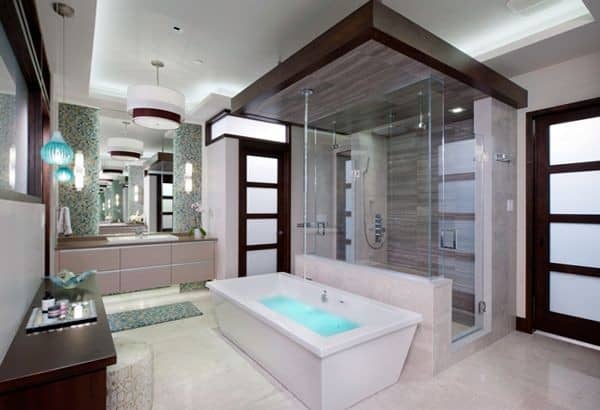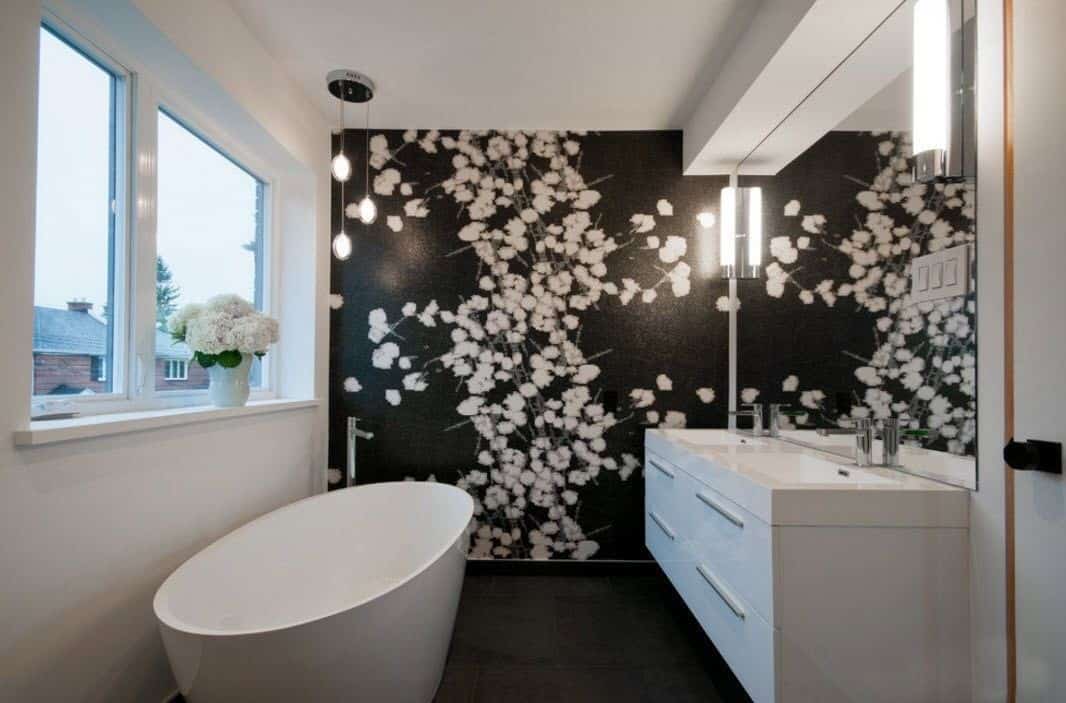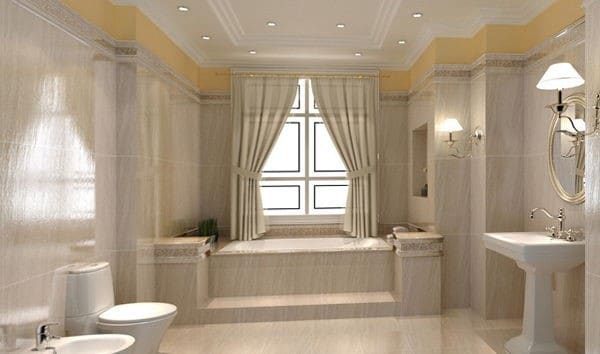 Color solution in Bathroom Design 2017
White, undoubtedly, plays the dominating role in bathroom decorating ideas. It visually increases the space and emphasizes purity especially important for bathrooms.
The classic decoration of black and white is the hit of the season 2017. Gray is also popular in finishing of the modern bathroom designs as never before. Gray-black-white palette allows creating unique interiors. For those who prefer brighter colors, as an accent, it is better to choose one of the bold natural colors: lemon, emerald, turquoise, blue and amber.




Topical decorative materials and tile in Bathroom Design 2017
As in other rooms of house, preference is to be given to natural materials, as they are traditional when you make a bathroom.
Ceramics, glass, metal, stone are classic genre for modern bathroom design. In 2017 this range is supplemented by wood. Wood or its qualitative imitation is used as a material for the wall panels, decorative elements, and furniture.
Stone (marble, granite, etc.) is a rather expensive pleasure. However, modern industry launching construction materials, offers a wide range of artificial analogues externally indistinguishable from the original. The stone is used to cover walls, floors, to make tabletops under the sink.
In addition to decorative stone, you can use brickwork forming an accent wall in the bathroom renovations. Floor covered with pebbles is an interesting stylistic solution; as if you are walking along the rocky beach.






Plumbing supplies in bathroom décor 2017
Without plumbing supplies, of course, the bathroom cannot simply be. Bath, sink, shower are indispensable elements which, as it appears, also influenced by fashion trends and bathroom decorating ideas. Bathroom design ideas 2017 prompts you to install bathtub with unusual shapes and even colors. Bathtubs are astonishingly varied: round, oval, egg-shaped, square, trapezoid and the choice is limited only by your preferences and size of bathroom. In short, Bathroom design ideas 2017 allow you to create the truly magnificent comfortable bathroom, where each held minute will seem a heavenly pleasure.