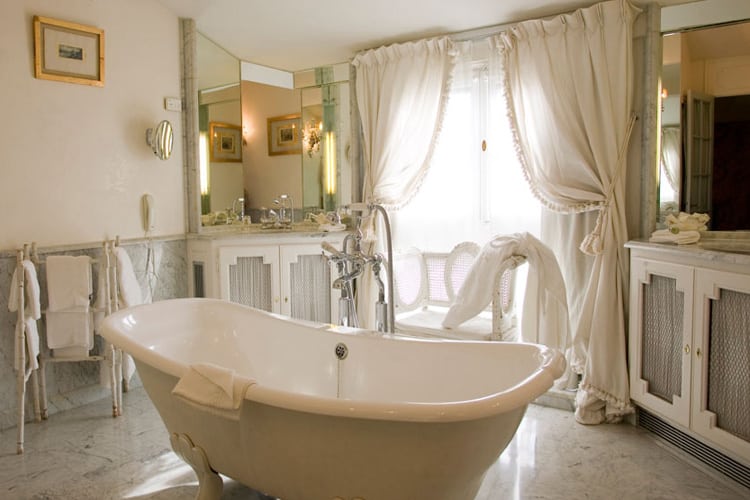 Provence Style can add glamour to your bathroom and provide it with unique charm of French provinces. But in order to make it really comfortable and beautiful, organization of space should be properly approached and each detail should be taken into consideration. Today we will share our touch on «bathroom design ideas: French bathroom decor».

Provence style bathrooms consists of bright and spacious room, where reigns warm and homely atmosphere. Walls in country bathroom are usually painted in soft pastel colors as pale green, pale blue, terracotta, beige, as well as celadon. Moreover, surfaces in country bathroom decor can be wallpapered in similar colors or covered with practical ceramic tiles.
Take a look at our articles about:
Very fresh and beautiful will look in bathrooms where walls are applied by means of artistic painting of natural scenery and wild flowers.


Bathroom design ideas: country bathroom flooring
If we talk about the choices of flooring for country bathroom, then the optimal solution will be stone or wooden floor, which has honey brown shade, as well as tile, which has similar texture and coloring. Laying a small soft rug on the floor will give to your French bathroom an extra comfort, which could be with floral patterns inherent to this style.

French bathroom sanitary ware
Particular attention need to be paid on choice of sanitary ware in French bathroom. A Bathtub in country bathroom decor can be made of any material, as long as it had Provencal rounded or curved shape. Quite often, these designs have curly wrought iron legs, covered with gold leaf or bronze. Oval sink with console, usually performed in similar design.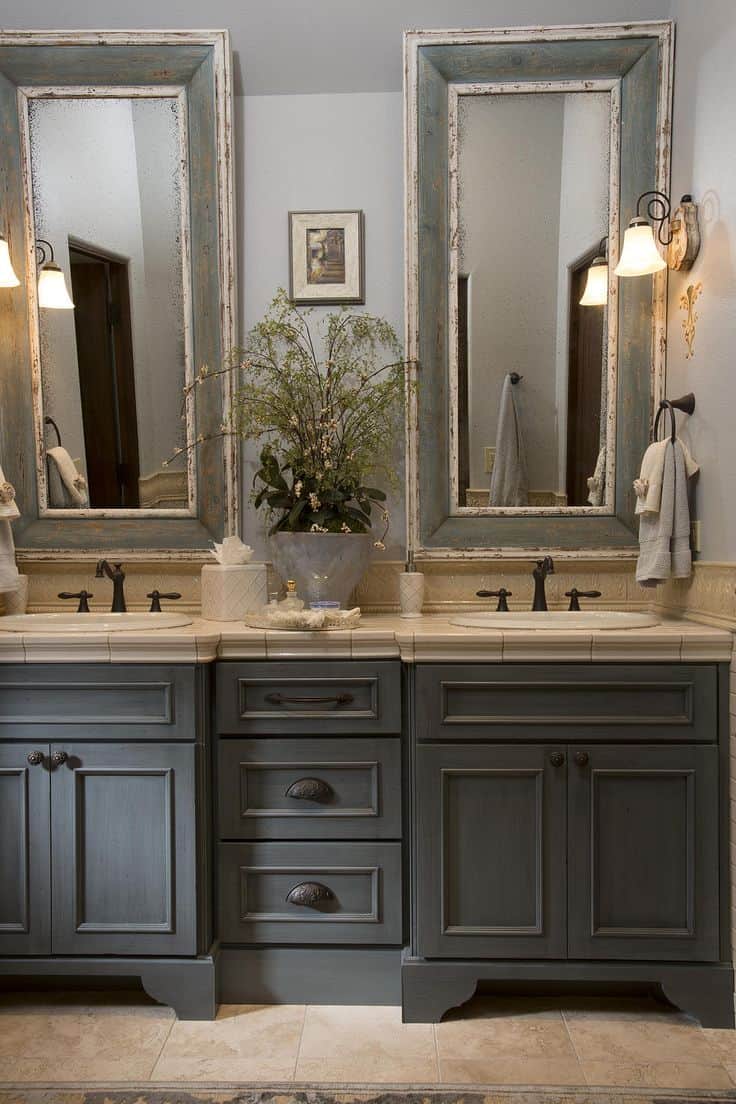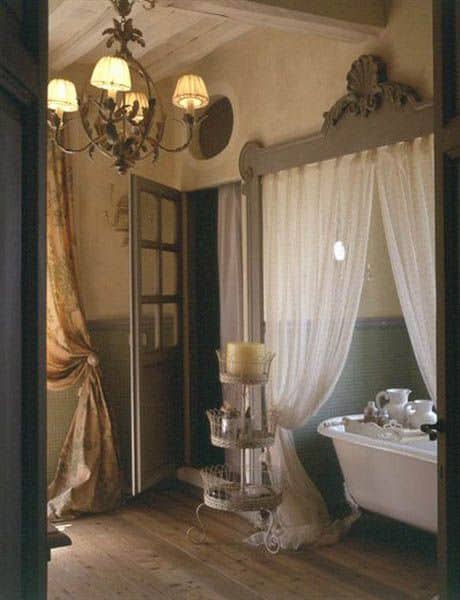 A separate area in French bathroom can be allocated for shower enclosure with glass walls, decorated with floral patterns and ornaments.

French bathroom decor ideas
In order to overall country bathroom decor composition has a holistic view, you should take care of the right choice of furniture for French bathroom decor. Typically, a country bathroom accommodated with massive and functional objects with artificially aged surfaces, as if slightly faded under sun. They are usually made of wood such as oak, teak and red tree. If desired, you can install in the French bathroom more budgetary furniture made of MDF, which looks not worse than expensive counterparts.



Especially organic in country bathroom decor will look products, painted in terracotta, gentle – blue, brown and light green shades. Quite often such furniture is decorated with curved wrought and carved details; sculpted wooden handles, as well as undersigned with patterns on floristic theme. If your space of room allows, country bathroom could be accommodated not only with cabinets and shelves, but also put small lockers as laundry baskets, wrought iron chairs, screens and elegant wicker table.

More country bathroom decor ideas and tips
Elements of decor, allowing creating a refined and elegant atmosphere in Provence Style bathrooms are playing important role. The unique flavor of French bathroom decor will give paintings, which depicts picturesque landscapes, as well as large mirrors and antique decorated frames.


An inalienable attribute of Provence Style is variety of textile products that need to be made of natural cotton or linen fabrics. If there is bathroom window, you should cover it with beautiful curtains, decorated with all sorts of ruffles and bows.
Light and elegant Provence Style will transform your bathroom into a cozy and comfortable place for taking water treatments in serene atmosphere, which is conducive to rest and relaxation.

We hope, that «bathroom design ideas: French bathroom decor» article was useful.