Steampunk bathroom transmits 19th century and fantasy aesthetics, industrial and Gothic chic, adventures' spirit and, of course, your originality and carving for intellectual development.
You won't meet it in houses often, as it needs excellent taste! Bathroom designs 2020 in that style keep basic trends, still staying fully their owners' individuality reflection.
Even if you're not ready for full fantasy makeover, some bathroom decor ideas would be useful for you.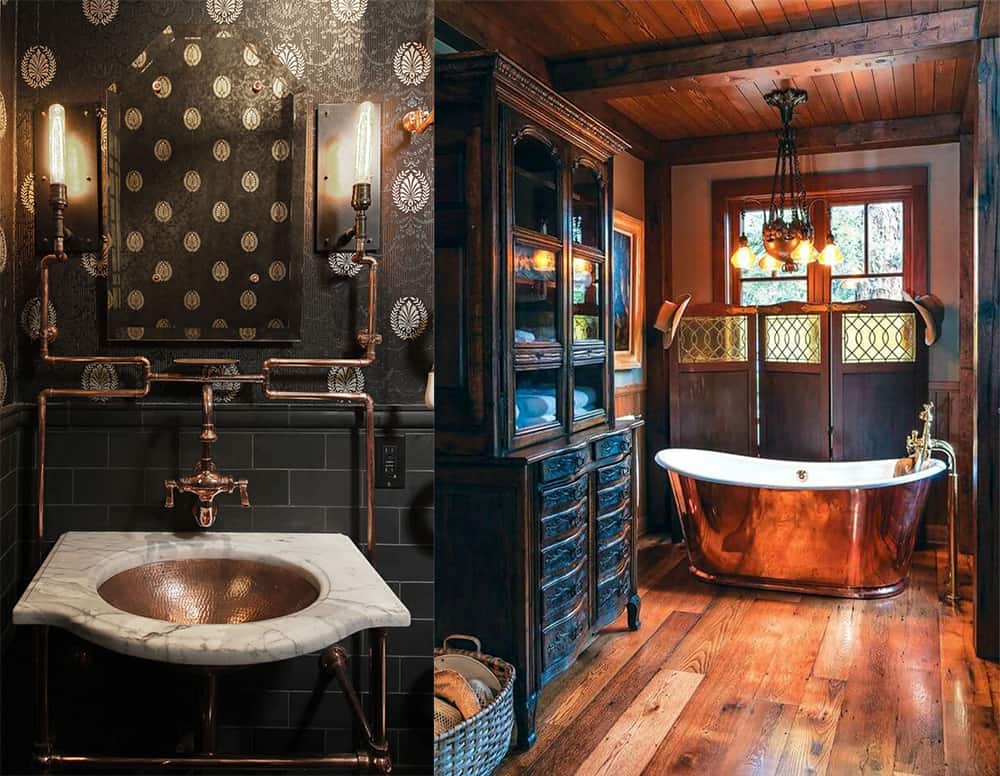 Read our «Bathroom designs 2020: Steampunk bathroom decor ideas» article to find out more.
Bathroom decor ideas: Steampunk basics
Steampunk bathroom – it's industrial and crazy! Much copper and especially brass, trendy in bathroom designs 2020, give special fantasy light warmness effect.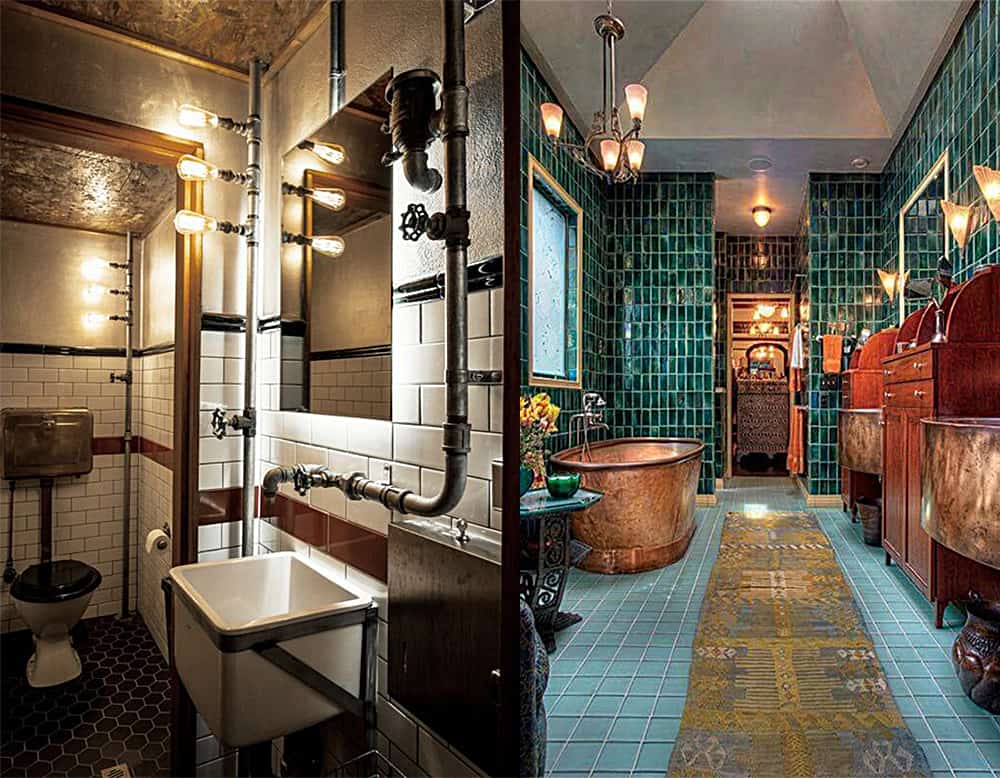 That option goes from last one – don't hide pipes, feel their aesthetics. They'll be main brass or copper decor elements.
Bathroom decor ideas with artificially aged metals are welcomed.
Don't miss our articles about:
Small bathroom makeover
Neat one-tone tile on floors meets as often, as rough stone or artificially aged wood.
Flooring can include special Steampunk motifs or scenes. Maybe, some maps, sea journeys theme or fantastic being.

Checkerboard flooring stays popular and gets many variations.
Walls can be both dark and light. They usually get Victorian epoch nuance: wallpapers with character patterns, some «velvet» look, tiles in one tone different shades, etc.

Painted walls should better be artificially aged, with scuffs, intentionally unevenly painted.
Ceiling design depends on your fantasy! It can simulate skies, be simple one-tone, finish industrial atmosphere with wooden beams or metal accents.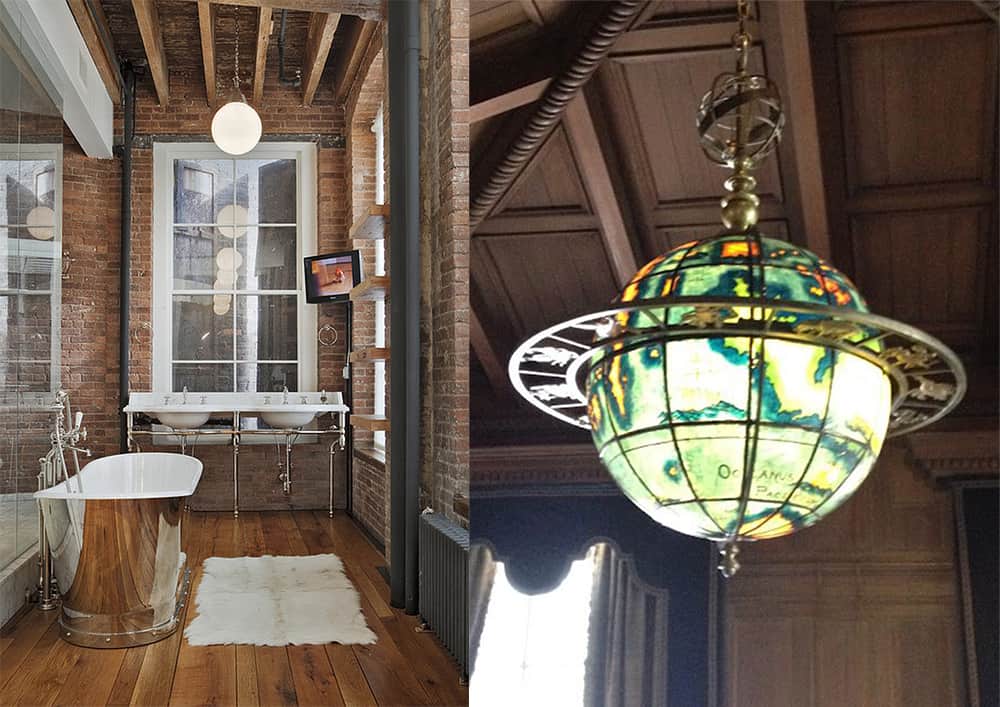 Bathroom designs 2020: Steampunk bathroom in details
Accessories make Steampunk bathroom mood!
Towel holders, door handles, lusters – all that should include pipes, mechanical details, steam technologies elements, traditional gears.

You can include some tender elements to bathroom decor ideas also, if you like it. We mean some Victorian chic: refined holders, carvings and small flower compositions.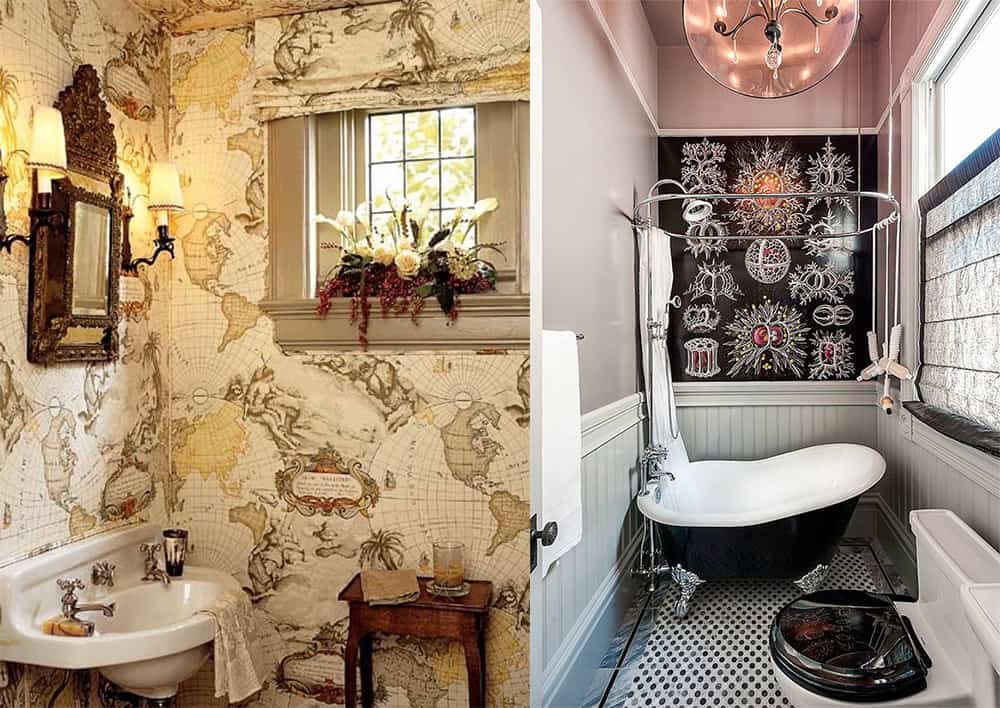 Bath, sink and toilet become brightest Steampunk accents! Make them brutal with shabby metal surfaces effects, rivets, chains and gears!

Bathtub in steam machine shape is design aerobatics!

Opposite way – elegant Victorian furniture and sanitary equipment.
Hopefully, our «Bathroom designs 2020: Steampunk bathroom decor ideas» article provided you into wonderful fantasy world of machines beauty and eternal romanticism at your own house.