Bathroom trends 2018 bring ideal comfort and unbelievable soaring elements' beauty. Mostly eclectic bathroom designs 2018 leave no problems with strict style choice and much space for imagination realizing. Even strictest interiors now should easily include fairy-tale fantasy details.
Bathroom ideas 2018 surely won't leave anyone indifferent!
Read about them in our «Bathroom trends 2018: Fresh design ideas for new season!» article.
Bathroom designs 2018: Colors and materials
Technologies meet nature – it's bathroom designs 2018 common credo!
Organic materials, as bamboo, specially treated bleached wood climb on actuality top! They peacfully coexist with shining high-tech surfaces and clear colors: icy white, grey, red, lemon, bright green.
Floor tiles get geometric shapes. Colors vary from darks group to ones inspired by Art Nouveau: violaceous, white, beige, celery. Water shades stay popular also.
Fantasy fans will surely love bathroom ideas 2018! First surprise for them (and many others) – iridiscent tiles, making fairy tale looking walls!
Second surprise – subway tiles ceded positions to scale ones! Those bathroom trends 2018 really mesmerize!

Multi toned concrete look bathrooms gain calm industrial interior lovers' hearts.
Black, any dark steel becomes unbelievably popular. Pay attention on saturated berry shades also.
Green appears everywhere, but won't be only used color.
Nature motifs can appear anywhere, so noble stone textures are welcomed.
Another option for bathroom designs 2018: floor reminding sea pebbles. Add bright orange fish paintings, for example.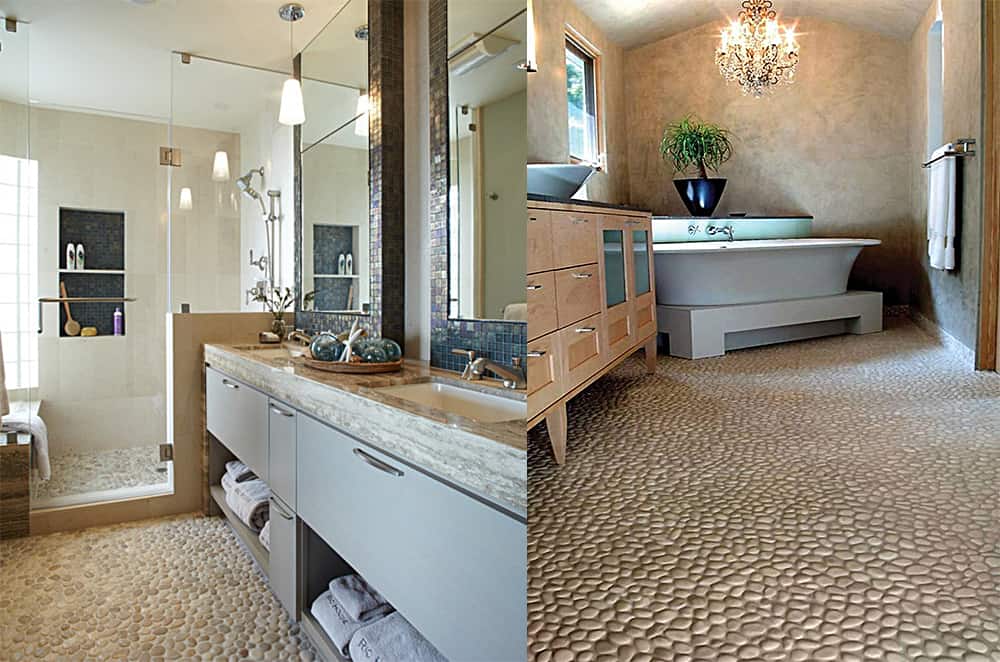 Brass looks noble and ultra-trendy!
Clay came back in beautiful details.
Bathroom trends 2018
The more automation, the better!
«Flying» sanitary ware rules in bathroom trends 2018! It means wall-hung design or soaring illusion. Accent it with LED stripes, applied to edges or under them.

Bathroom ideas 2018 sometimes stolen from nature! Small bathroom cascades give extra coziness! Choose as common stylistics: clay or stone elements beautifully go with bamboo walls, clay pots – for Rustic and Country bathrooms, glass ones – for High-tech style, etc.
Another cool eco trend – live plants. We highly recommend combining it with previous one!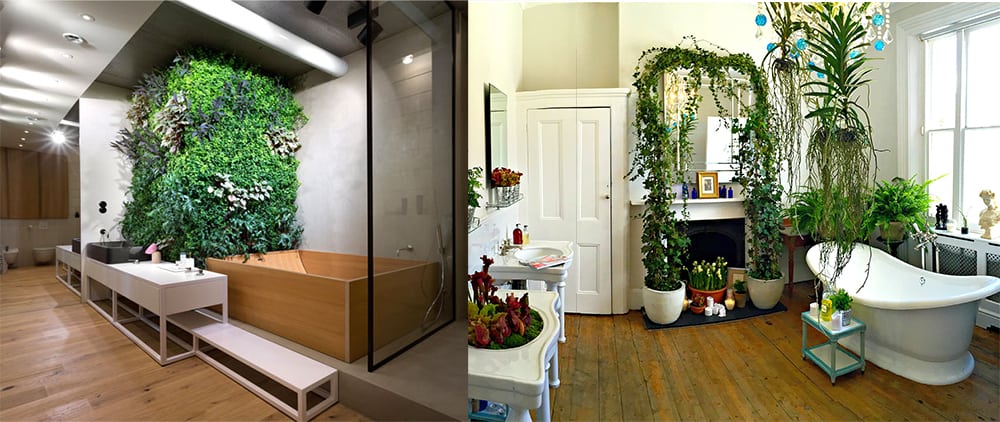 Hopefully, our «Bathroom trends 2018: Fresh design ideas for new season!» article made you keep your own small water paradise at home!
(Visited 759 times, 9 visits today)