Bathroom trends 2020 bring ideal comfort and unbelievable soaring elements' beauty. Mostly eclectic bathroom designs 2020 leave no problems with strict style choice and much space for imagination realizing. Designers took care about your comfort and self-expression.
Even strictest interiors now should easily include fairy-tale fantasy details. Styles' mixing opportunity creates good chance for old bathroom easy reviving to hottest trendy one!
Sometimes few details' change or restoration is enough.
Remember Rachel Ashwell, who made revolution in our minds with her Shabby Chic style.

Bathroom ideas 2020 surely won't leave anyone indifferent! We can say that even most "trivial" colors and solutions get new magic charm.
Modern bathroom is real piece of art!
And it still stays perfectly functional – more than ever.
Read about them in our «Bathroom trends 2020: Fresh ideas!» article.
Don't miss our articles about:
Bathroom trends 2020: Finishing and materials
Technologies meet nature – it's bathroom trends 2020 common credo! Materials' choice diversity makes bathroom design quiet fascinating process.
Organic materials
Organic materials, as bamboo and specially treated bleached wood climb on actuality top!
They peacefully coexist with shining high-tech surfaces and clear colors: icy white, grey, red, lemon, bright green.

Floor tiles get geometric shapes
Floor tiles get geometric shapes. It's something like new 60th with more early periods' styles mixing.
Colors vary from darks group to ones inspired by Art Nouveau: violet, white, beige, celery.
Water shades stay popular also.

Fantasy fans will surely love bathroom ideas 2020!
First surprise for them (and many others) – iridiscent tiles, making fairy tale looking walls!

Second surprise – subway tiles ceded positions to scale ones! Those bathroom trends 2020 really mesmerize!


Multi toned concrete
Multi toned concrete look bathrooms gain calm industrial interior lovers' hearts. Who thought concrete could look even tender? It's truly original!

Nature motifs
Nature motifs can appear anywhere, so noble stone textures are welcomed.

Another option for bathroom designs 2020: floor reminding sea pebbles. Add bright orange fish paintings, for example.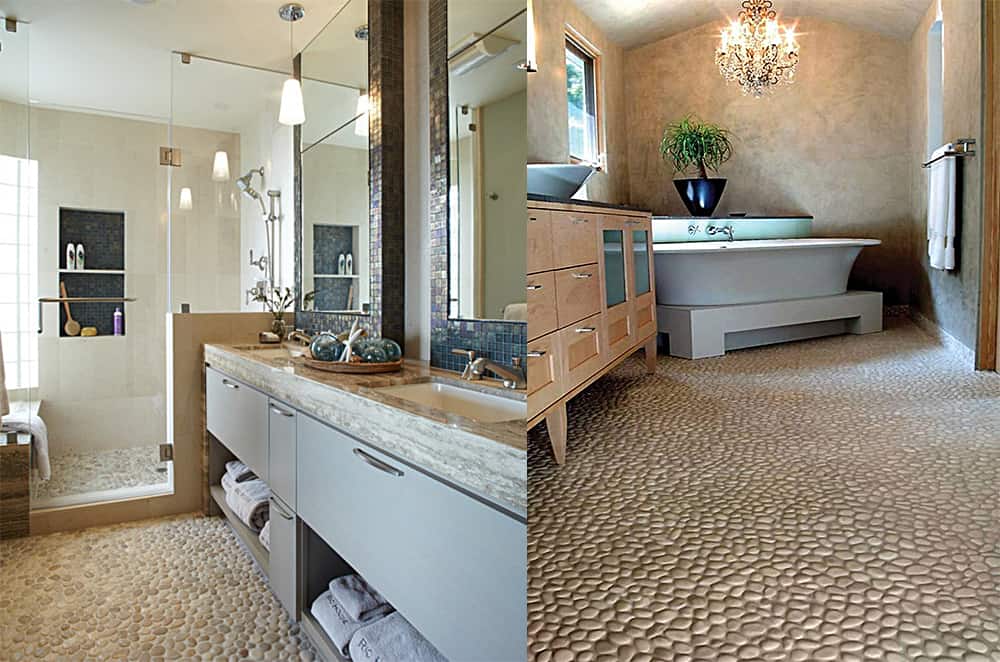 Brass
Brass looks noble and ultra-trendy!

Clay
Clay came back in beautiful details.
Bathroom designs 2020: Trendy colors
Bathroom trends 2020 are quite free about color. New bathroom designs deserve being named colors' music! Different shades mix in wonderful polyphony, where all parts complement each other.
Sometimes they remind brilliant variations on one color theme, revealing it's shades beauty.
Anyway, bathroom designs 2020 symphony always characterized be refinement and special atmosphere.
Black, any dark steel becomes unbelievably popular. Black becomes not only background color, but often «main character» also. Light shaded elements seem protruding forward thanks to black. So, it's good property to use for accenting some light furniture or decorating details.

Pay attention on saturated berry shades also. The Trendiest ones tending to deep purple, saving reds saturation. They're welcomed for any style! Of course, Rustic, Country and Provence bathroom ideas 2020 can include just small berry elements. But we sure, it will be most beautiful accents there.

Green appears everywhere, but won't be only used in color. As it's cool and warm tones to mix, you can create many non-trivial combinations.
Dark greens are harder to combine, but they're very trendy this season! Large bathrooms will look perfect with emerald basic!

Of course, we've listed just trendiest shades. But any ones are welcomed, if design made competently!
Furniture in bathroom trends 2020
Multiple styles furniture highlights bathroom trends 2020. Despite the general tendency to high-tech, you may meet refined Victorian bathtub near "wide" concrete sink. Competently combined they can make unique ensemble. Though, if you're choosing furniture without designer's help, stop on close styles to avoid mistakes.
Generally, newest bathroom furniture characterized with two opposite lines. First is keeping oval shapes. Second one tends to rectangular, cubistic forms.
Another interesting trend we mostly see in Bianchini&Caponi catalogs is Art Deco furniture rebirth. Such peaces will transform your bathroom into a royal one! Though, it should be better for large spaces.

Bathtub is, of course, bathroom ideas 2020 heart! Their variety goes from extra modern ones with LED lighting to old-style bathtubs with decorative legs. Choose ones with trendy brass legs, if it fits.

Shower cabin can have interesting design also!
Bionic vanities and sinks became extra actual. No wonder, they're so stylish and pleasant to eye!

Bathroom cabinets design depends on whole room's style. It can be something romantic and artsy or just rectangular, but non-trivial items. For example, try wooden one with multiple colors. Such things bring stylish joyful accents in bathroom designs 2020.
Bathroom ideas 2020
Modern people's fast life rhythm left its mark on bathroom trends 2020. They're mainly called to ease your life and provide maximum comfort. First option reflected in high-tech novelties abundance. Second one – in bringing nature elements home. Such tendencies mixing make bathroom designs 2020 close to modern human's heaven. So, you'll feel like you've got all contemporary amenities in nature's blossom.
The more automation, the better! Even if you've got typical medieval design, it won't bound your comfort. Just find fine things stylized to epoch you've chosen and feel home!
«Flying» sanitary ware rules in bathroom trends 2020! It means wall-hung design or soaring illusion. Accent it with LED stripes, applied to edges or under them.


Hide pipes and other "underground" things. Or, vice versa, demonstrate them, use as decorative element in Steampunk, Industrial bathrooms.
Bathroom ideas 2020 sometimes stolen from nature! Small bathroom cascades give extra coziness! Choose as common stylistics: clay or stone elements beautifully go with bamboo walls, clay pots – for Rustic and Country bathrooms, glass ones – for High-tech style, etc.

Another cool eco trend – live plants. We highly recommend combining it with previous one!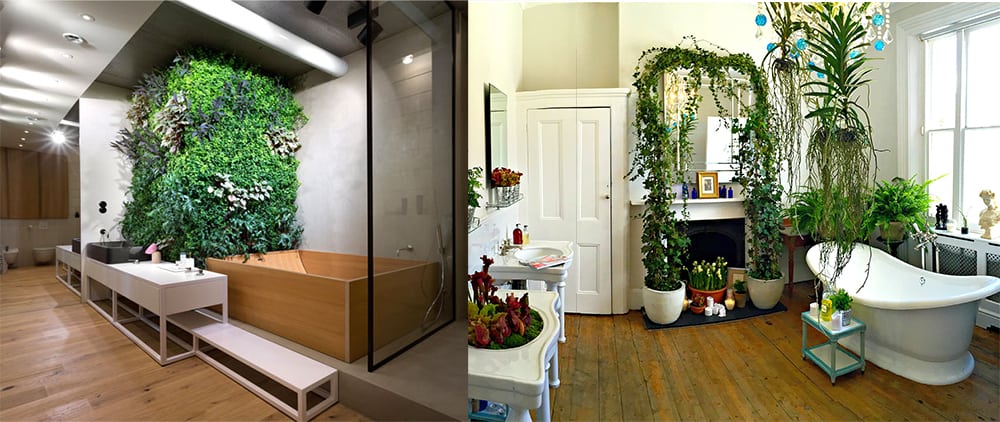 Use nature's shapes for whole harmony feeling! What about bathtub, remaining coconut? Such furniture really needs peaceful marine image background!

Hopefully, our «Bathroom trends 2020: Fresh design ideas for new season!» article made you keep your own small water paradise at home!