Bathroom trends 2020 offer you the best solutions of bathroom designs 2020. So, let's see what type of bathroom design will please your taste.

Bathroom trends 2020
Fortunately, in new, modern buildings, bathrooms are made to be more spacious rooms. So, you can easily create a personal SPA salon. The Internet magazine "Design House" says what the most fashionable bathroom designs 2020should be.

General bathroom trends 2020
The bathroom design 2020 can be in various styles. It can be in Minimalist, Province, Ethno, Eclectic, Neoclassical or Loft styles. The fact is that today it is recommended to design the dwellings completely in one style.
Therefore, you can talk about bathroom design trends 2020 only in the context of an apartment or a house interior design.At the same time, interior designers advise you to use plumbing novelties, which will ensure maximum comfort.
Bathroom ideas 202: Neoclassical bathroom design 2020
The main thing that distinguishes the design of bathroom trends 2020, is the desire to make this area ino a residential room.

By the way, at the beginning of the 20th century in Europe, for the most part, hygiene rooms differed by just having a floor covering.
People used tiles only in the area of the sink and the bath. Today, this trend is becoming popular again. So, in many houses you can see Neoclassical style bathrooms with dark oak parquet covered with varnish.
Another trend from the bathroom design trends 2020 is the installation of a soft, comfortable sofa in the bathroom. It can serve as a relaxation sofa after taking a shower or make you feel relaxed when hearing water sounds.
Neoclassical bathroom trends 2020 should have an appropriate textile design as well. We are talking not only about the curtains on a window. Canopy for a bath will also look original.
 Loft bathroom design ideas 2020
Design in Loft style continues to be at the peak of popularity in 2020. This year, you can use this design for a bathroom as well. To create a traditional tile, it should be replaced with tiny details that resemble bricks.
By the way, for this purpose you may use tiles that have a brick effect.

Some walls can be dug with concrete. At the same time, its surface should be extremely rough, with traces of tools with which it was applied. Loft style bathroom trends 2020 shouldn't seem just not well-designed.
Moreover, you should apply the latest trends of modern plumbing. It should be in a simple form, but with a different and an unusual appearance. For example, a transparent sink or a bath in form of a large aluminum, will make it look original.
By the way, one of the interesting solutions is to design the walls with tiles of old boards.
 Antique bathroom design ideas 2020
Classical style is always in fashion. So antique bathroom is a great choice. Its arrangement will require great expenditure. However, the result will be worth it. The main material for creating an antique bath is the natural stone. We can use them for floors and walls.
Stones will work for baths and counter tops, as well. Usually marble or light grades of onyx and travertine are used. Since they absorb moisture well, we recommend you to expose their surface with a special technique that prevents water absorption.

To create an antique bathroom decor 2020, decorate the room with columns and pilasters on walls. You can create pictures, for example floral ornaments, with the help of mosaics. Decorate with vases in form of Greek amphorae.
Bathroom trends 2020: Scandinavian bathroom decor 2020
Bathroom ideas 2020 offer you the Scandinavian style as one of the bathroom design solutions. Such kind of design is a really great idea for those who have a modest budget. To create such design you need to use expensive materials.
The main requirement is the rejection of dark colors. The first violin in the interior design should play white. It always plays the leading role in the interior design. Instead of applying additional colors, use natural color of wood from which the bathroom furniture is made.

Does white color seem artificial to you?
In case it is so, then you can make the interior more attractive by applying tiles in black or navy blue. It will suit the towels and other textiles, as well. Note that bathroom trends 2020 offer you to have a little window there.
Japanese style in bathroom trends 2020
In the past few decades, minimalism has been the leader in the field of interior design. However, for many people this kind of interior design seems too concise.
So, Japanese bathroom trends 2020 offer you a good alternative. Japanese interior design combines environmental and minimalistic designs together. It allows you to create a room that will be an ideal place to relax.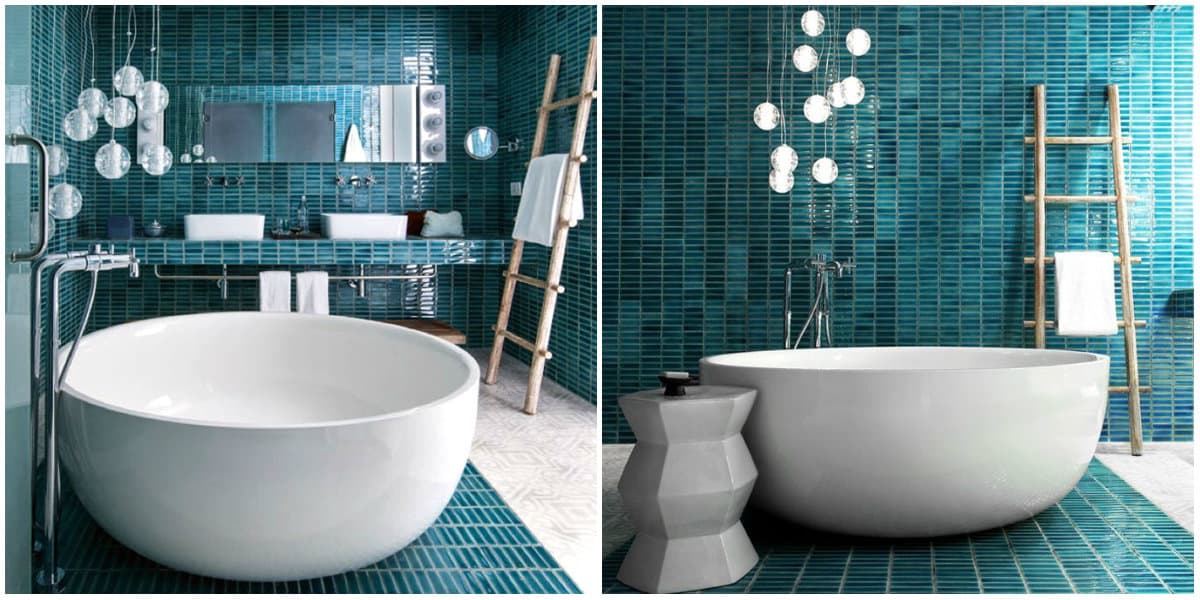 First of all, for creating this kind of arrangement, you need natural materials. For a Japanese bathroom you should apply restrained colors. It comprises of natural wood colors, as well as black, white, bamboo and sometimes red.

The latter is usually applied to the image of the sun, symbolizing Japan. In the decor you can see ink drawings of prints on tiles in form of branches of blossoming sakura, images of cranes and other traditional motifs of fine art of the country of the rising sun.
Bathroom ideas 2020: Vintage style bathroom design ideas 2020
Retro lovers can have a bathroom in English style. This interior differs with its restrained design. Provided the English bathroom is your choice, then get ready to pay much for its arrangement.
You will need to purchase a special bathroom furniture and tiles in vintage design. You can buy them in show-rooms of well-known brands. However, products from vintage collections are usually produced in limited quantities.

For reaching the final result of the English bathroom, you need oak flooring and wood panels.
Black and white tiles will also be suitable as floor covering. In case your bathroom has a window, it can be arranged in form of stained glass, or you may use a textile design.
In the latter case, expensive fabrics will be suitable as curtain material. A must-have element, which should be decorated, is a ceiling chandelier in the appropriate style.

So, as you see bathroom trends 2020 come up with a variety of options for people with different tastes. We hope that our article helps you find the bathroom design 2020 that will suit your home design as well.