Do you enjoy unusual approach to interior design, stylish and memorable design of the rooms? Certainly your answer is yes! Then we offer to consider bathroom decorating ideas and especially brown bathroom ideas. No doubt it's unusual and one hundred percent stylish!
Brown color and bathroom decor


You will also like:


Basically, everybody prefers lighter colors, when it refers to bathroom decor. Sanitary as a rule is either white or pale blue. Do not be afraid of breaking this stereotype. At least concerning your own bathroom; arrange it as brown bathroom.
Walls in brown bathroom: choice of tiles
If you decided to have brown bathroom, first step of bathroom remodeling is selection of ceramic tile. It's not secret, that majority select tiles for bathroom wall decoration: they are comfortable, functional and durable. Make sure that tiles are in well harmony with overall bathroom decor. Despite that we have already decided decoration color, bathroom decor can be very different: ranging from classical to country, loft and avant-garde.




So, dwell on option, as possible close to classics. You can choose one-color brown small or medium size square tiles. It will look neat and rather quiet in brown bathroom. If you like graphic walls, so select tile with pattern, but not too intrusive. In combination with the saturated tile tone it may already be too much.




Bathroom accessories and Furniture selection for brown bathroom
When you will choose bathroom accessories and furniture for brown bathroom, probably will encounter such problem like some limited selection range. Basically, bathroom accessories, no less than all kinds of shelves and lockers are available in stores and on market in light colors (or chrome), consequently in order to choose exactly what you need, without grabbing first available brown thing for bathroom decor, you should make some research. Or order somewhere in the vast expanses the Internet.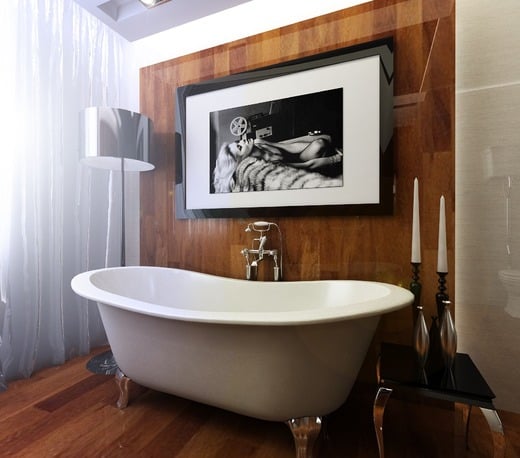 Color combinations in brown bathroom decor
Summing up a little and examine in greater detail, combining which colors and shades of brown in brown bathroom will be most advantageous? Of course, first thing that springs to mind is shades of beige and ivory. It is like coffee latte; very few people can remain indifferent! Brown and beige caramel, rich chocolate and medium intensity ivory; all these combinations and brown bathroom ideas will look impressive, cozy and very stylish.
Good luck with bathroom remodeling! Hope that our brown bathroom ideas were helpful.