Admirable Rustic bathroom decor provides opportunities both for brutality and serenity concepts realization. Style's name came from Latin «rusticus» – «village», coming from «rus» – «brutal», «uncouth». To understand our bathroom design ideas direction, let's turn to architecture. «Rustication» term means outer walls coating with quadrangular stones, tightly fitting to one another. Stones' front side left rough.
So, our aim is contemporary bathroom design, giving village life artistic interpretation. It contains some Vintage charm, thematic hand-made and natural materials aesthetics. Style creates relaxing, but still not mawkish atmosphere.
Are you intrigued? Read our «Contemporary bathroom design: Incredible Rustic bathroom decor» article.
Rustic bathroom decor: Special furniture
Simple white, concrete or brass (faux aged) bathtub looks good in Rustic bathroom decor. But if you need really atmospheric one, coat it with rough stones, artificially aged wood.
Rectangular bathtubs look so epic! Partial coating with stone or pebbles makes it even more efficient.
Bathtubs with modern acrylic prints technology providing real village atmosphere also. Don't be afraid of crazy bathroom design ideas – choose faux cracks or even… cow prints!
Brutal open shelves from rough, uneven wood – it's really charming!
Same material looks good for cabinets. They'll bring contemporary bathroom design some fairy tale strokes. Pay much attention on decorative handles.
Sink can be both simple white and brutal, concrete or even imitating big stone.
Bathroom design ideas: Expressive Rustic coating
Despite of furniture and sanitary equipment importance, Rustic bathroom decor begins from walls, floor and ceiling. Empty bathroom should already "speak" Rustic language.
Deliberately careless, uneven coating and surface give walls especial character.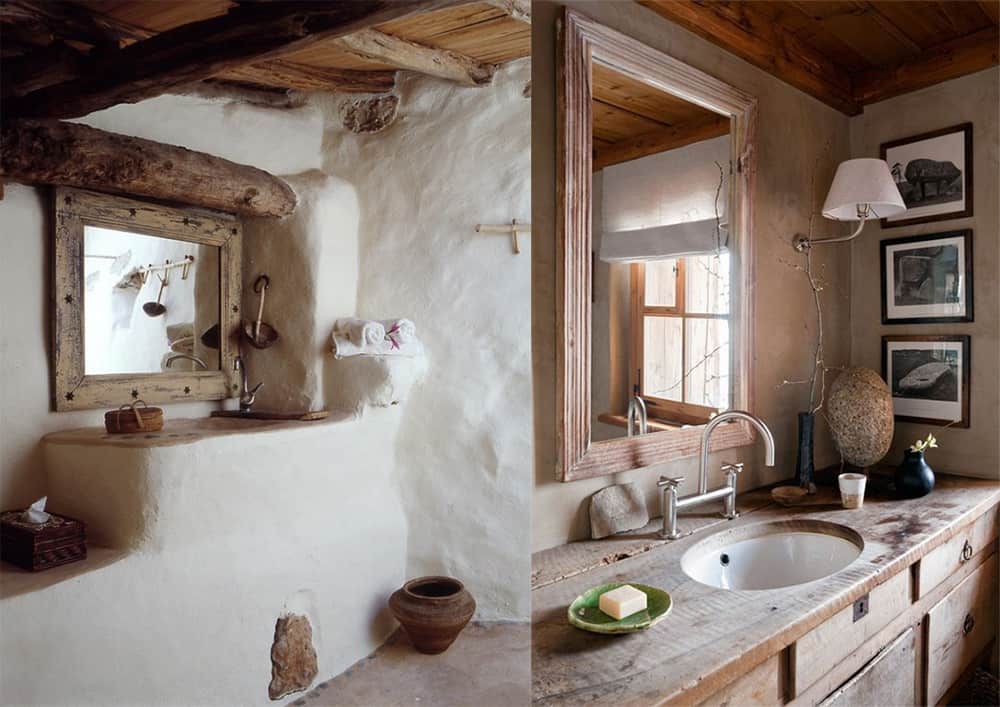 Love "warmer" bathroom design ideas? Use wooden cladding or brickwork. Choose uneven, rough bricks. Stone allowed also.
Wooden beams should perfectly decorate walls and ceiling.
Choose wood or stone for floors. Tiles used rare. It's harder to keep stylistics with them. Avoid shiny ones.
Contemporary bathroom design: Rustic accessories
Rustic bathroom decor isn't fully brownish! Accessories give way for brighter colors. Think of, which ones associated with retro and nature for you?
Natural fabrics, especially linen, fit best. Choose one-tones ones.
Mirror frames give great fantasy realization space! Brutal wooden, window imitating, little fairy tale vintage ones – all will suite.
Baskets and any plaited elements should find place in your bathroom design ideas.
Hand-made with folk nuances is welcomed!
Care products should go into small retro style flacons. Don't forget tying them with ropes.
Wildflowers can finish your composition. But it won't be some cute bouquet! Despite it's tenderness, it will keep some brutality attraction.
Hopefully, our «Contemporary bathroom design: Incredible Rustic bathroom decor» article will help you enjoy that "beauty of the beast" interior aesthetics!