Today we'll discuss one of most beautiful decorating trends 2017 came to interiors from fashion world and inspired by nature. Gradient or ombre (from French world, meaning "to obscure") is almost imperceptible soft colors transition, usually from dark to light shade.
Even Water Element closed to bathroom theme should

Make you see what ombre bathroom decorating ideas mean. Soft transition from blue to white draws tides and water sparks in our imagination. Let's bring natural beauty and learn more great effects from decorating trends 2017 with our «Interior design 2017: Ombre bathroom» article.
Take a look at our articles about:

Decorating trends 2017: Ombre colors for bathroom design
Let's list some options for using ombre in bathroom design.
Water colors, such as turquoise, blue shades transition to white fit to nautical decor like nothing else. Bathroom decorating ideas usually made on using light tone on top. Unique transition from dark blue on top to white on bottom would create waterfall effect!
Peach shades refresh bathroom decor. You can use it for whole bathroom or just for curtains to warm cold white interior.
Grey shades ombre bathroom with chrome elements should be ultramodern. You're welcomed to add some bright elements or stylish colored lighting (especially, for Techno and High-Tech styles) to vivid "steel" interior.
Sunset shades gradients look romantic and calming. But choose bathroom design style carefully!
Interior design trends 2017 made all violet shades fashionable. Use its gradients for creating sense of being inside flower or lilac haze. Violet and purple tones look refined with light grey or silver.
Bold persons should use ultramodern black and red gradients.
Even Classical, Baroque or Victorian bathrooms should be modernized by ombre. Just use it dosed and with slight shift in tones.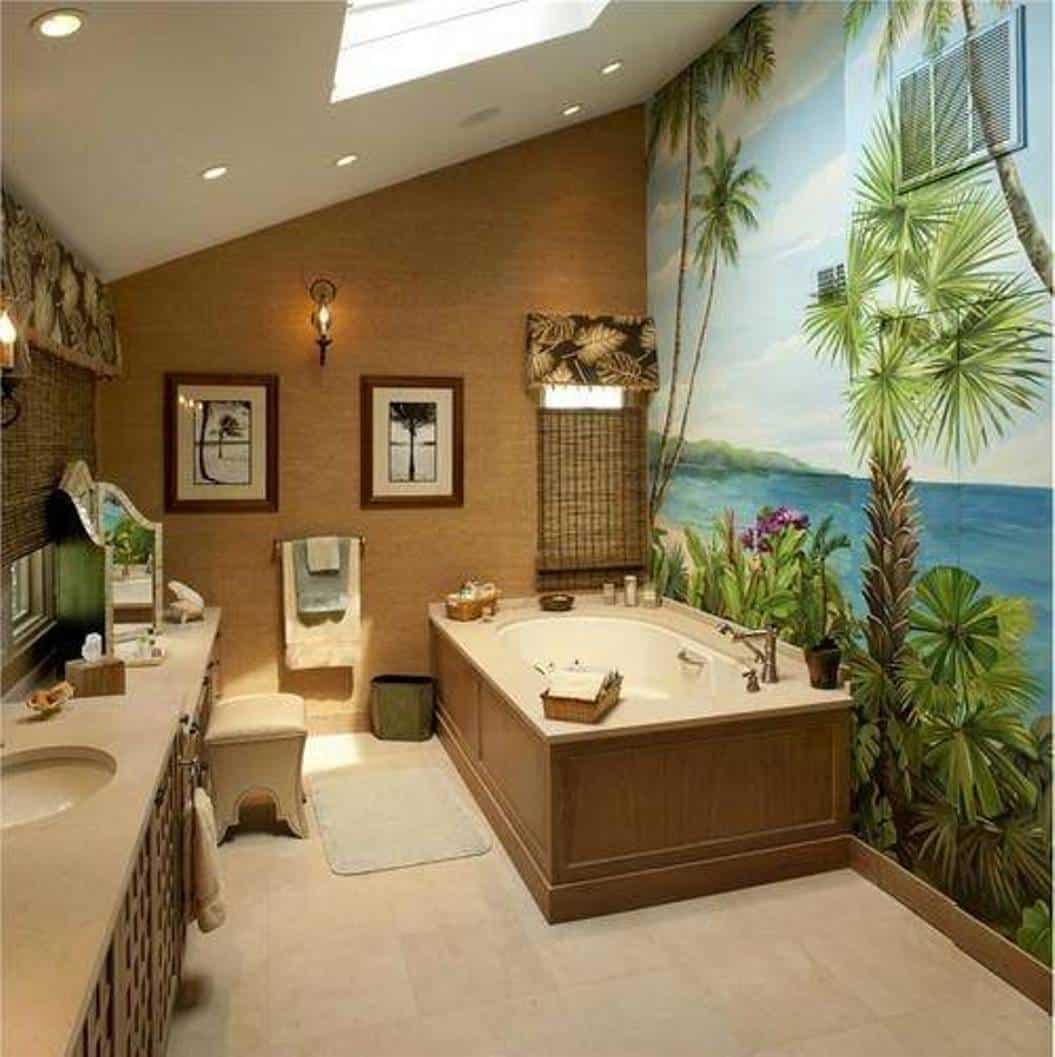 Ombre bathroom: More bathroom decorating ideas and effects tips
You're welcomed to use ombre effect for whole bathroom or for single components. Distantly ombre curtains look like floating in the air. Rounded shaped gradient bath tub looks amazing!
Glance materials are ombre best friends! One of best bathroom decorating ideas is using gradient tones small tiles. They should "draw" natural masterpieces on your walls.
One of decorating trends 2017 is gradient lighting. You're welcomed to use bright light tones for diffused light, like purple, blue, neon sky blue etc.
Ombre glass makes bathroom design look little mystic and very cozy.
Interior design trends 2017 brought unusual ombre effect for wooden furniture. Bright tone gradually fades to… transparent. It means that finally wood texture comes out.




Hopefully, our « Interior design 2017: Ombre bathroom» article will inspire you to create trendy and delightful bathroom. Dream and create your ideal home with us!