Frescoes, curved-leg furniture, stained-glass and elegance come back in home decor trends 2017. Victorian epoch characterized by unusual mix of Puritanism and art development with technical progress. It beautifully reflects in Victorian bathroom design with its combination of strictness and rich, refined decor.
Take a look at our articles about:
If you need timeless modern bathroom design, you came to right place! Let's discuss wonderful and extraordinary bathroom ideas in our «Interior design 2017: Victorian bathroom» article.

Bathroom ideas: Victorian bathroom colors
Search Victorian epoch pictures and postcards for inspiration. You'll see beautiful muffled colors play, including pastel and bright colors, interesting flower decoration and complicated refined ornaments. Use it for Victorian bathroom!
Let's get bathroom ideas from history of Victorian epoch.

Victorian epoch usual colors have interesting and creepy story. Most popular color paint for walls took many lives… It was called Paris green, or Emerald green, and made with toxic elements including arsenic. Now this residue is used for… deratization and insecticide.
Emerald Green, or so called Lush Meadow is one of newest home decor trends 2017! Don't be scared, you won't use toxic paint nowadays. Lush Meadow walls looks so refined with gilt reminding beautiful jewel with luxurious emerald framed by noble gold.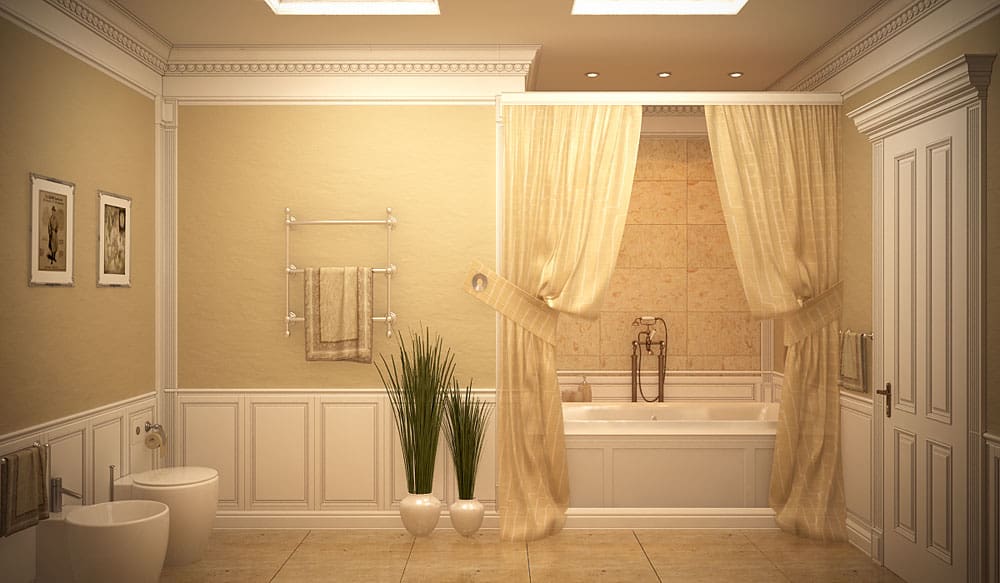 Pay attention on bright Mauveine (Anilin purple). It was most beloved color of Victorian women. Aniline purple should bring royal atmosphere to any modern bathroom design and look best for Victorian one.
Some home decor trends 2017, such as Airy Blue, Warm Taupe, Potters Clay, Spicy Mustard and Bodacious colors would ideally fit Victorian bathroom.

Modern bathroom design: Victorian bathroom furniture
First thing you'll note in Victorian bathroom is large beautiful bathtub. Accent should always be made on it! Use white or ivory, black, beige, marsala, purple, light violet (Bodacious) bathtub, maybe, decorated with gilt, silver, monochromatic color ornaments. Sometimes Victorian epoch people used completely copper bathtubs. Marble ones were used also, but be careful with it! Marble is out of home decor trends 2017!

Bathtub legs should be your Victorian bathroom visit card! They're curved, almost always made from metal richly decorated with carvings. You're welcomed to repeat the same carving ornaments for door handle, towel hooks and even sink.

Victorian toilet bowls should be more closed to square shape than modern models. Antiquarian Victorian sinks look beautifully refined reminding pedestals or ripe flowers. Many Victorian sinks models have two legs richly decorated with lace carvings.
Victorian bathroom cabinets remind antiquarian music boxes with gilded or silver elements on doors.

Bathroom ideas: Victorian bathroom finishing and decor
Floral patterned wallpapers would always accompany Victorian interiors. Use quiet light colored wallpapers or bright options with purple or popular Victorian combination of Emerald Green background and golden patterns. Striped wallpapers, paint and participial wooden walls finishing should be actual also.

Ceilings should be simple. If ceiling is high, decorate it with refined Victorian style luster. Modern bathroom design looks great with such historical element. Remember about safety! Don't use it for low ceilings!
Wall lamps with candles shapes should be useful for large bathrooms and situated far from sink and bathtub. Place lamp near mirrors to reflect their beautiful light. LED lights are prohibited!

Bathroom ideas with Victorian style accessories based on mirror. It should be decorated with gilded or silver color plaster frames. Get inspiration from antiquarian shapes and voluminous ornaments.
Prefer floors finishing with natural wood, it's simulation or diagonal chess tiles.
We hope, soon after reading our «Interior design 2017: Victorian bathroom» article you will have a royal bathroom!