Vintage decor is extensive concept, meaning design in typical styles of past times. It stood in decorating trends 2017 thanks to it's versatility. Today we'll learn to create romantic bathrooms, like the ones you've seen in old movies. Base on our tips and interior images of time, you like: 19th Century end, "jazz" 20th, romantic 50th, rebel 60-70th, disco 80th or grunge 90th. You can combine character styles of different times for modern bathroom or make only one period typical interior.

We'll guide you in our «Interior trends 2017: Vintage bathroom» article.
Take a look at our articles about:

Bathroom ideas: Vintage bathroom finishing
Vintage bathroom would never look boring! We'll give few bathroom ideas about finishing concepts.
Simple one-tone painted walls.
Use calm colors, such as beige, ivory light grey, sky blue, lilac, pastel mint or pink. Depending on colors of furniture and floor you can get elegant bathroom in 20th style or romantic «sweet» 60th Vintage decor, giving sense of staying inside gingerbread house.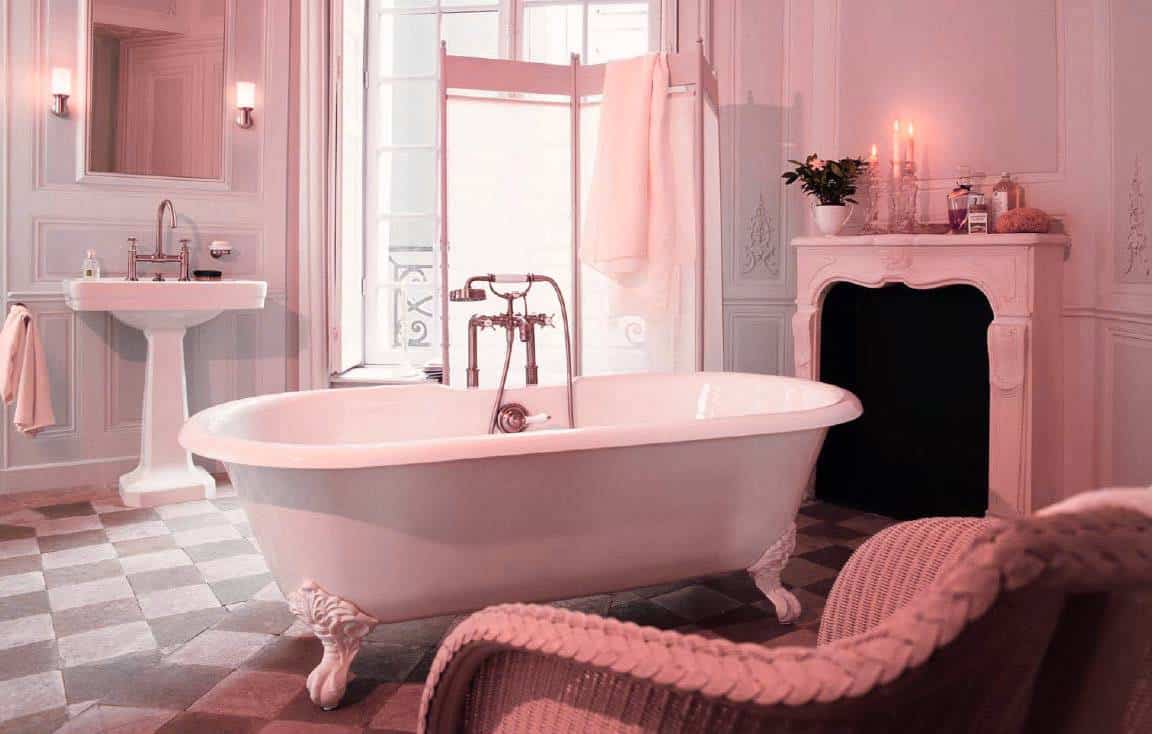 Floral patterned water resistant wallpapers.
Traditional bathroom ideas for retro interiors base on beautiful floral patterns.
Vintage water resistant photo wallpapers.
Good idea for any modern bathroom!
Wooden or tile flooring with classical tiles on walls.
Subway tiles were popular in last century, but be careful with it in stylized modern bathroom! Such tiles were out of decorating trends 2017!
Despite stereotypes, Vintage bathroom can be bright-colored also! Bright accents can be made on tiles, bath, hand-made accessories (especially in 80-th bathroom) or even flowers!

Decorating trends 2017: Vintage bathroom furniture
Bath on legs is character element of Vintage decor. Legs should be curved and beautifully decorated. Any color you like fits for bath, just combine it with other elements right. Art Nouveau bath should have unusual shape also.
20th or 60th style bathroom should be decorated with gilded bath legs or doors and cases beautifully rounded shaped handles.

If you use wooden cases, make material artificially aged, or decorate it with floral patterns. Artificially aged surfaces included in interior trends 2017, so use it anywhere you want in modern bathroom.
Bathroom ideas: Vintage decor
Few more bathroom ideas for perfect Vintage decor!
Use unusual shaped mirrors without frames or one big mirror with richly decorated carved frame. Zoning with mirrors and lights is one of decorating trends 2017.
Shelves can be replaced by beautiful retro baskets. Such decor looks adorably charming in Provence modern bathroom.
Add stylized bottles and live flowers.
Hopefully, our «Interior trends 2017: Vintage bathroom» article should make you create old-style bathroom of your dreams.