Our story about bathroom decor begins by the end of XIX century… New art school fought against usual for epoch eclecticism (old styles combining). In technical progress time of machines new movement brought soft floral shapes in architecture, sometimes creating unbelievable fantastic masterpieces.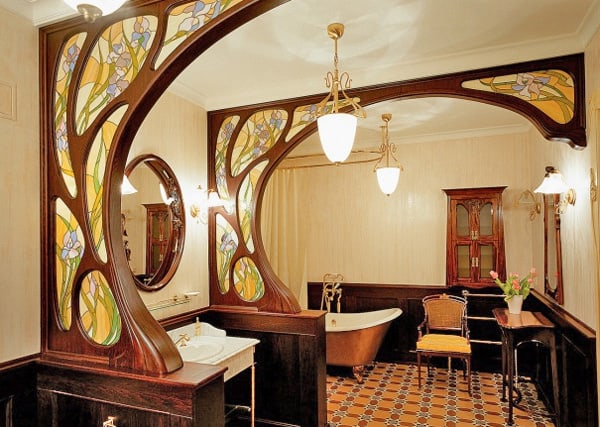 Desire of finding new path returning to nature born incomparable Art Nouveau style!


It begins in England, where some artists got inspired by Japan two-dimensional graphics. New style was called "Modern" in its motherland and saved this name till nowadays, but it's not contemporary for near 100 year.
You will also like:
So, we use the same popularity French name "Art nouveau" also.


Just look at admiring works of Antonio Gaudi or XX century beginning cozy interiors, and you'll see how many opportunities gives Art nouveau style for interior design! Its organic nature closed shapes create unique coziness and quietness, so it's the best solution for bathroom decor.

Bathroom decor ideas: Modern style colors and materials
Art nouveau use quiet colors from nature. Here you would easily create bathroom decor ideas by yourself! Inspire from spring laws, sand, water sparkles and pearls shades.
Walls finishing would be made with decorative panels, tiles, preferably with floral or bizarre curved ornaments. Same principles of bathroom decor should be useful for floor.

Add unusual shape mirrors without any corners. Like every item in Art nouveau bathroom mirrors catch eyes by soft rounded, often wavy, contours. Unusual thematic mirror frames make interior look festively.

Use refined floral theme fretwork for bathroom walls and ceiling finishing. Everything, including walls and ceiling, should be "free", breathing and vivid, so chose any unusual rounded shape you imagine! Divide Art Nouveau bathroom into zones by round arches.

Bathroom decor: Art nouveau bathroom furniture
Bathroom decor ideas for Modern style base on visual lightness, so furniture shouldn't be massive. Make your bathroom look like summer law with green grass simulating rugs and floral ornamented furniture.
You're welcomed to use any material for furniture, but natural ones considered preferable in modern bathroom design.



Art nouveau bathroom: More bathroom decor ideas
Incredible modification of space makes Art nouveau style! You can use seashell outlines in stairs geometry, bizarre mirror contours and sink design. Combine it with mosaic tiles for walls and floors creates illusion of being at bottom of shallow lagoon.
As another option for modern bathroom design you should imagine blooming garden. Use green or neutral background for soft floral wall painting for Art nouveau bathroom. Modernists' most beloved flowers are orchids and irises.
Use classical quiet color crystal luster or some lights near the mirror.






We hope, our «Modern bathroom design: Art nouveau bathroom» article will help you to create bathroom of your dreams!