Moroccan bathroom captivates with it's design exotic charm! It made for persons loving luxury, originality and real Eastern atmosphere. Sometimes 2020 bathroom trends go far from traditional European views on design.

Moroccan bathroom, surely, considered being that phenomena's brightest representative! It also brings good possibility for showing fine taste – many saturated colors' competent combination should be hard without it!
But HOUSE INTERIOR will help you find win-win bathroom ideas 2020!
Read our «Moroccan bathroom: 2020 bathroom trends from East» article.
2020 bathroom trends: Moroccan colors luxury
Saturated blues considered being characteristic for Moroccan bathroom, but not required.

Warm beige, terracotta, sand colors remind of our design motherland's hot climate.
Don't miss our articles about:

Another reminding of bright Sun – metals. Add gold, copper shades.
Choose brass elements, as win-win option. It's included in 2020 bathroom trends!

Morocco is washed by Mediterranean Sea and Atlantic Ocean. Saturated greens, emerald, sea tide shades bring beauty of boundless waters color play.

Saturated dark or warm tone wood makes «spicy» accents.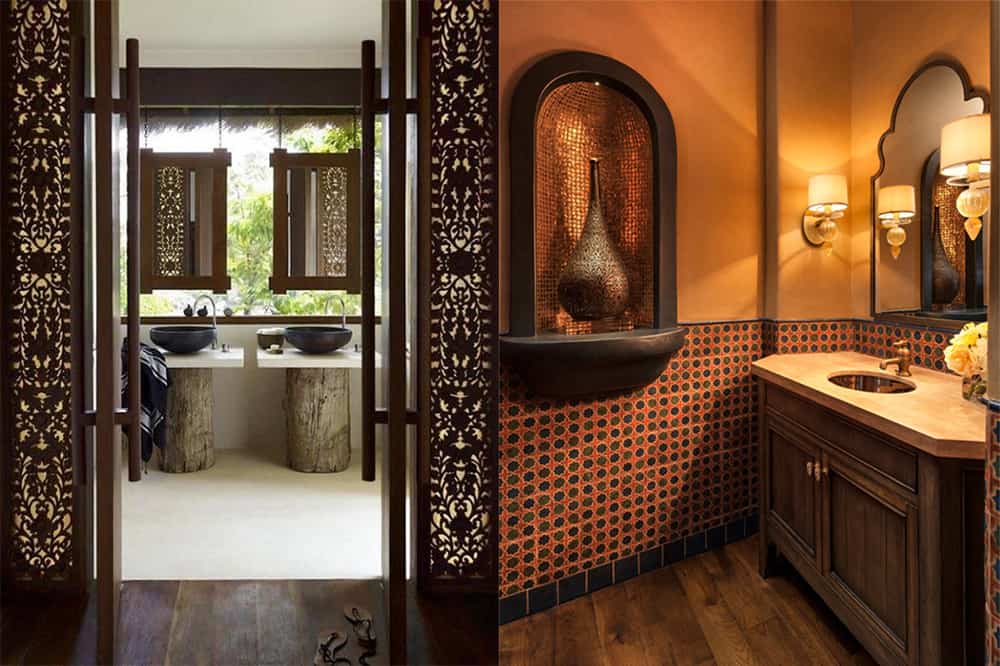 White should be present, but just for sanitary equipment or details on mosaics, never as basic color.

Moroccan bathroom: Decor
Special Moroccan bathroom feature – small tiles with bright Eastern patterns present almost always!

Use iridescent tiles brought by 2020 bathroom trends also!

Bathroom ideas 2020 with complicated geometric shapes gain popularity. Moroccan style catches eye with doors, windows, zoning dividers or wall décor quaint forms.

Such shapes often meet as small recesses for bath accessories.
Lighting plays important role in bathroom ideas 2020. It's main warmth atmosphere provider here! Use unusual, medium size lamp with carving elements for mystic lighting. Enlighten recesses from top. And don't forget about candles, better aromatic – giving fairy tale Eastern notes.

Carved wooden furniture finishes unbelievable Moroccan atmosphere!
Hopefully, our «Moroccan bathroom: 2020 bathroom trends from East» article inspired your own Eastern water fairy tale creation!