Gothic architecture appeared in the late medieval era, with its pointed shapes and general upward tendency. Nowadays, term "Gothic" is used everywhere, from music to fashion.

Gothic decor never loses its actuality for modern bedroom, making place for rest really elegant, romantic and extraordinary. Let's discuss it in our «Bedroom decor ideas: Gothic bedroom» article.


Modern bedroom: Gothic decor color
Gothic style is associated with black color. But you're welcomed to use many impressive colors and shades in it.
You will also like:
Dark violet, purple and plum colors create mysterious and dreamy mood. Violet walls create beautiful dark look with black constructions.

Red color symbolizes romance and power. Bright and dark shades of red including wine tones fit to pillows, rugs and small soft furniture items. Black color predomination isn't necessary, but it's presence in Gothic bedroom is required.

Bedroom decor ideas in gothic style should help you to create wide range of options you like, from extra modern bedroom dark aesthetic look to medieval castle room simulation. If you prefer the last one use brass and gold shades. Combine dim gold ceiling lamp with brass oil lamps, placed on bedside cabinets to achieve ideal medieval Gothic decor.
Saturated cherry red finishing should be used for any wood furniture and door handles decoration.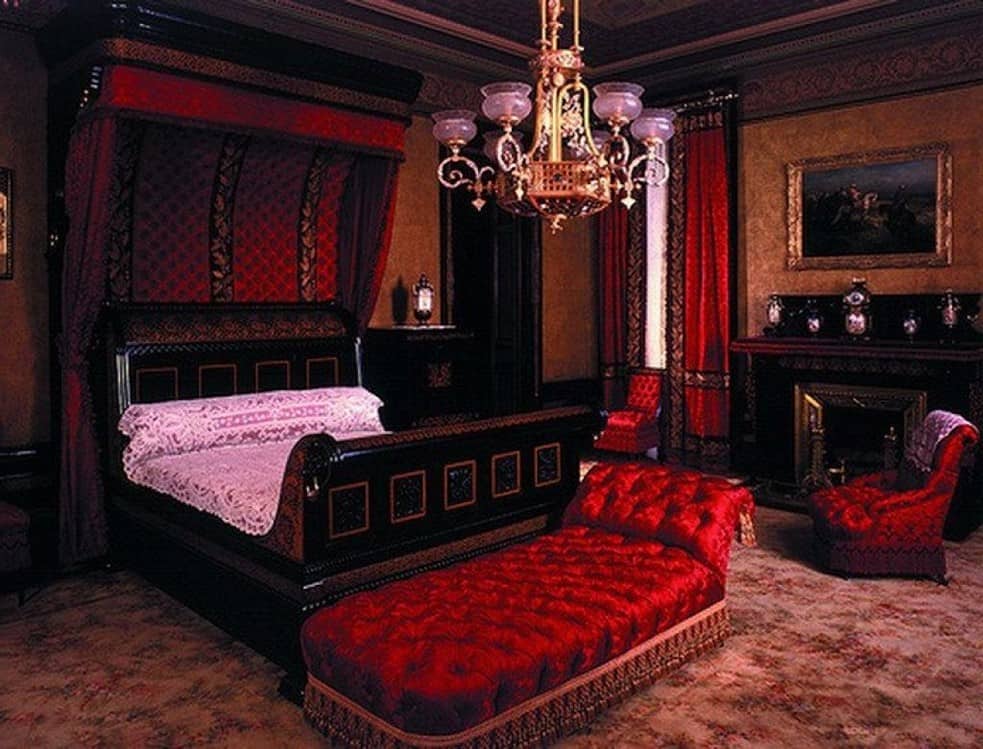 Gothic decor: Gothic bedroom accessories
Prefer antiquarian or modern extraordinary Gothic decor items. Bedroom interior shouldn't be overloaded with accessories, so use few big ones.
Let's discuss few bedroom decor ideas about Gothic interior accessories.
Coordinate your time with beautiful antique Grandfather Clocks!
Red roses in vase on antique dresser create Gothic romantic atmosphere.
Medieval weapons, such as swords or battle-axes hanged on walls make great impression on visitors.


More bedroom decor ideas and tips
Nowadays Gothic style should be interpreted in almost opposite design conceptions, from strict interior to creepy modern bedroom or romantic one, and fully reflect your personality.
Add unusual massive mirror frames and luxurious crystal luster.
Creative-minded people should use perfectly looking hand-made items or some creepy gothic decor
Make all or one-two walls finishing with raw stone and combine it with candles and mosaics lights to create medieval fairy tale room impression.
Theatrical velvet curtains and lace elements would be necessary for romantic Gothic bedroom.



Hopefully, our "Bedroom decor ideas: Gothic bedroom" would inspire you to make your dreams bedroom interior come true!