Today we'll talk about Baroque style, which came at late Renaissance period to finally replace medieval asceticism with art reign and strict classicism with luxury abundance and metaphoric thinking. If you need an atmosphere of royal rest read our «Bedroom decorating ideas: Baroque bedroom design» article.

Baroque decor features
Baroque emerged in XVI century Italy to show governments' and churches' power by its luxurious design. Baroque decor recognized by wall paintings, frescoes, marble, gilding, carving, stucco work.
Baroque character features you can add to modern bedroom:
Gilt;
Figurines;
Mirrors in massive frames;
Paintings in gilt frames;
Chairs with carved legs;
Massive furniture;
Luxury porters on the windows;
Luxury fabrics (for blankets, bedspreads, cushions, canopy).
Versailles, Luxembourg Palace, Chateau Baroque castle, Peterhof, Catherine Palace architecture and interior would be your best inspiration origins.



Baroque bedroom design: Finishing
Use few tones for walls, marking zones with panels. Shades should be pastel or royally saturated. You're welcomed to combine pastel and bright colors for impressive Baroque bedroom design.
You will also like:
Use curve edges with stucco elements, decorative plaster, textile wallpapers, frescoes or wall paintings. Supplement it with half columns, fretwork and different pilasters to full Baroque decor. Cover floor with beautiful shiny parquet or tiles. Multi-level ceiling with obligatory fretwork decor gives modern bedroom spirit of epoch.




Bedroom decorating ideas: Baroque furniture and fabrics
Bed should be accented, so choose it with full responsibility! Get large bed with massive impressive heading decorated with carving, forging, gilding and velvet upholstery. Put elegant cabinets with gold-plated legs and arms.
Add dressing table, wardrobe and chest of drawers. Remember, bed is Baroque bedroom design queen, so all the furniture should stick its' style rules and fit it!
Gilt and crystal's sparks would be best "dressing" both for furniture and finishing!


Your bedrooms "eyes'" refined make up should be made by luxurious blackout curtains and elegant lambrequins. Use self-colored curtains or decorated with embroidery or floral prints. Add beautiful bed canopy.
Its' drapery should be made of the same fabric with window curtains. Bedspread and decorative color would be combined with curtains and canopy tone. Lay a rug with gold embroidery on floor.
Velvet, brocade and silk curtains and bedspreads make real Baroque decor!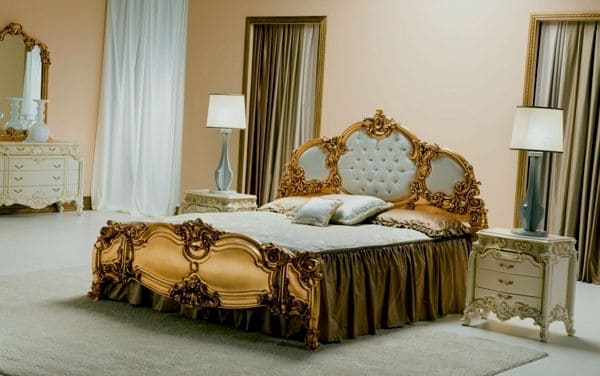 Modern bedroom transformation: Baroque decor items
Bedroom decorating ideas of Baroque style made on little details. Let's list main baroque decor items:
Floor vases
Paintings and mirrors in massive frames (preferably gold-plated)
Crystal lusters with forged elements
Crystal wall scones with forging
Decorative boxes and chests
Chandeliers and wall candelabras
Bronze or gold-plated statues.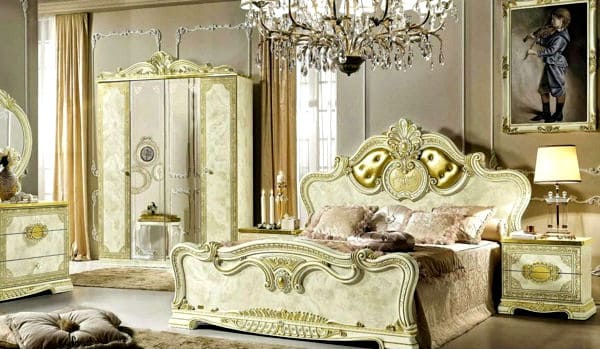 Hopefully, our «Bedroom decorating ideas: Baroque bedroom design» article would help you feel the luxury of Baroque royal castle without time machine right in your modern bedroom.