For many years, French style in interior design doesn't leave fashion and can successfully compete with the new bedroom interior design directions. French style is characterized by aristocratic luxury, refinement in details and colors, romance and even glamour. If you've always wanted to live in Paris, why not make the French bedroom and every morning wake up in a city of dreams?
Here we will discuss «bedroom decorating ideas: French style bedroom».


Walls in French bedroom
You should approach to design of walls in French bedroom with special attention, because they will set mood of entire bedroom interior design.
French style bedroom design better to execute in soft shades of purple, lilac, gray and green colors with little addition of gold. Walls in French bedroom can be painted or wallpapered.
You will also like:
But while choosing wallpaper, you should pay attention to its structure. They should be sculptured and pleasant to touch. Wallpaper with patterns will suit for French style bedroom. This could be a floral pattern, or an uncomplicated ornament.
Bedroom decorating ideas: floor and carpets in French bedroom
French bedroom must have wooden floor. No tile or linoleum can be out there. We often go barefoot, and feet should be warm and comfortable. So you can put on the floor parquet or laminate. Carpet is compulsory item bedroom in bedroom interior design. It makes room more comfortable. Carpets which depict bright flowers, leaves in rich green color, also animals and birds will suit in bedroom design. But carpet with ordinary geometrical figures, orange, black, salad flowers will not fit to bedroom interior design.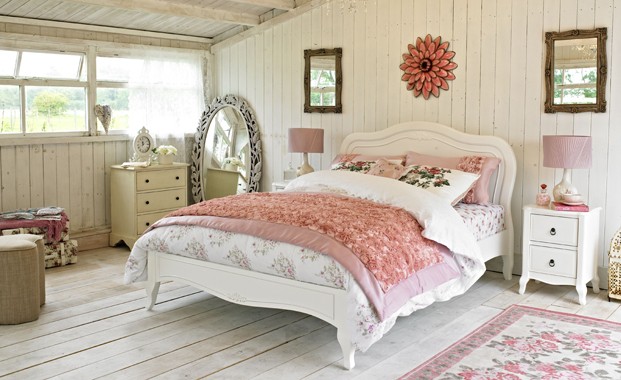 Furniture and curtains for French style bedroom
French style is very democratic. Furniture from wood, metal, glass and stone looks great, not allowed only presence of plastic. Here can be combined absolutely all styles, ranging from Empire and Baroque to modern interior design directions. Large bed with carved headboard must necessarily be present in such bedroom design.


Accessories in bedroom interior design
Any interior is made by accessories, so you shouldn't be mistaken with them. Forged chandeliers, candlesticks and lamps perfectly fit into French bedroom. Tapestries, mirrors, paintings in gilded frames can be hanged on walls and antique vases, figurines and antique boxes could be installed on stands. Rich gloss of crystal glass and rhinestones is typical for French style. Fresh flowers bouquets or artificial ones necessarily should be present in bedroom design.
Bedroom in classic French style is truly luxurious place. It has rich draperies, natural silk, mahogany, gilding china and crystal. Creation of this interior design is an expensive pleasure. But maybe it's worth to execute for feeling like a king or queen.
We hope our touch on «bedroom decorating ideas: French style bedroom» gave you right direction.