Making the bedroom is both: very interesting and responsible process, where everyone waits for a certain effect from the results of their activities. Some people need a quiet relaxing atmosphere, that will promote rest and sleep, and some people want to create a unique bright modern bedroom, which will charge with energy and positivity in mornings. In this article we will go through bedroom design ideas 2017.
Bedroom designs for 2017, as well as house interior designs in general has undergone some changes. As always, due to the start of New Year, fresh bedroom design ideas and novation are appeared. At the same time, the best examples of previous years are preserved, which managed to capture the balance between fashion and timeless frame. In any case, current trends in bedroom design will help find a lot of design ideas for every taste.


You will also like:




Bedroom color ideas for the modern bedroom
When considering about bedroom color ideas, we can claim that a long time, beige, white and milk were the predominant colors that were used in bedroom interior design. It should be noted that now dark brown, gray and even black colors are found in modern bedroom interiors more often. Dark colors are not always used for decoration; more often dark accent is done on bedroom furniture or textile.
The tendency to use quiet pastel colors will maintain in bedroom design ideas 2017. Similarly, white is still relevant and actually it remains the trend for all time. However the most popular color in 2017 would be gray and especially the combination of white and gray will be dominating the following year.
Besides, the new trend of this season in bedroom color ideas is the use of contrasts, especially black and white. This combination looks very dynamic and effective and is particularly suitable for bedroom design in a modern bedroom or high-tech bedroom style. As a rule, a room decorated in such shades, has a correct geometry as a whole – clean lines, regular shapes and pithiness.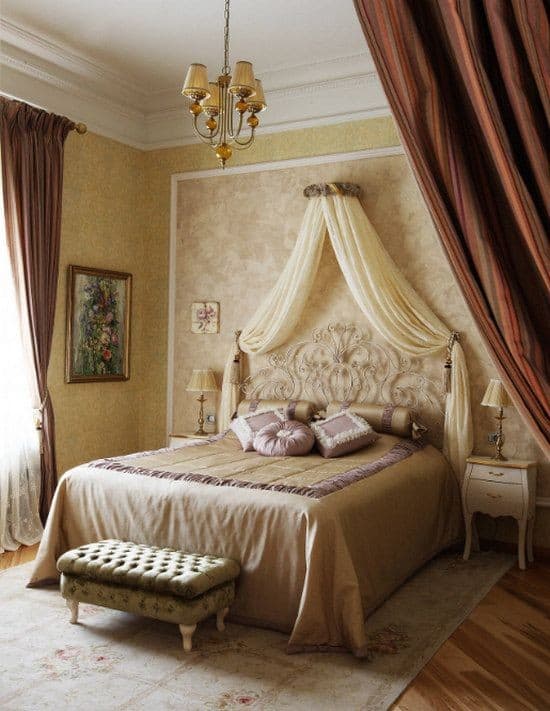 Environmental sustainability and natural motifs
As in the interior designs of other rooms, this trend also hardly can be the basic. In particular, the use of wood or materials imitating it is actual. Simplicity and environmentally sustainable natural materials are highly valued by modern interior designers and admirers of home comfort.
Use of brick and strictly treated wood remains relevant. And as for the latter – more often wood is used not for the manufacture of furniture, but for finishing the bedroom décor. Those can be wall, decorated with wood paneling or flooring made of laminate or even natural wood.



We hopeful, that our touch in bedroom design ideas 2017 will help you to make right decision.