Bedroom design 2020 makes admired with shades variety and accented individualism! It will open inner artist in any person, allowing seeing one color's multiple shades beauty, feeling nature's breathe, different cultures, ages and species friendship warmth.
Bedroom decorating ideas give everything for really sweet dreams…

But still, bedroom trends 2020 aren't devoid of rationality.
Now you'll get to gadgets, morning coffee, beloved memories easier than ever.
Don't miss our articles about:
Let's discuss it in our «Bedroom design 2020: Dream trends!» article.
Bedroom design 2020: Colors
Color scheme plays most important role in bedroom design 2020.
Competently chosen shades create right atmosphere and mood for sleeping. Besides that colors can serve for zoning, light distribution and accenting. So, let's find out trendiest bedroom decorating ideas about colors.
Grey
One color different tones complement usage tells about bedroom's owner fine taste!
Grey and white shades become especially popular for that solution.

Matte and shiny metallic
Bedroom design 2020 includes both matte and shiny metallic.
Use them apart or with previous option. Here we don't mean materials only.
It's about colors first!

Gold shine
Gold shine can serve as beautiful accent for the nightstand.
You will appreciate all its beauty by turning a night light on in dark!
Black & White
Black & White lives new life in bedroom trends 2020!
Contrast makes it easy to create large and voluminous, «breathing» bedrooms.
Metals often serve as beautiful transition shades between them. Greys or greyish blues help in multilayered space creation.

Navy blue
Navy blue gives bedroom sophisticated charm. It perfectly combines with all cool shades.
Need some warming bedroom decorating ideas?
You can add sunny yellows or beiges.
But best warm shades' to get ensemble with navy blue are trendy gold and brass.

Green gamma
All greens gamma stays at your disposal!
Eco trends make them especially actual.
All shades and combinations you've seen in nature should be win-win.

Berry shades
Saturated juicy berry shades make unbelievable atmosphere.
Same shades lighting create romantic mist effect.

Bedroom trends 2020: Finishing
Finishing materials variety in bedroom design 2020 can confuse. Let's realize what will fit your bedroom best?
Fully wooden finishing stopped being some extreme experiment or associated with cottage. Rustic and partially Country styles wholly developed it to fine aesthetics.
Bedroom trends 2020 made it extra actual and possible almost for any style! Bleached and unusually colored wood is on trends' top!

Retro wallpapers
Retro wallpapers create ideal background for modern stuff! «Steal» designers' interesting trick – repeat those wallpapers' colors in bed's and pillows' fabrics.

Matte painting would be most popular and practical for walls. Think of trendy deep blue and green shades (peacock colors).
Fine wooden laminate is optimal option for bedroom flooring.
Try same bright tones for floor and walls. It will give some fairy tale room feeling! That's it for sweet dreams!

Furniture choice for bedroom design 2020
Furniture, of course, creates bedroom design 2020 heart. Besides standard kits you can use pretty good additional cozy staff. It includes also old but gold options.
Accent falls on large comfortable bed! So, it can be brightly designed. If you've already got old (and so loved!) one, try following trick. Use multiple different textile covers.

Same trick with pillows allows creating trendy multilayeredness. Enrich your bedroom decorating ideas with "reflections": repeat curtains' or rugs' pattern or color in some pillows.
Unusual but still functional shaped bed with bright soft heading will serve you for years.
Gothic, Victorian and Baroque style room can differ with stylized baldaquin. Same element can be useful for Steampunk bedroom.

Space economy need gave beautiful original solutions! One of brightest and most variable bedroom trends 2020 is sofa bed! Give preference to ones with modular parts for more comfort.
Don't forget about nightstand! It can differ with bed by style, but still has to be logically connected with other furniture items.
Soft poufs are what you need for real rest!

Recamiers came to life again! Add them to bedroom, if space allows it.
Bedroom decorating ideas: 2020 creativity
Fresh ideas make interior really trendy and it relates to bedroom design 2020 also! So, what do designers propose us for perfect bedroom decor?

It's especially conveniently, if you like to read before sleeping.
White background "begs" for bright paintings in bedroom design 2020!


Tropical style becomes extra actual! Use whole "jungle" style, or just some elements: photo wallpapers, prints, etc.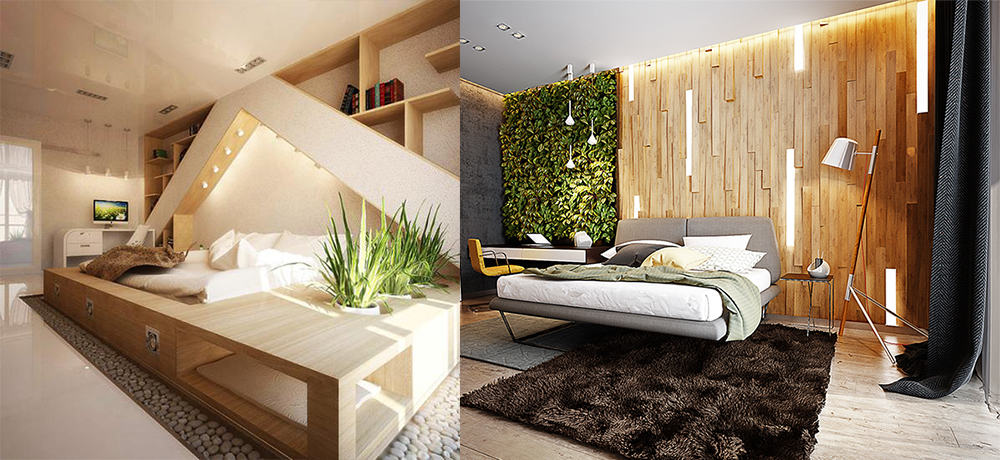 Decorate your bedroom with plants (moss also). Even few flowers in vase create special mood. In case of allergy, choose artificial ones.
Industrial bedrooms stay fashionable!


These bedroom decorating ideas made for bright individuality! Such an unusual bedroom design will perfectly stimulate creative thinking development. And it should also become real dreamers' comfortable cave!
Bedroom design 2020: General concepts
Interior design became not only decorating and planning method, but full philosophy – and it relates to bedroom design 2020 also.
Bedroom design 2020 tends to creating your own paradise. It means, if you have enough space, you're welcomed to keep here all is dear to heart!
Love your pet? Add stylish small sleeping place or playground for him!

Hang bookshelves closer to bed – your favorite stories should be near!

If bedroom made for couple, note, bedroom trends 2020 allow small tea table presence for warmest joint breakfasts and dinners.

Your bedroom decorating ideas kept in trend should reflect your lifestyle and make it easier. Sometimes it's so pleasant to work in that beautiful room or right in bed! So, dear freelancers, find close place for your gadgets – as shelves or thematic cabinets.Organize fitness corner for morning sport routine – start day with joy!

Hopefully, our «Bedroom design 2020: Dream trends!» article's ideas should materialize into your small relaxing island.