Bedroom trends 2022 in decoration resonate in the hearts of many. This room in the house reflects your taste and personal style. Many of us spend most of our free time in this room.
Every year the design industry offers more and more new ideas for decorating bedrooms.
The bedroom is a place of rest, relaxation, security. You relax here not only physically, but also mentally by being away from the whole world. A sleek and stylish design that brings pleasure is an integral part of this room.

If you want your bedroom design to stay relevant for as long as possible, look for neutral, classic, and trendy touches. At the moment, environmental friendliness and minimalism are from the most relevant ones.
The unity of society with nature, measures to preserve it are in trend all over the world, and design is no exception. Natural materials, safe combinations, living plants, stone, wood, daylight – all these are from bedroom design ideas 2022.
Another trend is the play of textures.
Bold combinations of textiles and materials in the bedroom can transform the interior. Add a mix of matte and glossy, iridescent satin, and rough natural cotton. Do not be afraid to experiment, choose what is convenient for you.

Nowadays, fashion dictates many rules for bedroom design 2022, but still, your own preferences in this regard should prevail. Trust yourself, don't think about others.

This room should only bring pleasure to you, so check out the trends, but make your own choice.
Cozy Bedroom Design 2022
The arrangement of a house or apartment is a reflection of our stylistic preferences, outlook on life, attitude to the concepts of coziness and comfort.
Bedroom trends 2022 are diverse and full of fashion, ergonomics, and simplicity.

One of the most significant and atmospheric places in the house is the bedroom. It represents a zone of personal, intimate comfort, the arrangement of which should be taken very seriously.
The tendency to minimalism, increased requirements for comfort and functionality are the main trends of this room. Also, in many cases, given the dimensions of an apartment or house, a bedroom can combine several zones.
Don't miss our articles on:
So, for example, a rest and sleep area can be combined with a nursery, with an office or with a wardrobe area. Therefore, the arrangement of the bedroom should be focused on the lifestyle and functional necessity of certain items in the interior.
Modern Bedroom Design Trends 2022
Fashion and style dictate their own rules for the development of bedroom interior design. The use of natural materials, bright prints, a combination of different styles – all these are from modern bedroom trends 2022. It is worth commenting on some of them in more detail.
Natural materials are preferred in the decoration and furnishing of the bedroom. The examples include natural wood furniture, stone, fabric elements.
The bedroom is a zone of privacy and relaxation, hence its isolation from other rooms is essential.
A modern bedroom should be spacious and light. In small apartments, a solution is possible with the help of light tones of walls and ceilings, laconicism in the interior, and playing around with window openings.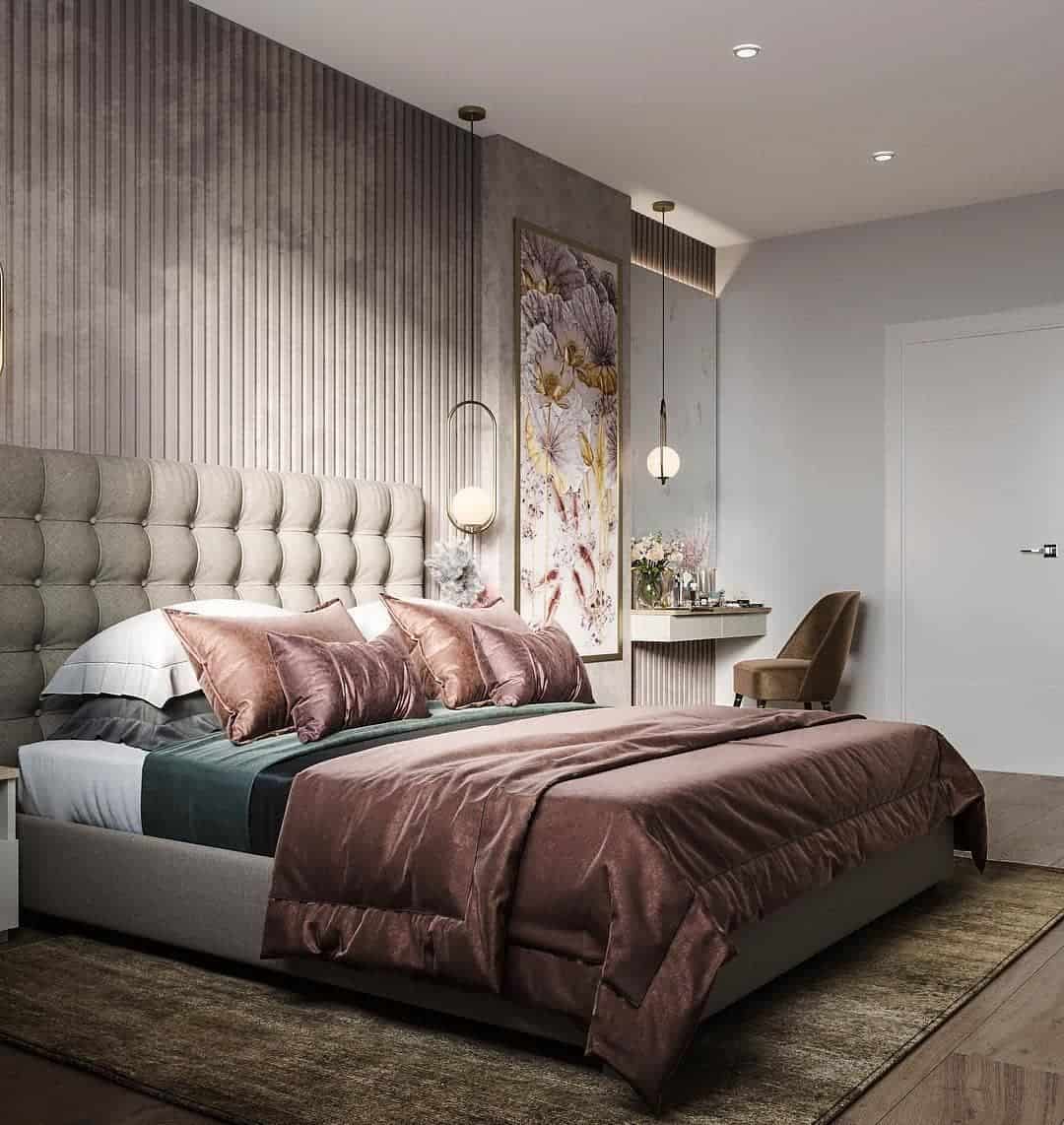 Bedroom Design 2022: Colors and Finishes
A variety of finishing materials makes it possible to realize any fantasy. Bedroom trends 2022 are the use of natural materials, as well as a light palette of shades.
https://www.youtube.com/watch?v=vVSvbqpNxgc
The favorite of the season is white, which is able to visually enlarge the space. It goes well with any other color and brings calm and lightness. This option for decorating a bedroom can always be diversified with a bright detail.
For instance, you can use blinds or a carpet, a picture, or a blanket on the bed.
Variations of wall and ceiling decoration are also widely used. To make your personal style unique, you can use materials that imitate natural materials. The texture of brickwork and log walls, interior shutters, and stone flooring.
The elements mentioned will add zest to the overall style of your bedroom.
Observing the concept of a general style, today it is customary to focus on any element. So, for example, it can be a fireplace, a headboard, or a canopy. This selection is done using various textured materials, embossed wallpaper, or textiles.
Ergonomics as Bedroom Trends 2022
Undoubtedly, in addition to providing comfort and good rest, the bedroom also carries a number of other functions. So, the bedroom space should not be overflowing with objects, but, at the same time, be adapted to meet various everyday human needs.
In this connection, furniture that can be transformed is widely used today in the arrangement of the bedroom.
Such furniture significantly saves space and fits perfectly into the interior. Moreover, built-in structures, like drawers, niches for beds, and wardrobes are widely used. Everything that makes your time in the bedroom comfortable is acceptable.

An interesting option is also using the window space. For example, you can use the window sill area to equip a niche for books or a built-in chest of drawers.
Bedroom Trends 2022: Popular Styles
Scandinavian Simplicity
If you're looking for an easy way to update your bedroom, consider the Scandinavian style. Accessories, bedside tables and bed frames in the spirit of the harsh Nordic countries top the trend charts.

Incidentally, this particular style will help you get a more organized space.
Gray, off-white, and warm wood accents combine with natural light to create a truly soothing atmosphere.
It is the white and gray shades that dominate the design of Scandinavian-style bedrooms.

The combination of brick walls and soft textures of bed linen gives the interior a unique charm.
The Scandinavian-style bedroom is both relaxing and discreet.
Simplicity is a key concept in any Scandinavian style space.
The open bookcase invites you to the calm atmosphere of the room.
Eco Style
Eco-style lovers will appreciate heat-treated wood, a new material that is gaining popularity. A wood accent wall will add a touch of style to any modern bedroom.
A custom-made bed, bedside table, or ceiling inserts made of this material will delight even the most discerning connoisseur.
A cozy beach-style bedroom only benefits from a striking wood accent wall.
An accent wall made of heat-treated wood and a chevron pattern makes you freeze in quiet delight.

This beautiful bedroom effortlessly combines rustic and modern elements.
A massive wooden bed is the main element of a rustic bedroom interior.
In this striking bedroom, a natural high pile rug complements the accent wood wall perfectly.
Loft Style
Restraint and minimalism are in fashion now. The loft-style meets these requirements perfectly.
The interior of a bedroom in this style is the maximum amount of free space, large window openings, unique decor components, contrast of textures, and cold shades.
Walls are covered with rough plaster or brickwork. The ceilings are in white, decorated with gray planks.

Art Deco Style
Ancient and oriental details combined with various materials are indispensable properties of the Art Deco style. The bedroom in this style is for creative people.
A large bed and massive decor constituents are ideal in the interior.
The color scheme is preferably selected in blue, orange, purple, or green shades.

Hi-Tech Style
Want something extravagant and modern? Choose a high-tech style. Its main characteristics are shiny metallic surfaces and graphic lines. Cabinet furniture is welcome, which is convenient to transform at your discretion.
Finishes and textiles are chosen mainly in shades of gray, black, and white. As a complement, you can use green, yellow, or red decor or furniture.

Modern style
Smooth lines, plastic shapes, sophistication are the main characteristics of a modern bedroom. For interior decoration, a mix of glass, plastic, stone, and wood are allowed in unlimited quantities. To create comfort and peace, in the bedroom pastel shades should prevail.
Bedroom Decor Trends 2022
Original headboard
You can change the look of your bedroom with the help of such an inconspicuous detail as the head of the bed. You don't have to buy it in the store to do this. It's cheaper to make it yourself if you are fond of hand-made.
Pallets from a DIY store will perfectly fit into the interior of a rustic, slightly brutal bedroom.
A chic headboard will accentuate the luxury of this elegant room.

The L-shaped headboard is part of the design concept that saves space.
The number of headboard options depend on your exclusive imagination.
Wallpaper for the bedroom
The history of wallpaper over the past few decades is amazing. Once having become an important element in the decoration of space, after a while they were undeservedly put aside. However, 2015 saw their renaissance, which continues to this day!
Designers use them again to add color and contrast to the interior. If you've always wanted to try bedroom wallpaper, then it is the time to start.

Wallpaper with an unobtrusive print can be a good solution for a rustic bedroom.
Wallpaper is ideal for a bedroom that lacks graphics.
You can choose from bright options with pleasing scenery or elegant wallpapers that add shape without disturbing the color scheme of the bedroom. You can start with small areas before moving on to a full accent wall.
Sometimes it is the wallpaper pattern that determines the style of the bedroom.