Many people dream about relaxing village atmosphere in their houses, maybe, reminding of childhood, stories near fireplace and magic fairy tales… This warmth and cozyness is especially actual for bedroom.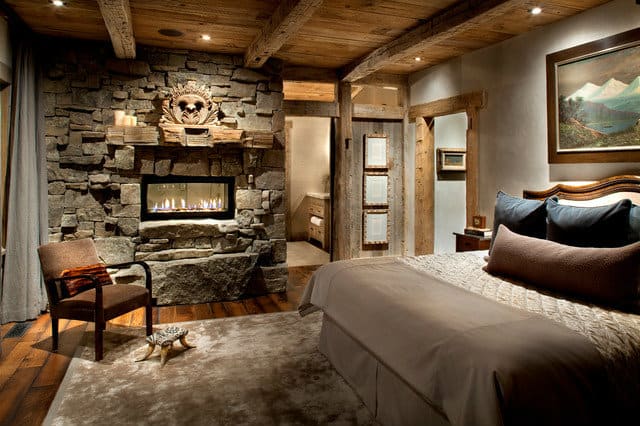 If you dream about your small «village» bedroom, included to interior trends 2017, but love more minimalistic and refined style than Country, our «Home decor trends 2017: Rustic bedroom» article is for you.


Modern bedroom decor: Rustic and Country differences
Artificially aged textures are required for Rustic!
Rustic interior looks more brutal.
Country includes many decorating components; Rustic interior is more minimalistic and massive.

You will also like:

Bedroom design ideas: Rustic bedroom finishing
Massive wooden and raw stone zones should be first things to catch your eyes, when you come in Rustic bedroom.
Prefer simple wooden floor or it's realistic simulation. Don't use any glossy surfaces!
Wooden elements looking like stumps or tree trunks should give your Rustic bedroom fantasy look, especially if you've placed «tree trunks» under ceiling. Add powerful looking branches beautifully convoluted like natural ones and your modern bedroom decor will bring you forest mystic quietness. Nature shapes and raw materials are most wide-optional interior trends 2017.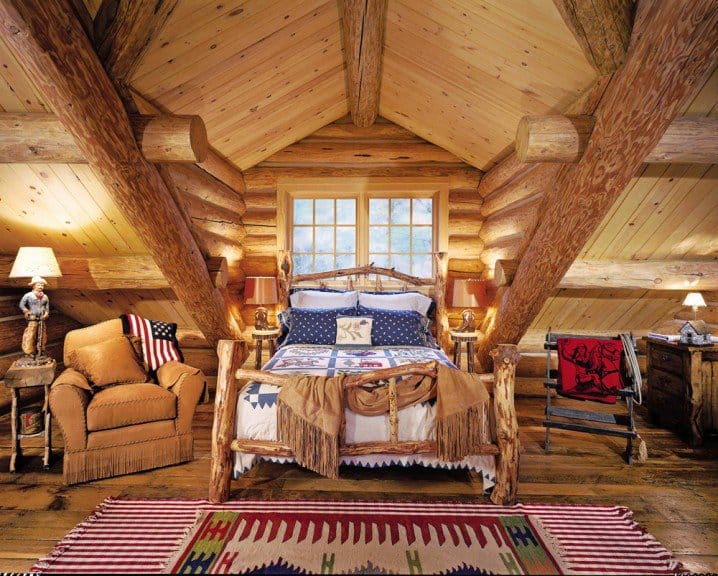 Finish your ceiling masterpiece composition with massive «village-style» metal luster or wooden material imitating one. In bedroom design ideas for Rustic interior lighting would be called real «building material». Soft and so warm, it brings special country sunlight even in wintertime. Modern LED-lights, small built-in ones, high-tech lusters shouldn't be used for clear Rustic style.
Walls should be finished by massive wooden panels and, sometimes, raw stone. Light up your Rustic bedroom with beautiful stone fireplace. It should look like the ones you've seen in fantasy PC-games!


Interior trends 2017: Rustic bedroom furniture
Bed is a heart of this magic room. So, we would say that warm and magnetic Rustic bedroom is big-hearted! Bed should be very large, massive and "speak" about it softness at first sight. Choose one of wide range of bed design options. It should be with soft or wooden headboard. Use minimal carvings, as simple, as it's possible. Bed looking like it grows from opened tree roots looks fantastic in modern bedroom decor! Cover it with not bright colored natural fabrics, prefer linen or some warm tone textiles. Add many soft pillows to create maximal coziness.
Generally, use minimum furniture items in Rustic bedroom. Add necessary things you like, just remember main principle of softness and closeness to nature.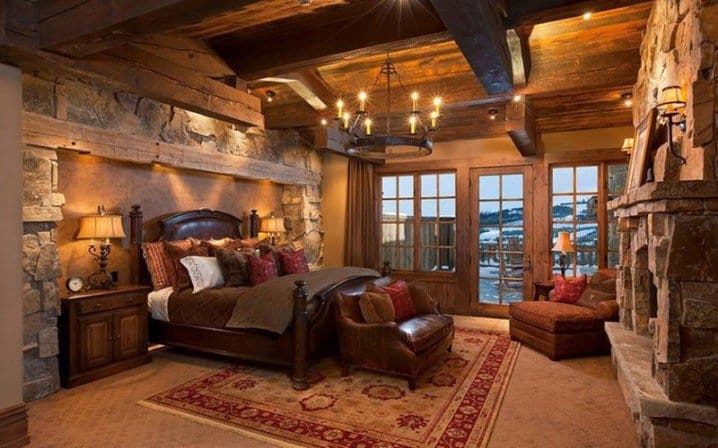 Rustic bedroom: More bedroom design ideas and tips
You can cover your Rustic bedroom floor with carpets, but don't use bright colored ones. Linen carpets or grass simulating ones would look perfectly in such style modern bedroom decor!
Natural materials curtains would create tender and simple accent in general brutality atmosphere.
If you love flowers, place them into clay pots. Remember, all Rustic bedroom design ideas are about creating country atmosphere.
You're welcomed to make small village theme installation on nightstand. But don't overload interior with decorating elements!
Hopefully, our «Home decor trends 2017: Rustic bedroom» article inspired you to create your place of peace and country coziness!