Rich history of Japan and its unique culture last years become very popular throughout the world. Connoisseurs of Japanese philosophy tend to bring piece of Japanese decor into their lives and for that purpose surround themselves with details that remind Japanese interior design.
This is quite understandable, because Japanese people are experts in communion with nature and ability to make harmonious atmosphere in their dwelling.
Very important aspect of this tendency is Japanese decor of apartments. Today we will talk over «ideas for bedrooms: Japanese bedroom».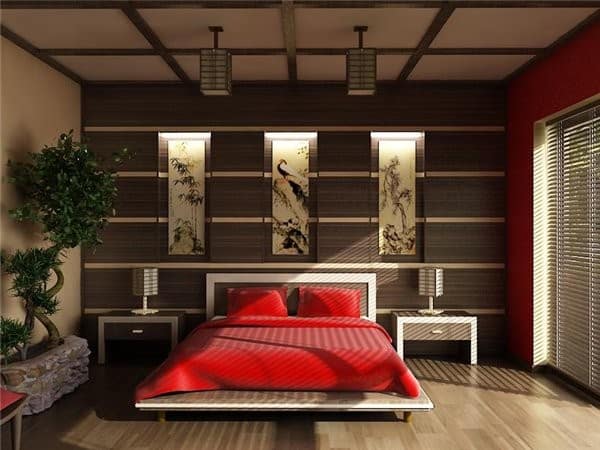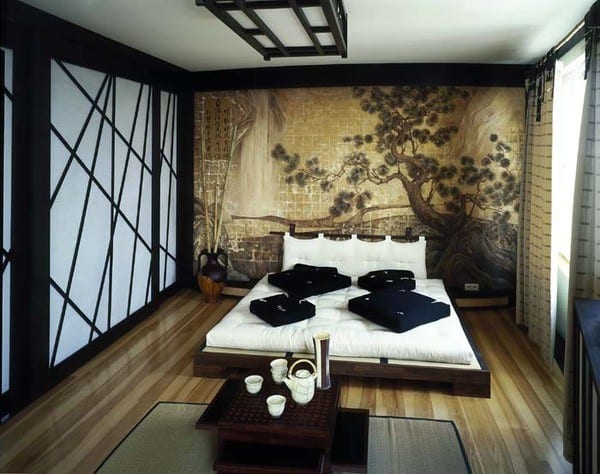 Japanese style bedroom looks very stylish and original. Japanese love minimalism and functionality of each item which creates unique and harmonious bedroom interior design. Residents of Japan give particular importance to every element of interior design, which must have a prudent use. Making Japanese style bedroom requires space and facilities, which in turn will create special atmosphere of comfort and convenience in bedroom interior design.
Bedroom decorating ideas: Furniture for Japanese bedroom
In Japanese decor you won't find tables with carved and bent legs, fanciful forged stands or light fixtures. Furniture for Japanese bedroom is characterized by geometric shapes.
Square bed with round or rectangular pillows, compact drawers and cabinets which perfectly match with overall bedroom interior design, also small square table perfectly fit into Japanese bedroom.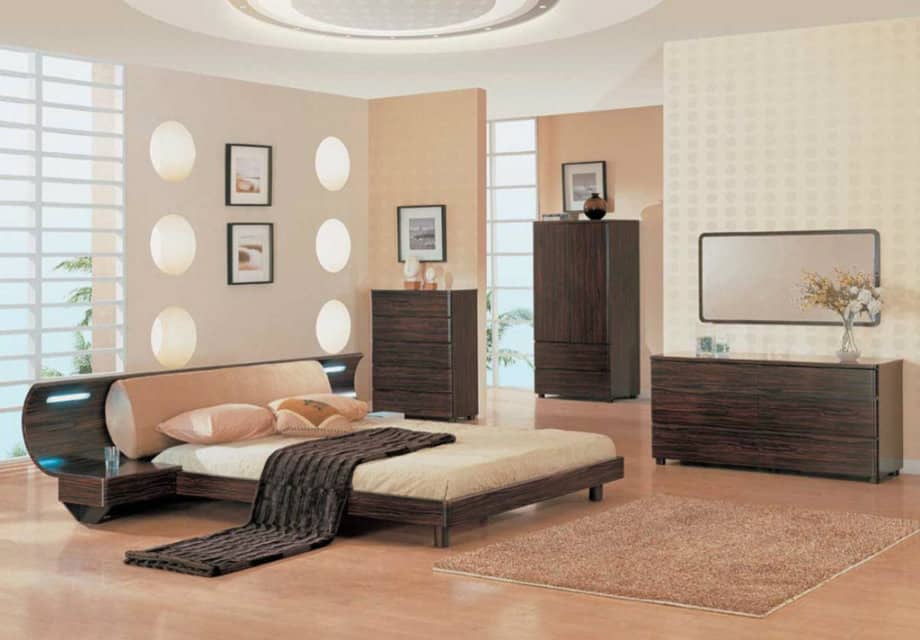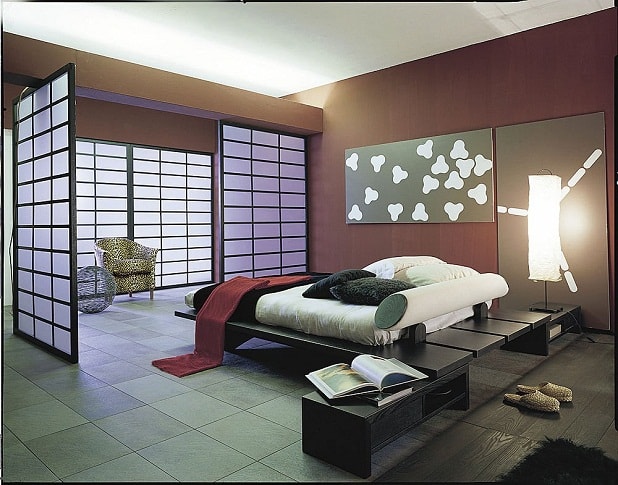 Floor in Japanese decor
Japanese people prefer only natural materials, also firmly reject anything artificial in interior. If you wish enjoying true Japanese decor in your bedroom, choose wooden furniture with elements of natural fabrics like linen, silk, wool, etc…
Elements of glass decoration also will be quite appropriate in Japanese style bedroom.
Furnish of walls is carried out using brick, natural stone, plaster and wallpaper. Usually bamboo, not ordinary wallpaper is used which adds originality and uniqueness to bedroom interior design.


Lighting in Japanese style bedroom
Japanese bedroom must necessarily be well lighted. But in this instance bright daylight won't be appropriate. Soft muted light of lamps would be a good alternative, which are hidden under lampshades, decorated with drawings or graphics in Japanese style.
Colors in Japanese bedroom
As a rule, single primary color used in Japanese style bedroom and as supplement taken its various shades. Most popular colors in Japanese bedroom are black, gray, white, beige, orange and brown.
Fresh flowers or ikebana from dried branches and flowers will wonderful fit into bedroom interior design, which are usually placed in the center of wall. In addition, bonsai trees will be appropriate, because Japanese people like them so much.

Hopefully «ideas for bedrooms: Japanese bedroom» will help to design your bedroom.