Home decor trends 2017 include styles and elements with their own philosophy and interesting history. Growing popularity of Boho room decor is explained not only by it's beauty and universality, but by it's unique contemporary conception also. Check out also kitchen trends 2018, bathroom trends 2018 and living room furniture 2018.
Boho style name came from "bohemian" world or French "bohemien" – "gipsy". What it means? In past Central Europe region Bohemia were populated by gypsies and nomads. This people were called "bohemians".  Later this word became definition of artists, musicians, actors for their free lifestyle.
What common features have interiors, contemporary "green" philosophy, gypsy and artists' styles? Read our «Interior design trends 2017: Boho bedroom» to know.

Bedroom ideas: Boho bedroom furniture
First, we'll say, many people prefer not only Boho style, but it's philosophy, which includes hippie inspired environmental friendliness, will to create and travel and, of course, bohemian chic itself.
Even if you need just style, these principles should be reflected in every interior item.
Boho room decor wouldn't exist without extremely cozy and relaxing atmosphere. Best stuff for it should be very large and soft bed. Retro furniture, included in home decor trends 2017, is required for Boho bedroom. You may use retro bed as traditional solution or any other style one, excepting to expensive luxurious options.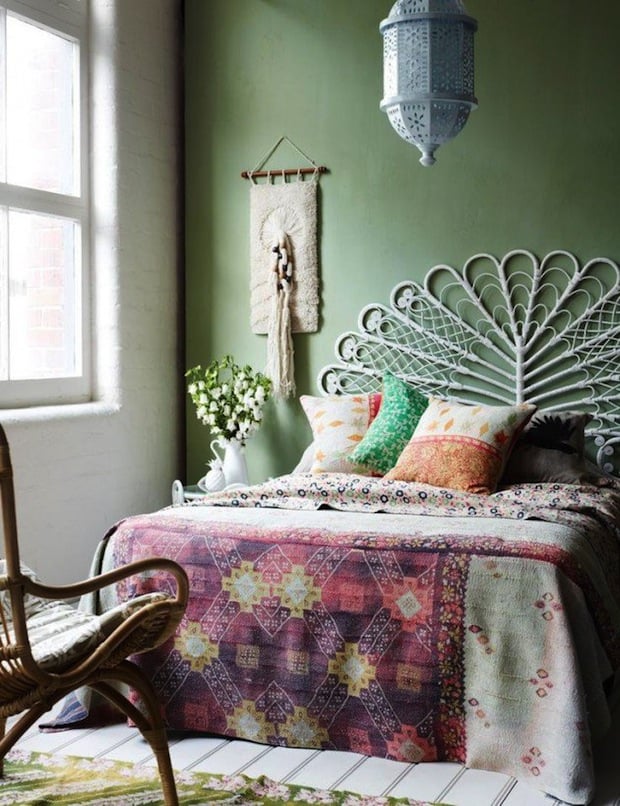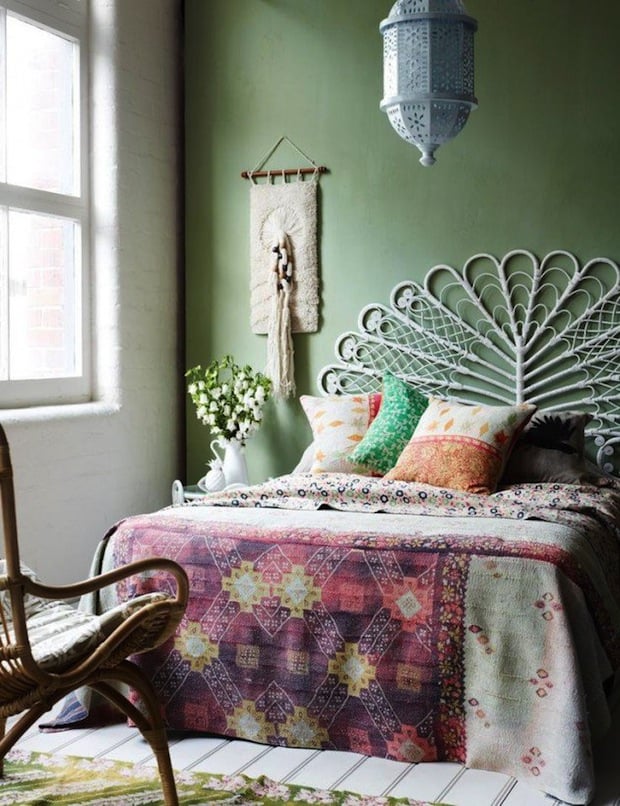 Creative solutions should be main condition, especially for such important Boho room decor element, as bed. You're welcomed to paint bed by yourself any way you want, decorate it with hand-made elements and even use picture or reproduction as bed heading.
Other furniture should be chosen by same principles. Use hand-made furniture, country or rustic style braided furniture, combine it with Moroccan style ones. Eastern theme, reminding of journeys to exotic countries, plays especial role in Boho room decor.

Boho bedroom finishing: Home decor trends 2017 merging
Such eclectic style includes eco-design principles, so warm shaded natural wood takes important part in Boho room decor. Live plants should be real "building material" for such bedroom. Green plants color makes good contrast to other bright Boho bedroom elements.
Even neutral one-tone walls never stay boring in Boho room decor. Base any bedroom ideas on boundless creativity. You can paint your walls the way you like by yourself, for example, making random brushstrokes, drawing exacted shapes or even child's drawing simulation. If you prefer more traditional options, decorate walls with eastern style carved panels, photos and pictures in frames or ethnic carpets.

Floors can be wooden or laminated. Pay much attention on decor with country style rugs or fur (necessarily artificial!).
Bedroom ideas: Boho room decor
One of best home decor trends 2017 is hand-made. Use items you made by yourself even if you think they're not ideal. Neglectfulness should make you keep one more interior design trends 2017. Remember, Boho room decor is for free artists, so demonstrate your hobbies and interests.
Bedroom ideas for Boho style interior developed to create ideal place for relaxing. You'll never have too much pillows in Boho bedroom. Decorate them with bright ethnic patterns.
Use much macrame!
Soft light finishes your unbelievable Boho room decor.
Hopefully, our «Interior design trends 2017: Boho bedroom» article should inspire you to create best bedroom reflecting your personality.