Pink color is rarely chosen for bedroom decor. Nevertheless, this color is hard to understand. Yet it's possible to find optimal solution for pink bedroom. And it's not obligatory to make such a room for the baby. This unusual color also can be an interesting option for adults. Variety of shades allows choosing intensity and brightness of pink in interior design.


You will also like:

Pretty nice combination of pink bedroom will come out with gray, white, purple and various shades of these colors. Depending upon wishes, bedroom decor can be arranged in tropical forest, gentle boudoir or classic-style decor. Ironically, pink color can also be serious and stylish. Let's take a closer look pink color in interior design and go through our pink bedroom ideas.



Boudoir in modern house
Romantic people will definitely appreciate gentle creamy- pink tones in bedroom-boudoir. Soft pillows and bedspreads in soft pink tones, padded stools, carved tables with mirrors will be in your pink bedroom. Modern furniture designers offer a large selection of original pink furniture.
If you want to have boudoir in modern house, opt for muted and soothing shades of pink like cherry blossom, lavender and salmon. They are well combined with lilac and gray shades, wood motifs and abstract drawings. Boudoir also allows many different statues and decorative vases. In general, boudoir in its interior design should have something kiddy and innocent.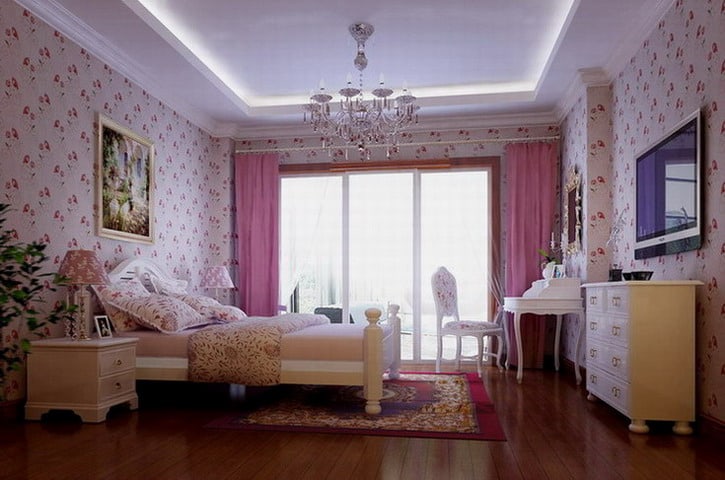 Strictness in pink bedroom
Pink is considered as frivolous, but well-chosen hues and other color additions will help to create discreet and even classic interior design. For having strictness in pink bedroom select cold shades of pink as light burgundy, ash-pink and gray-pink. Complement them with white color or beige, so you will have not striking, but rather original bedroom decor. Furniture and walls in natural wood will contribute in creation of discreet atmosphere.
Bed and bedroom furniture in regular geometric forms will suit for strict pink bedroom. Avoid too much wavy lines, they distort the space and strictness will disappear. Decoration also should be used in minimal quantities. One or two pictures or several pots of plants in bedroom decor will be enough.





We hope, that pink bedroom ideas will help to make decision.