In the bedroom, we spend about a third of life. It is logical that the room which we use so often should be not only convenient, but also stylish.
The most comfortable is small bedroom. Bedroom is not a place for loud noises and bustle. Creating a comfortable space for sleep and rest is not a difficult process.
World-famous Western designers have come up with not one or two, but hundreds of bedroom design ideas and projects. In this article of small bedroom ideas 2017 we will try to give trendy and modern ways to renovate your small bedroom.
Contemporary or modern small bedroom designs
Practical design is nowadays requirement. But the pursuit of simplicity and clean lines appears stronger with the increase of pace of life and the complexity of problems that arise in front of us every day. And there is merely no place for complex constructions in small bedroom. The less objects in bedroom, it will seem to be more spacious. Exactly in this principle works modern small bedroom designs.

You will also like:






Small bedroom ideas in classic style
Interior designers while creating classical interiors tried to repeat the luxury of the imperial bedrooms. High headboard bed is the main emphasis in small bedrooms. If you like the rich decoration, a lot of frills and curtains, soft pillows and high headboard bed, the small bedroom classic interior is the great solution. Classic interior in a small bedroom can create a sense of closeness and clutter the space. Therefore, it's important to pay attention on small bedroom designs and to think carefully about the composition.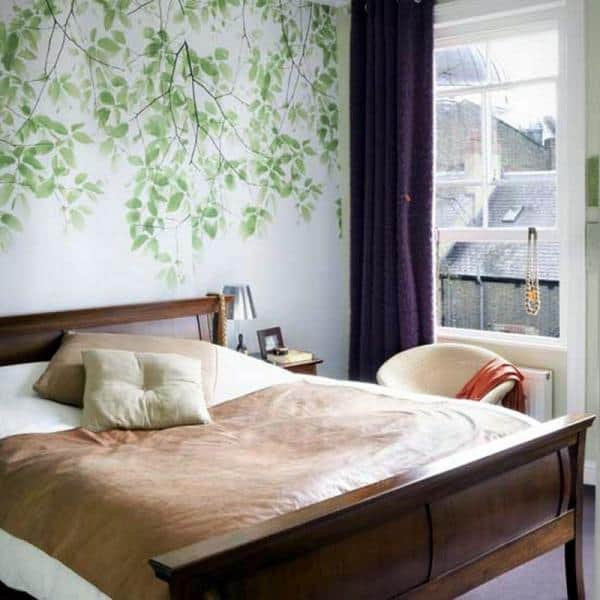 Small bedroom ideas in French country decor style
Where romantic notes more appropriate than in the bedroom? And what style could be more romantic than Provence? The small bedroom interior in medieval French country decor style is a gentle pastel colors, flowers in vases and prints, wooden furniture and a lot of useless but cute souvenirs on regiments. Naturalness is a key feature of the Provence decor style. Here, everything must be simple and clear, without unnecessary frills, and the pathos.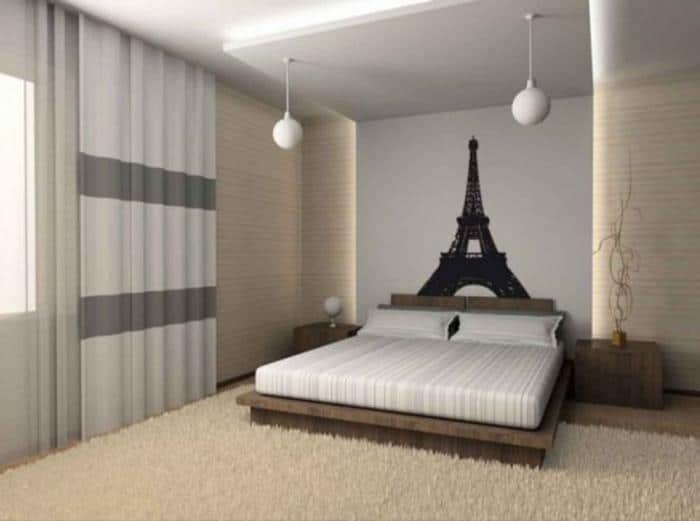 Ideas for small bedrooms in the Little Japan style
Japan is not only a country, Japan is philosophy. The idea of simplicity, closeness to nature and the pursuit of self-knowledge are reflected in interior design. The interior in the Japanese style that's all you need, but nothing more. Tech materials should be avoided, giving preference to wood. Silk is the most appropriate material in in the Little Japan style bedrooms In contrast to the bedroom French country décor style. Bamboo, wood, stone, porcelain and silk thread should be used in Japanese style small bedroom designs as much as possible.





Ideas for small bedrooms in minimalist style
Minimalist style in some way is close to a Japanese style. Both directions are characterized by rejection of the excesses, pursuit in simplicity of shape and emphasis on free space. Low bed and natural shades migrated from Japanese to minimalist style small bedroom designs.
There are a lot of variations on the minimalism theme. In contrast to the Japanese style, minimalist design permits a broader palette of colors and bright accents. In minimalist style design better not to use more than three primary colors and traditional white remains the dominant. The classic version is combination of white with pastel gray or brown.







Small bedroom ideas (Photos)