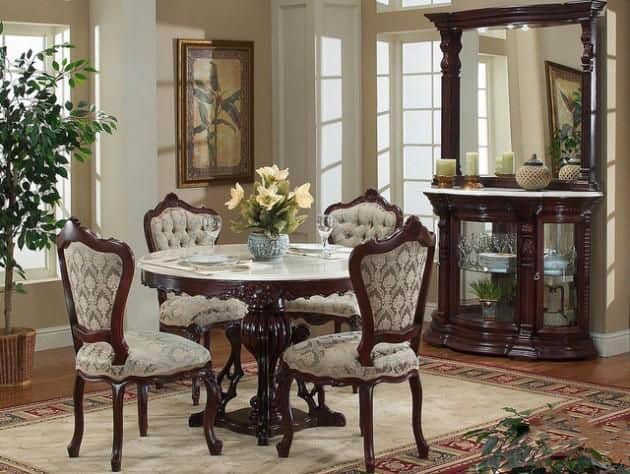 Why we should use Victorian decor for modern dining room? Because it's out of time! Victorian style originated in 19th century and constitutes mixing of history and eclecticism influenced by the Middle East and Asia. Victorian dining room creates full epoch culture perception with it's key elements.
Read our «Dining room decorating ideas: Victorian dining room» article to learn it's principles.


Victorian decor: Lights and finishing
Massive originally designed luster should be the most notable element of Victorian decor and tell about your taste and personality. Place it right below the table, as Victorian traditions dictate. Preferable material is crystal with some unusual metal elements simulating candles and lampshades.

Victorian decor is recognized by gentle semitones, colors of setting sun, sometimes combined with royal dark shades. Dusty rose, blue and faded yellow colors were very popular. The most famous combination was olive dining room with creamy finishing should be useful for modern dining room also.. Use floral patterns and stripes combination on wallpapers. Prefer velvet curtains with soft draping or silky ones with gold and silver ornaments.


Victorian dining room: Furniture
Use furniture made of walnut or mahogany. Dining table should be round or elliptic shaped, made of wood or bamboo. Chairs should be with curved legs, richly decorated handles and back. Victorian style involves minimum open space.
Massive antiquarian cupboard and beautiful fireplace would bring modern dining room cozy Victorian atmosphere.


Dining room decorating ideas: Victorian accessories
Antiquarian carved floor clocks, vintage statuettes and figurines bring epoch spirit. Refined crystal lusters and brass sconces are classical Victorian decor elements. Nowadays lights decorated with gilt, copper and bronze became trendy again, so you're welcomed to use it for another style modern dining room also.
Richly decorated chandeliers and fresh flowers in high vases look amazing!

Hopefully, our «Dining room decorating ideas: Victorian dining room» article will help you to create cozy and atmospheric dining room where all gastronomic dreams would come true.