We invite to read «Dining room design ideas: Gothic dining room» wide audience of gourmets, history, fantasy and romantic interior connoisseurs. Gothic style should make modern dining room look like medieval castle banquet hall.

Gothic style formed in Western Europe in XIII century, featured by accentuated vertical elements, aspiration upwards, visual lightness, mystic and fantastic unreal shapes. Gothic dining room should be large. High ceilings are necessary for banquet hall like dining room decor also because of using columns and stalactite simulating elements.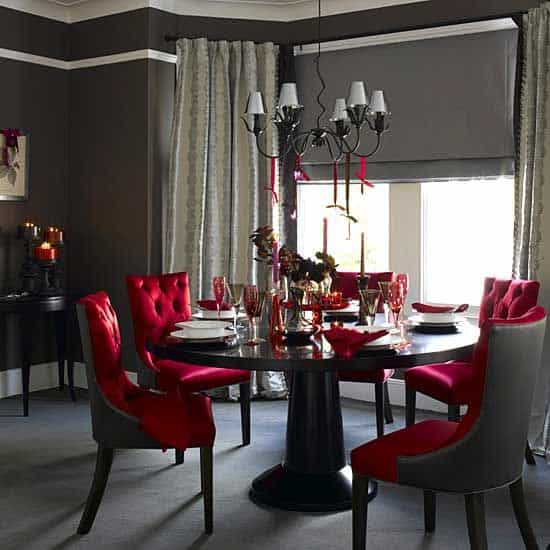 Dining room decor: Gothic interior colors and materials
Get dining room design ideas from the best Gothic architecture examples. Use saturated colors, as red, dark red, brown, black, beige, dark blue, emerald green with small parts of gold, bronze and silver.
Gothic windows make the style! Use lighting effects and multicolor stained Gothic windows. Artificially aged metal chandeliers and candle simulating lights should create real medieval atmosphere in modern dining room. Put them on a table and hang on walls.
You will also like:
You're welcomed to use unreal shape chandelier by spirit of time or big classical crystal chandelier.


Gothic dining room walls should be decorated with wooden materials, as oak, spruce, walnut, juniper, larch, pine, European pine and marble or stone also. Hang bright medieval theme tapestries on walls. You're welcomed to decorate modern dining room walls by internally illuminated stained-glass also.
Gothic decor uses character patterns as lilies, shamrocks and of course, Gothic rose.
Medieval patterns in dining room decor should be carved, made of stone, wood, stained-glass or fabrics.

Use oak framed door with beautiful medieval style forged decorative elements, large fireplace with wrought-iron grille. Floor should better be simple wooden or stone.

Dining room design ideas: Gothic dining room furniture
The heart of the Gothic dining room is a massive wooden table with deep drawer, hinged worktop and many small compartments under table-board.
Use simple or carved high-backed chairs. You're welcomed to get original ones, remaining thrones for impressive dining room decor. Generally, use massive carved dark wood furniture, as bivalve cabinets with many infills. Use cupboard with high legs.

Gothic dining room: More tips
If you are bold experiment's lover get a big wood round table and your guests would feel themselves like knights!
Chest was universal furniture item in Medieval. Use it as accessory in modern dining room.
Artificially aged metal tableware in Gothic dining room makes great impression!
Use mythical creatures' figurines, such as Gargoyles.
Hang some food theme still life or Vanitas paintings characteristic for Medieval on walls.


Hopefully, our «Dining room design ideas: Gothic dining room» article inspired you to create real knights' banquet hall and maybe few royal culinary masterpieces to enjoy there!