Traditions that had existed for hundred years envisaged for such mandatory place at home as dining room, where family members gathered for meals, or had guests to celebrate holidays. Of course, in modern small apartments to allocate a separate room under dining room is problematic, but talented designers have solved this problem.
Modern dining room can easily become part of kitchen, living room, or both of them together. Therefore, finishing of dining room should be approached with maximum responsibility, because each area must be different from others and simultaneously in harmony with them. And essential element for creating cozy and original dining room decor serves dining room wall decor, which sets awesome mood throughout the room. In «dining room wall decor» article we will go through modern directions and trends of dining room design.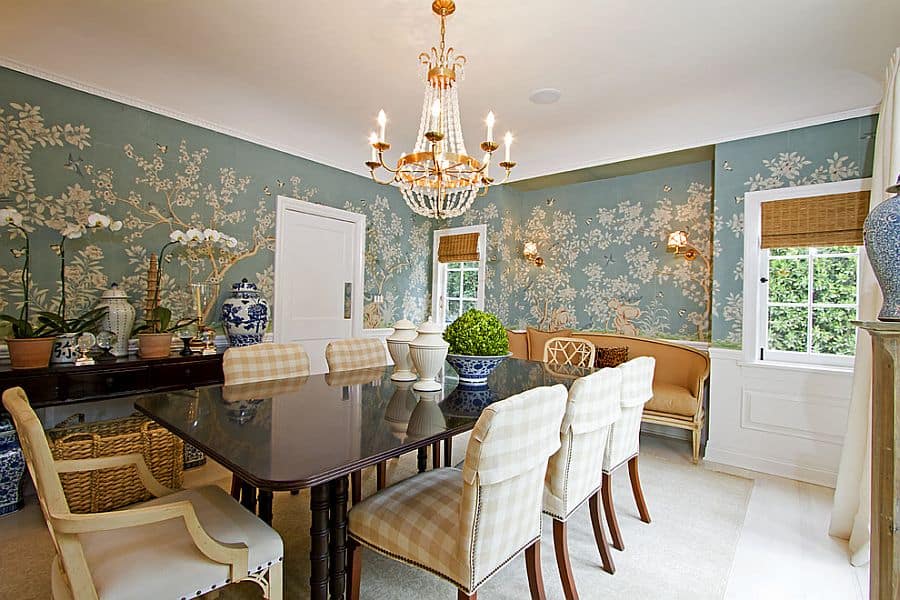 You will also like:
Color variations in dining room decor
Delicate shade of light green walls in dining room decor will create a sense of airiness and large area, which goes well with wooden furniture. White walls in aggregate with same color furniture will create a feeling of airiness and large area. By combining it with other shades you will receive an original style with own special charm of dining room. Thus, white interior in dining room decor looks especially fresh and weightless, but black and white on the contrary, rhythmically dynamic and businesslike modern.
Beige shades on walls are also visually increasing space in dining room and harmonize with white colored furniture or accessories.
Pearl gray colors in dining room decor indicate style and sophistication.

Dining room design styles
Amidst popular nowadays design styles are considered the most original:
Chinoiserie. Imitation of Chinese interior, more precisely, the European perception of it. Walls adorned with chrysanthemums, peonies, fabulous birds and dragons, Chinese motifs. Dining room design is bright and colorful.
Shabby-chic. Light gray or white colors are core of this dining room wall decor. Walls in dining room design are painted under white brick, and as decoration could be used flowers, candles and wooden tableware.
Provence. Cozy style with monophonic walls and variety of "domesticates" trifles, such as tablecloths and napkins.
Of course classics remained in fashion for lovers of simple solutions, which can be diluted with elements of modernity and have simple but cozy dining room design.
So-called little things give special charm to any room. Paintings or mirrors on walls, lamps or glass shelves with interesting accessories are ideal extensions for dining room. Fireplace also appropriate in dining room and creates particular atmosphere of comfort and warmth.
Despite of materials and dining room decor you choose, remember that dining room is relaxation area, intended for pleasant moments and good company. And therefore it's necessary to make it as comfortable as possible.


We hope «dining room wall decor» article will help to create your space.