Vintage dining room creation surely should give you much fun! Vintage term come to design from wine making. It meant vine, wholly made from one-year grape harvest. Terms' literal translation is "wine's age".
Vintage interior design is less strict about date. We don't need just one-year production. Designers argue about this style. Common features, we've found: it's about items, brightly characterizing some epoch. Age: between 100 and 20 years.

Consider one more moment for Vintage dining room project. You're free to use true Vintage, or it's stylization. True Vintage items were made right in past epoch, became actual and restored now. Symbolization just imitates old design.
Take a look at our articles about:
So, if you've got past century items, give them second life! Or you can find them at swap meet, special web-sites or grandparents' forgotten "waste" stuff. A little design magic, and you'll have a base for unique dining room decor!
Read our «Vintage dining room: Dining room decor photos, tips and inspiration» article and continue!
Vintage dining room: Special dining room decor colors
No matter, is your Vintage dining room stylized or true, colors should look like they've faded with time. It relates to bright tones also!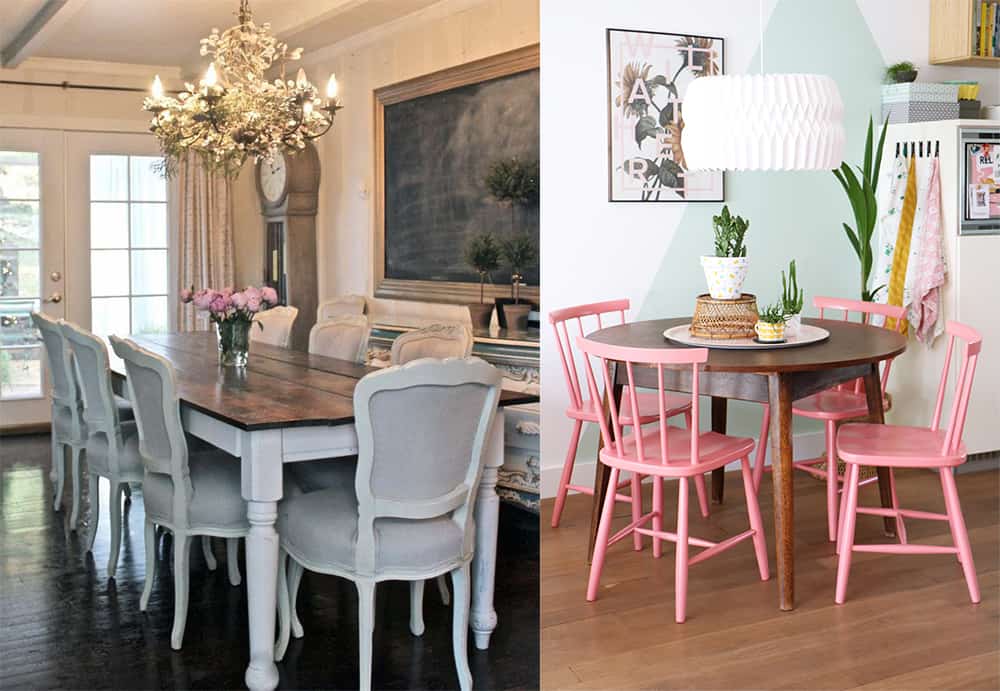 Dining room decor base consists of pastel tones.
Vintage interior design often includes «powdered» blue, aquamarine, mustard yellows.

Other bright colors come just as little spots (usually through tableware, napkins or flowers). 20th century first half interiors were usually very calm.
Aged wood opens its beauty here.

White's predominance makes great work. But be careful: avoid too much light tones for Vintage dining room with natural light's lack. In other cases dilute white with warm wood and you'll get competent design, without too much coldness.
Vintage interior design: Dining room elements
Vintage dining room table should be placed right at center or near corner windows. Second case fits for large windows and smaller table.

Tablecloth should be absent or very simple. Lace one appears on holidays.
As Art Nouveau was popular in past century beginning, you may use not only usual rectangular, but oval tables also. Vintage interior design gets especial charm with pretentious, flowing shaped table's and chairs' legs.

Flowers on table in pretty Vintage vase give feeling of time.
Small flower and stripes patterns can appear on walls and upholstery.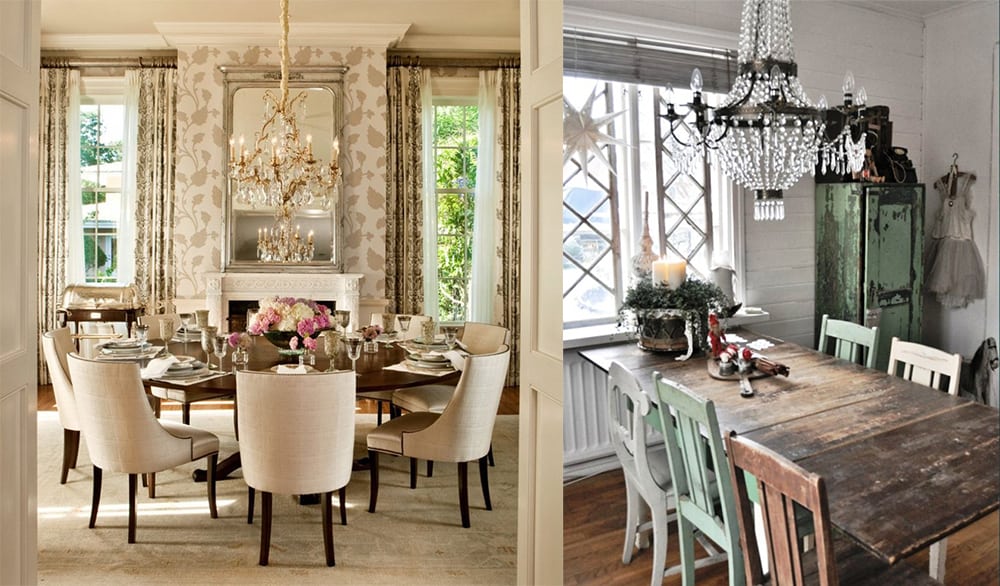 Flooring is usually wooden. You're welcomed to cover it with calm-colored carpet.
Classical luster makes suppers so cozy!
Important nuance for dining room decor in Vintage style: never hide whole tableware! Here it speaks about epoch, works as decorating element!

Hopefully, our «Vintage dining room: Dining room decor photos, tips and inspiration» article should make you have the best meals ever in warm company, enjoying historical interior beauty aesthetics.