Today we'll discuss realizing interior trends 2017 both for boys and girls in beautiful Nautical kids room. If your children love reading books about pirates and dream of sea journeys, adore beautiful seascapes, water and summer sun, make that best gift for them!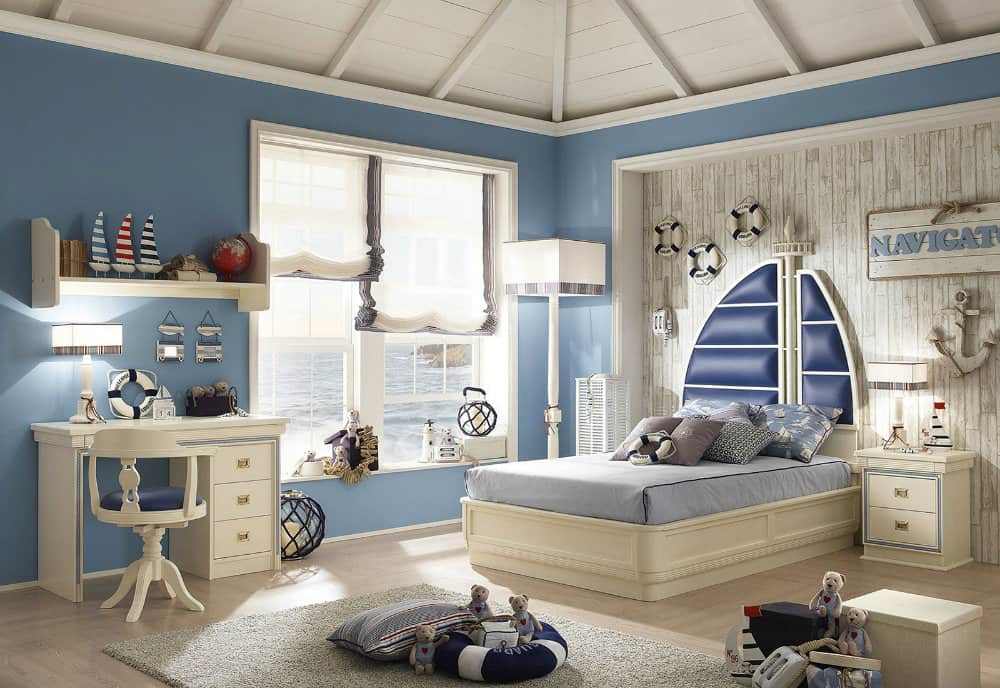 Nautical kids room would be very useful for your children physical development. You should use such kids room decorating ideas, as rope ladders, fishnets made from strong ropes and rope-climbers.
Take a look at our articles about:
Let's make it together with our «Home decor trends 2017: Nautical kids room» article.


Interior trends 2017: Nautical decor colors
Nautical decor includes all shades of sea, sky, shore and underwater world. Most wanted colors you should use from interior trends 2017 are Airy Blue and Riverside. Spicy Mustard, Dusty Cedar and Aurora Red, reminding of corals, should be used in less quantity.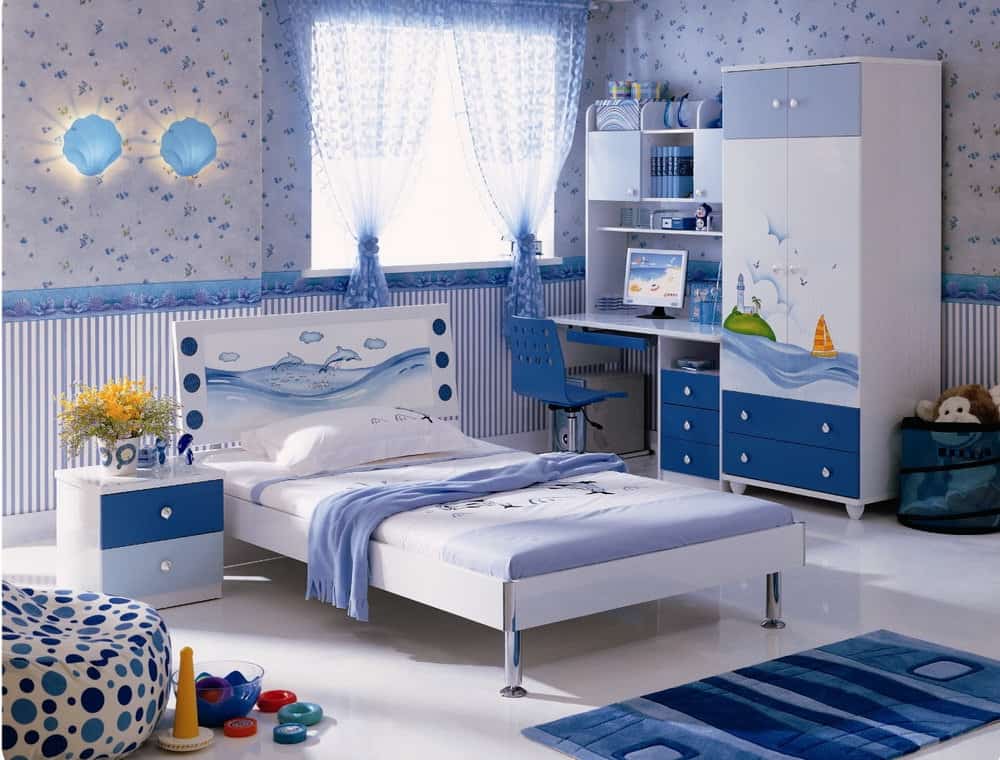 White color enlightens brighter ones. Blue shades should be most useful for boys' rooms. Girls' rooms often made in different tones of coral or sea-shell shades, though light-blue color would be useful also.
Blue and white stripes should be most useful for nautical decor.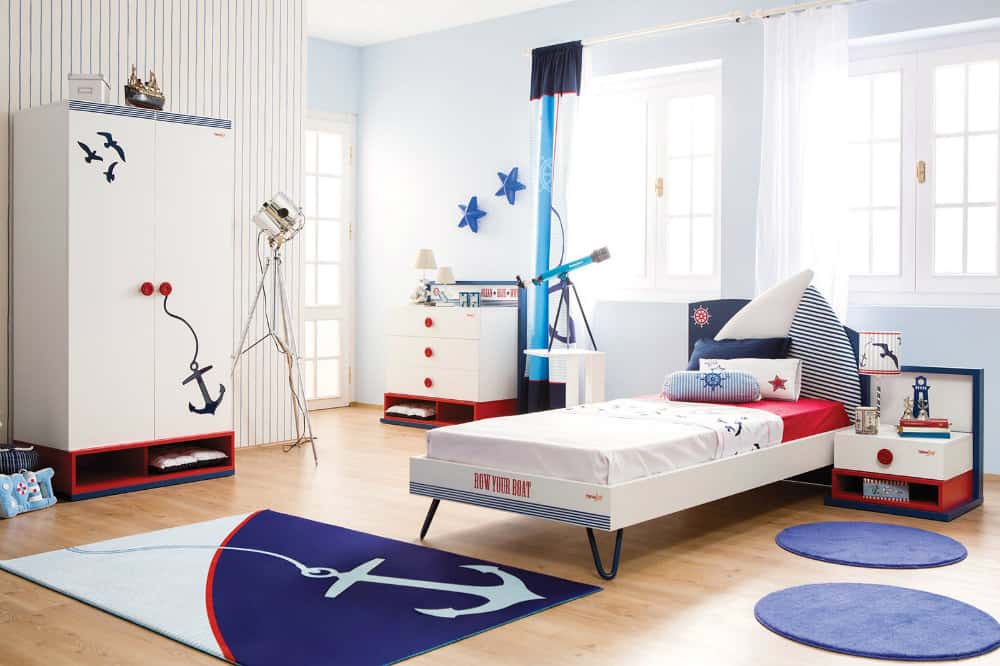 Nautical decor includes colors and stylistics of ships also. Wooden elements, preferably light colored, should take important place in it. So, we came to discussing Nautical kids room materials theme.

Nautical kids room materials
Kids room decorating ideas set your imagination free! What materials and textures come on your mind, when you think of clear skies, beautiful ship, sailing on sparkling water surface and fresh sea breathe?.. Let's go!
Use light tone wood for flooring, wall panels and some decorating elements to imitate ship atmosphere and you are good to go with interior trends 2017. Shiny self-leveling floor should look perfectly also, if you'll choose light colored or marine theme one, for example, imitating sea water surface.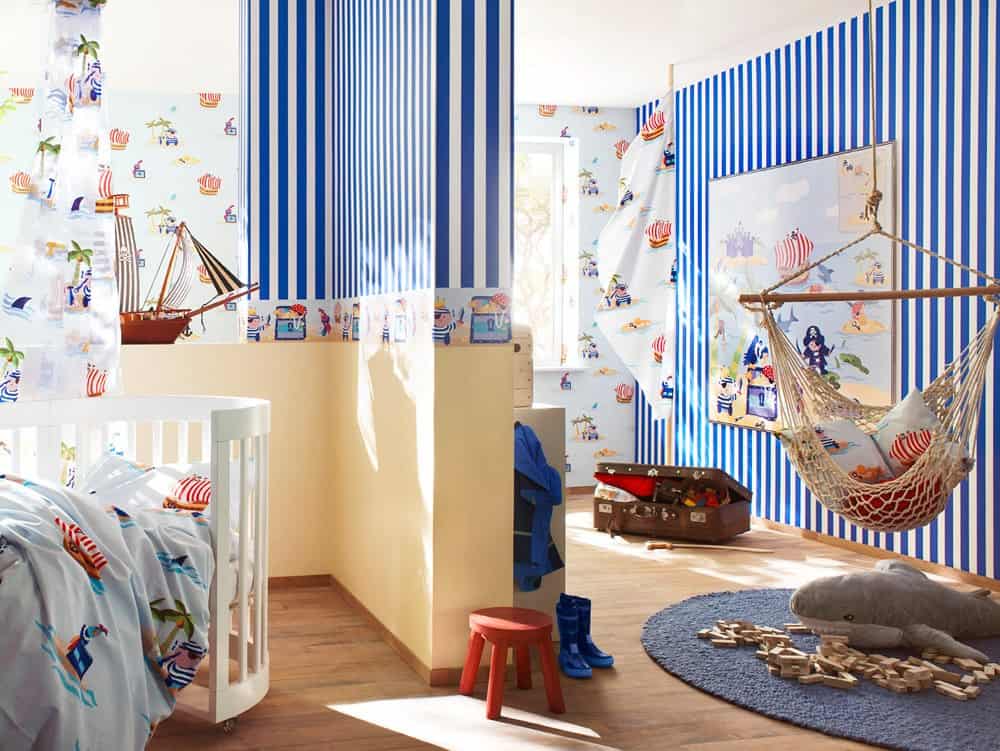 Ceiling can be simply white or original. If you prefer second option, decorate it with old ship cabin simulating beams or stretched ceiling depicting skies or marine life. Remember, it shouldn't be too dark for nautical kids room!
Walls would be painted in one-two base tones or make impression of skies, underwater environment, tides, sometimes represent geographical themes for little sailors. Nautical kids room should include one of interesting interior trends 2017, such as cork material. Cork wall panels would become great background for accenting decorating elements.

Windows should bring much light to make room joyful and comfortable for studying.
Stripe and tide motifs should be used anywhere in Nautical decor, from floors and rugs to curtains and furniture textiles. According to home decor trends 2017, you should use stripes capabilities! Vertical stripes make space and items visually longer and higher, horizontal ones widen anything.
Curtains can be light and have any water tone to create waving tides effect on the wind. You can add curtains on some beams or even beds and cabinets to give your magic "ship" its' own sail.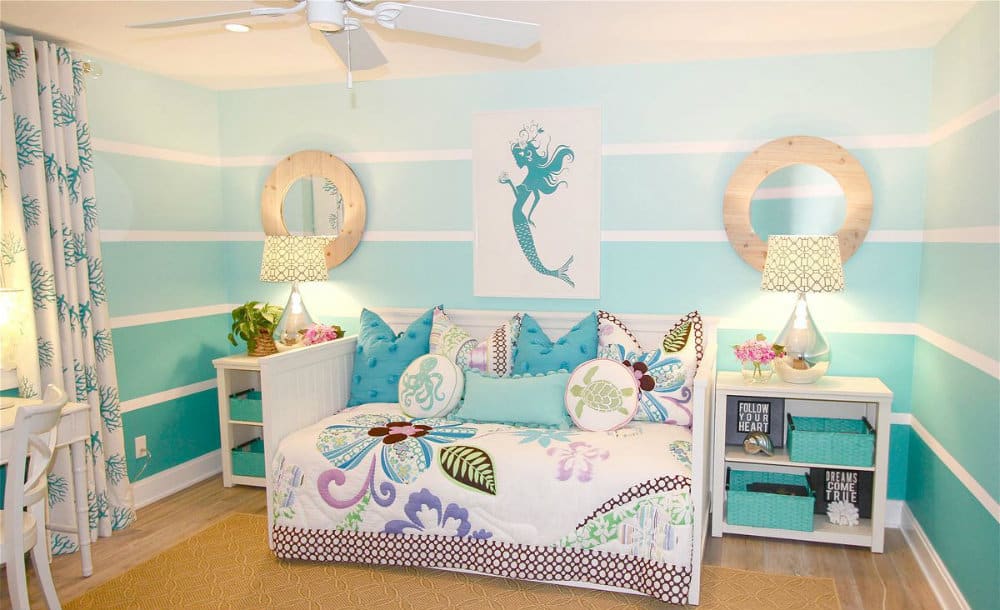 Kids room decorating ideas: Nautical kids room furniture
Use natural wood, soft fabrics and light colors for Nautical kids room furniture. Sea stars, anchors and sea horses shaped handles should bring room play and romantic marine atmosphere.


Bed can be accented and made as a soft ship, sea star or even your kid's favorite sea dweller character. Nautical decor gives options for interesting ways to use two-tier bed. If you make room for two kids, second tier should be reachable thanks to special stylized ladder. And even if only one child will live in room, you can add two-tier bed! First tier should become a working place.

Lockers and cabinets should have the same stylistics with table and chairs. Set your fantasy free! Decorate any item with small minimalistic nautical theme images or carvings, sometimes gilded, it has own place in home decor trends 2017.

Chest should become your little pirate treasury. Think over its' style and decor, make it interesting for children and they'll put their toys in chest with great pleasure!

More kids room decorating ideas and tips
Nautical kids room decorating ideas should be around making your kids expand their science and geography knowledge. Use barometers, globes, maps, compasses, spyglasses, binoculars.

Lifebuoys, helms, fishnets and sea-shells should become best decorating elements for nautical kids room. It should be hanged on walls, reflect in clocks or luster shapes or decorate tables and locks.
Ship models and any toys, reminding of sea life, will organically continue your design and recommended by interior trends 2017.
Hopefully, our «Home decor trends 2017: Nautical kids room» article inspired you to bring your children beautiful sea fairytale from wood, stone and imagination magic.