Today we prepared great kids room ideas for your children (and you)! Kids room has to be interesting and cozy for your child first. So many generations adore Lewis Carroll famous fairy tale story about Alice! It's popularity grew again after Tim Burton masterpiece movie. Check out also kitchen trends 2018, bathroom trends 2018 and living room furniture 2018.

Fantasy design is one of home decor trends 2017. If your kids admire this wonderful fairy tale too, they should be glad to get such gift, as Alice in Wonderland bedroom from you! Let's learn such bedroom designs kinds and principles in our «Interior design 2017: Alice in Wonderland decor» article.

Kids room ideas: Alice in Wonderland bedroom colors
Alice in Wonderland bedroom colors depend on design concept you choose. Usually, girls' rooms should be made in pastel colors, such as tender pink, lilac, light blue, creamy, mint, with bright accents. Boys' bedroom designs should be more dynamic and «full of adventures», so it often includes glossy bright red panels, or blue and black shades, reminding Cheshire Cat stripes.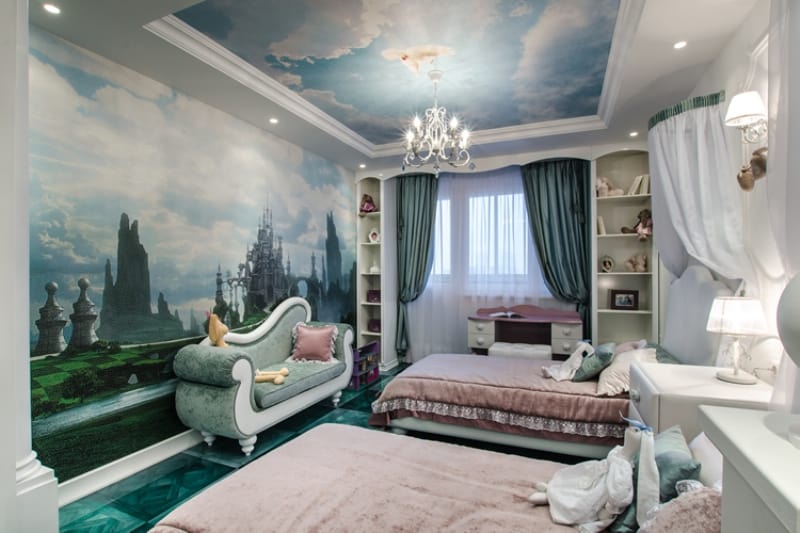 Live green grass imitation looks good on neutral backgrounds.
As we choose fantasy design, we can use such beautiful home decor trends 2017, as multicolored LED lights and glow paints.
Minimalistic rooms would be duo-chromatic, even black and white options looks interesting, like from old comics' books pages.

Bedroom designs: Alice in Wonderland bedroom furniture
Get inspiration from books illustrations and movies! Furniture for Alice in Wonderland decor looks little surreal and gives atmosphere of real fairy tale! Any of such unique bedroom designs options should have a very good effect on your children development.
Fantasy interior design 2017 gives many opportunities of bed decor! Simplest variant is baroque bed decorated with textiles, reflecting main theme. Choose fabrics with fairy tale heroes' images, trees silhouettes, black and white stripes or chess patterns.
More original bed options include thematic headings or unusual shapes.

Add unusual curved shaped cases or use them as decorations. Let your children keep their toys in «teapots», «mushrooms» or «hats». Why not?



Decorative tree in the corner or multiple doors in reality can be wardrobes. Such "hidden" furniture is included to home decor trends 2017.
Remember about Tea Party corner in Alice in Wonderland bedroom! Stylized table, chairs and tableware should give your children much joy!

Alice in Wonderland decor: Kids room ideas from fairy tale
Vinyl silhouettes of fairy tale heroes bring wonders even in minimalistic bedroom designs!
Carroll's world surrealism can be accented with "flying" furniture and decor items, hanged on walls or ceiling. Remember about safety! Your kids would like such joyful design! Increase flight sense with LED lights on massive furniture bottom.
You can use photo wallpapers with story scenes and heroes.
Use stylized sofas. Fantasy kids room ideas shouldn't be rational, but always make masterpiece impression. Get not only necessary functional items for large rooms, but decorative ones also, such as swing, multiple wall clocks, benches, like ones, you've seen in movie.
How to get through Alice's adventures without magic bottles with "Drink me" inscription? By the way, your kids room should fully fit to home decor trends 2017 with such unusual bottles!
Hopefully, our «Interior design 2017: Alice in Wonderland decor» article should inspire you to create real fairy tale for your beloved children