When it's time for decorating kids room, a small area can become a real problem. Don't worry. A little bit inspiration and you can easily (and inexpensive) transform a small space into a well-organized small room for kids for games and recreation. Today we will discuss « Kids room decor: small room for kids».
Kids room decor: kids bedroom furniture
Regardless, for boy or girl you are setting up space, kids room decor and kids bedroom furniture should begin with the most important things like bed and storage systems. A Traditional single bed, leaning to wall, will leave space for something else in small room for kids. Select size of kids bed depending on your child's age. If budget allow you not saving on kids bedroom furniture, don't buy a bed heavily for growth. Prefer baby bed, but not for teenager. It will take small space, and kids bedroom will look more spacious.

Pay attention to kids bed with drawers. They are convenient, since it's not necessary each time raise mattress for accessing to some items. Some beds are equipped with sliding panels which will allow you having bedside table in kids room, just by throwing back the counter top. It also saves considerable space in kids bedroom.
You will also like:


Kids room decor: storage systems
In small room for kids always better to use the built-in storage systems, because they allow using every centimeter of space. But if you choose freestanding furniture, pay attention to multi-function items, such as closet for clothes.
In small room for kids its cost to use walls as much as possible for storage. Open shelves will hold all items within reach, and make kids room cleaning fast and easy.

If space isn't enough, try to install coat hanger directly on the wall.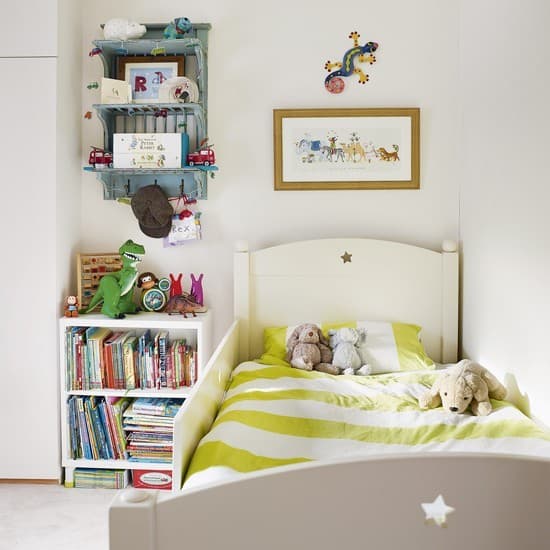 Workplace in kids room
If have not enough space in kids room to fit even small work desk, use hinged tabletop, nailed on the wall. Table can be flown for homework, and then lowered to wall when it's not needed.
If space in kids bedroom allows you to set small table, put it in corner. Also it could serve be used as dressing table for girls. Hanging shelves above desk allows to clear work area of books storage; this is very important, when installed table in kids room is small. Choose chair with rotating mechanism.

Kids bedroom decor
Kids bedroom decor can extract good benefit from the correctly chosen color scheme. Surely, white color in small room for kids is really visually expands space, but it doesn't mean that other colors and patterns couldn't be used for giving fun and character to kids bedroom. Window textiles and bedding can be an excellent platform for application of bright accents in white kids room.



Add bright rug and several colored pillows in kids bedroom decor to enhance the effect. You can also use interesting accessories like table lamps in bizarre shapes and slate for drawing. Child will certainly appreciate our ideas in article « Kids room decor: small room for kids»!