Best kids room ideas built on some concrete themes. Just remember, it should be your child idea and wish, not yours. Kids room decor based on your children's interests make them evolve, sleep better and simply happy.

Interior design 2017 has no borders! If your child loves Lego, read our «Kids room ideas: Lego room decor» article.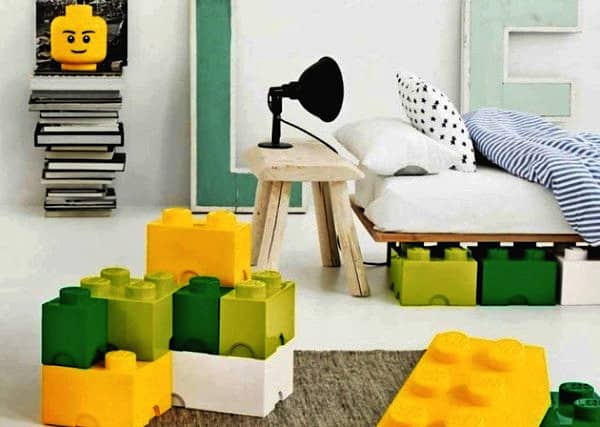 Bedroom design: Lego bedroom colors
Lego bedroom shouldn't necessarily be bright and overloaded by colors. Such kids room decor basic colors are yellow, red, green, black and blue. Use beige, light blue, grey as additional colors to make harmonic and calming background for bright tones.
Take a look at our articles about:
Neutral colors would look better for walls, ceiling and floors finishing. Bright Lego stylized details would make whole bedroom design concept.


Interior design 2017: Lego bedroom furniture
You're welcomed to use special thematic furniture from stores or make exclusive order. Bed, wardrobe, chairs and other furniture items should have Lego details shapes.
Another option for kids room decor is choosing ordinary furniture and decorating it with images of Lego details.

You're welcomed to add simple geometric shapes furniture in constructors' bright colors. Interior design 2017 basic principle is functionality. You're welcomed to use it in Lego room decor. Modular structural furniture should amazingly illustrate Lego bedroom basic idea, which is constructing from details.

Kids room decor: Lego bedroom accessories
Accessories make whole bedroom design base. Use original decor items, such as picture, created from randomly glued bright Lego details images or Lego shaped pillows. Get rug for construction; it easily transforms to sack for keeping every detail safe.

Use your imagination! Lego shape lamps should give more brightness and creativity to bedroom design.
Interior design 2017 promotes any hand-made components. Of course, lego «sculptures» made by your child should become best room decorating items!



Hopefully, our «Kids room ideas: Lego room decor» article would give you and your children much fun of constructing their joyful Lego bedroom. Create together and be happy!