Today, we'll discuss very useful tips for easy creating kitchen design with decorating trends 2017. Many people inherited beautiful items from older generations.
Don't throw it away! All your retro items time has come!
Take a look at our articles about:
This article is for the ones who don't own any old furniture also. If you love historical interiors of the past, we invite you to recreate Retro kitchen with us. Read «Kitchen design ideas: Retro kitchen»!

Retro kitchen decor: Colors
Kitchen design ideas for retro decor based on contrast or very tender pastel colors fitting again to two interior design trends 2017! Red and white bright combination is one of most frequently used. Soft pastel colors sometimes with floral patterns make atmosphere of quietness and effect of «old photo».

Colorful and too bright lights should be taboo for Retro kitchen! Use simple, sometimes diffused light. Don't forget about daylight. Large windows are what necessary to make your Retro kitchen look spacious and filled with sun.
Decorating trends 2017 make kitchens look "opened" again. So, you're welcomed to use large windows from floor to ceiling or even glass doors to your Retro kitchen.


Interior design trends 2017: Retro kitchen furniture
Restore your old furniture or get new old-style one from special shops. Try to keep same style, for example, elegant jazz-inspired 20-ties, simple but bold 50-ties or progressive rebellious 70-ties. Use simple furniture with strict lines, more romantic rounded shaped one or richly decorated light colored items for retro kitchen decor depending of your choice.
Wooden furniture shouldn't be too darkened. If you like carvings, choose only simple options.


Old-style modern kitchenware, included in decorating trends 2017, would organically continue ideal retro furniture look. You're welcomed to make an accent on fridge. Add bright colored fridge (red looks most stylish) or combine it's pastel tone with another kitchenware or furniture. Pay attention on it's shape; choose models with rounded corners.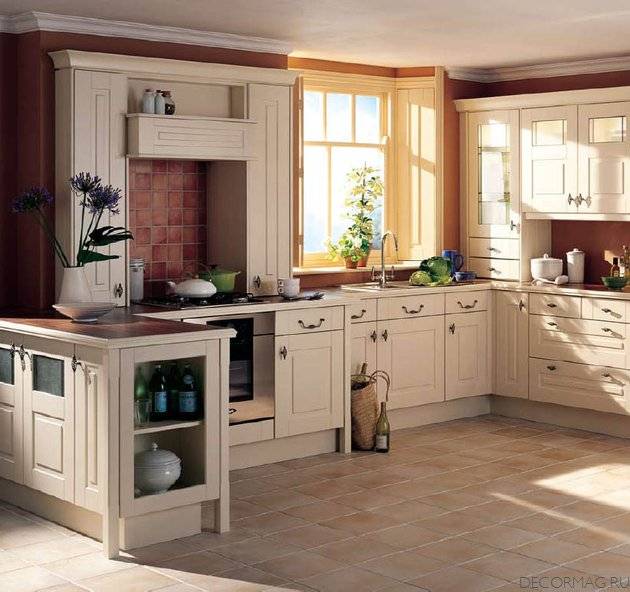 Interior design trends 2017 brought flowers back to our homes! Another option for great fridge decoration is adhesive tape with tender retro floral patterns. You're welcomed to use it for furniture also.
Any ultramodern kitchenware should be hidden!

Kitchen design ideas: Retro kitchen decor and finishing
Chess floor is ideal for Retro kitchen. Stylized furniture handles should make complete impression of living in past times. You're welcomed to use textiles with bold stripes anywhere, including walls, curtains, furniture or even lights!
Joyful polka-dot patterns on tableware, fabrics, curtains or even walls should create romantic atmosphere of 60-ties.


Keep one of decorating trends 2017 for kitchen stylized like in 70-ties or later, that is cork. Use one cork wall or panel. Hang vinyl discs or old posters on it looking as it natural continuation. You can add old radio (or music player stylized like it) also to fill your Retro kitchen with old melodies sounds taste…


Find old open-work knitted napkins or make it by yourself.
Take some old interior photos; learn it and everything should be OK!



Hopefully, our «Kitchen design ideas: Retro kitchen» article helped you to create Retro kitchen decor looking like it came from beautiful old movies!