If you puzzled about how to make room look larger and more spacious, and want to know how to visually enlarge space in kitchen, some existing small kitchen design methods and rules from artists, interior designers, furniture creation professionals, then you just need to get acquainted with a range of councils and recommendations of experts in these areas. Stocks two-three techniques and methods, so you can always build compact small kitchen with convenient furniture, visually enlarge space there and feel comfortable and cozy.

You will also like:

Colors, images and decor presence in small kitchen
For many people already not a secret that lighter colors are always visually expand the space. Therefore, in kitchen remodel or decoration use only light and lightweight colors and shades. But in order to small kitchen design doesn't look dull, feel free to use the small blotches of colored spots. It may be rare scattered small pictures on walls or tiles on kitchen apron and several pieces of tiles on the floor of another, richer tone. In addition to this common approach to kitchen remodel and decoration of walls, ceiling and floors, you should also be guided by some requirements for visual spatial expansion:
Monochrome – use of colored tiles in small kitchen design, numerous patterns on textiles, curtains or kitchen facades, filling kitchen with multicolored spots in furnishings; this visually increases volume, and we need to reduce it.
Two colors – allowed two-tone or even three-color coloring in small kitchen, but most fundamental should be one or two colors. Everything else is chosen only in minimum volume. This applies not only furniture, but also matching kitchen textiles, household appliances and every possible utensil.
Not volumetric decor – any volume options of small kitchen always significantly heavier space and make it more weighty, but our task is, on the contrary, make perception more easy and free.
Gloss – glossy surfaces, be it on facades of headset, surface of household appliances or dining table cover; they are always significantly make small kitchen more spacious.
Shiny metal – chrome or steel table, chair legs, cornice for curtains, the use of hinged metal dish dryers and other elements, will significantly reduce furnishing areas and leave space visually larger than bulky boxes, frames or cabinets.
Mirrors – this element although has no color, or it's close to silver, however, can create the illusion of wider space in small kitchen design, and therefore use of reflective surfaces on walls, kitchen aprons or ceiling will make small kitchen space higher and wider.
Glass – glass facades on hinged lockers always allow perceiving furniture some facilitated than color variations of particle board or MDF.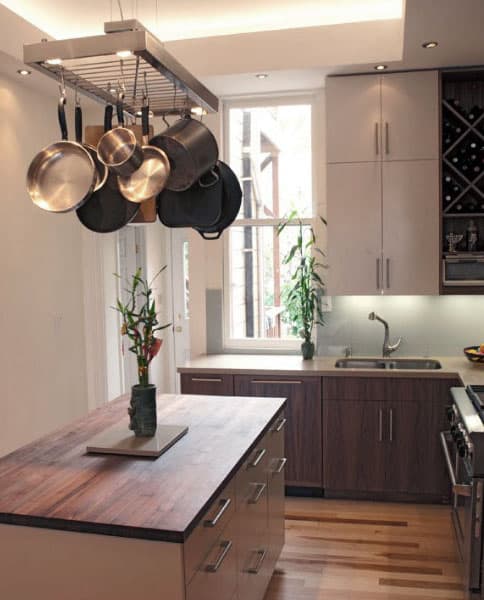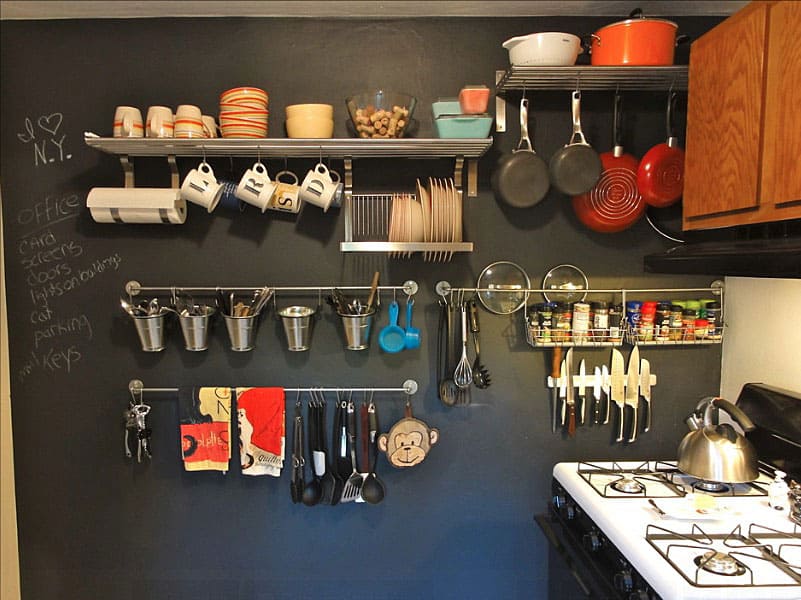 Indoor plants should also not clutter space, and had better to confine with small species, for example, violets, campanula or aeschynanthus. These plants don't tag along and don't stick out in all directions and furthermore don't have a view stick, however there are other plant species, and therefore they are appropriate in small kitchen.