Red has become firmly established in the list of fashion designers favorite colors. Kitchen is ideal space to reveal the depth of all red color shades. Do you like brightly-colored walls or stylish red kitchen? Read and discover amazing red kitchen design ideas!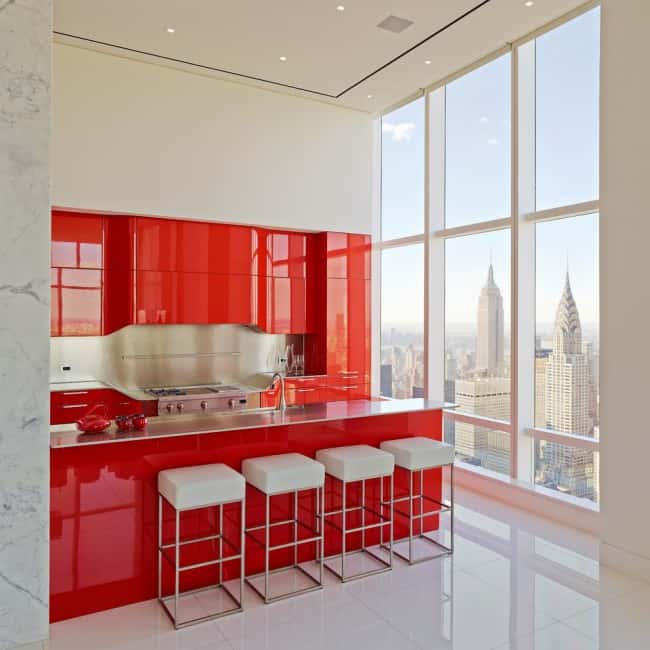 Kitchen decor tips: Subtleties of Red kitchen decor
Red color should be chosen very carefully, because people perceive it in different ways. So, check your family members' preferences about your future kitchen design. Some of us draw energy and even inspiration from red; the others associate this color with fear or aggression.
Fact is that all shades of red able to stimulate the appetite. If you often keep diets choose other colors for your kitchen design.
Our red kitchen design ideas give you many opportunities: it can create any mood and style. Let's discuss two most common versions of red kitchen decor.
First is red finishing. Use various shades of color for floor, wall or skirting in your kitchen design.
If you decided to get red walls, we should advice you to make just one red wall and use calmer color for other ones.
Red furniture looks really great! Use red furniture facades: glossy, matte, carved or combined.
Red kitchen decor: Styles
Too vivid and eye-catching red is not suitable for any style, but looks unbelievable in few options.
Modern styles (high-tech or minimalism) would place the red color in the center of your interior design. It`s often used for facades of the headset or in kitchen design components not to overload the room by bright color.
Artsy classic (Baroque or Rococo) looks great in dark cherry or burgundy shades. One of the most beautiful red kitchen is combining dark red shades with gold and exquisite stucco on the facades.
Art Deco and the Empire are also good for the red kitchen interior because this shade conveys a wealth of luxury and refinement of these styles.
Kitchen design ideas: Red color combinations in kitchen design
Red and white color combination is considered a classic. Joyous crimson color should become soft and restrained on a snow-white background.
Traditional kitchen design ideas are based on using white walls and skirting combined with red furniture.
Tip! Replace the official white by soft beige or sand colors and get a quiet home environment. Red-gray interior is considered to be stylish and comfortable. Scarlet, cherry or raspberry – any shade of red is easy to create a harmonious duet with steel sides of modern technology, the gray counter top or slate-colored wallpaper.
Contemporary kitchen design ideas are easiest to realize using stylish red and black color combination. Game of shades and tones of red and black as the eternal classic, creates the effect of refinement and certain pretentiousness.
Combine it with steel appliances, white walls, black-and-white checkerboard floor, pearl textiles or tableware.
If you need to feel strength, power and calmness from closeness with nature simultaneously combine red color with wooden textures. For example, you can get wooden and red furniture. All the shades of wood in your red kitchen – from dark wenge to light birch can be combined with an appropriate tone of red to get ideal interior.
We hope, our article «Kitchen design ideas: red kitchen » will bring new bright ideas and, of course, your especial kitchen design!