Christmas holidays already approaching. Traditional Christmas decorations look cozy, but can be boring if you are supporter of modern design. Especially for you we have collected unusual Christmas decoration ideas 2017. We gave up patterns in favor of fresh and topical ideas. We present you our touch on modern Christmas decoration ideas



Black and white Christmas ornaments
Black and white decor is a classic combination of colors and will be in trend almost forever. Why not change the familiar combination of colors for xmas decorations? This ornaments will magnificently accentuate Santa's red costume.
You will also like:

Striped Christmas tree will be good enhancement for black and white Christmas ornaments.

Christmas decoration made from birds and feathers
Christmas decoration from feathers is clean and fluffy like first snow. Supplement a bright accent to the Christmas decoration by adding bizarre birds, owls and ornaments made from feathers or wreaths.
Complete your Christmas decoration with birdies. Peacocks look especially festive.

White Christmas tree from feathers with small lights looks very original.

Glass balls with feathers on the branches are good alternative to classic toys.

White owls are adding quirkiness to xmas decorations.

Ornaments from porcelain feathers look natural and modern.

Christmas decoration made from succulents
Next Christmas decoration unpretentious and fashionable trend are succulents. Christmas garlands and succulent wreaths are especially popular. I doesn't matter how you would use them, succulents for a long time will decorate your home.

Succulents in the terrarium decorated with red ribbon, look especially stylish.

Christmas trees from succulents are trendy and fashionable in Christmas decoration.

Modern Christmas wreaths
Wreaths from branches with cones are a classic Christmas decorations. Front door, window, fireplace, and composition of candles could be ornamented with Christmas wreaths.


Modern polygonal Christmas wreath looks playfully.

Place the candle in the middle of succulent wreath on your desk.

Xmas decorations from spruce branches
Fresh and modern look is given to decor by spruce branches. Emphasis is better to make on the spruce branches themselves, without impacting them with ornaments. Blue spruce has the most beautiful look.
Christmas lights
Christmas lights were always loved ornament for Christmas tree. But modern luminous Christmas garlands can illuminate the room and the objects in other ways. Arrange the light show, the greater Christmas garlands, and the more effect.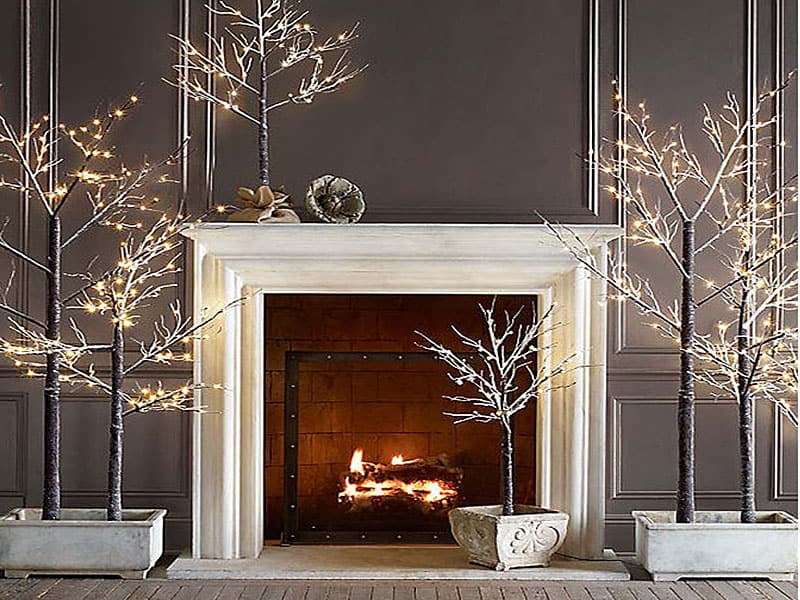 Christmas table decorations
Correct Christmas table decorations are providing a festive mood. Here are couple of Christmas decoration ideas 2017 for Christmas table that will delight your guests. Select colors, borrow a few ornaments from Christmas tree and go ahead and create modern and festive serving.


We hope that our Christmas decoration ideas will inspire you for creating a festive decor.