Interior design trends 2022 are no exception in the sense of wide variety compared with previous years. This year decor ideas mostly refer to personality, functionality and most importantly, the use of recycled and sustainable materials.
The latter tends to provide your home environment with natural harmony combined with a touch of luxury.
Some innovative elements, like biologic plastics represent a fresh inspiration for interior design.
This does not mean that traditional organic materials have lost their rate.

Natural wood, glass and stone are still popular as durable interior design materials.
Home is where we should relax and recharge our energy.
So, in order to find the most preferable options for your home design, firstly consider your taste and mood.
Unfolding the most recent interior design trends 2022 will make your interior feel more harmonic, cozy and voguish.
https://www.youtube.com/watch?v=vVSvbqpNxgc
Here, you will find lots of interior design ideas and trends for the most stylish decoration.
Decor trends 2022: Personality
Recently, one of the most distinctive trends in decoration has become focusing on the personality. In this sense, personal style is of great importance in the creation of our home design.
This factor suggests sticking more to our own imagination and expression rather than trying to find what experts offer as latest interior design trends 2022.
This is a great opportunity to encourage creativity through a thorough research for possibilities.

Don't miss our articles on:
The information available on the internet lets us find new solutions and inspiring ideas pretty easily.
This is excellent for defining our personal style, and following our preferences, not just following the tendencies.

Minimalist Interior Design Ideas 2022
The concept of a modern and stylish-looking home is trying to stay simple with possibly fewer design elements. In order to create a voguish decor, avoid using lots of furniture, and try to remove what is extra, organizing everything according to your priorities.
Minimalism is not only stylish, but also gives a lot of advantages.
As you will notice when experiencing it, clean space tends to reinforce our happiness and lift the mood.
One more advantage is the great importance of space especially for small rooms.

The combination of this style with calm gamut of colors gives the room a touch of quietness and peace.
And eventually, nowadays the luxury is not about the quantity, but the quality in simplification.
Actual Materials and Finishes for Interior Design Trends 2022
The materials and finishes are essential factors in the complete interior design.
The choice of proper materials and finishes can help to turn an ordinary-looking room into a unique and modern one.
A contemporary set of design materials and finishes complement to any dynamic and stylish interior design. Here, we will discuss some up-to-minute design materials to make your rooms look authentic.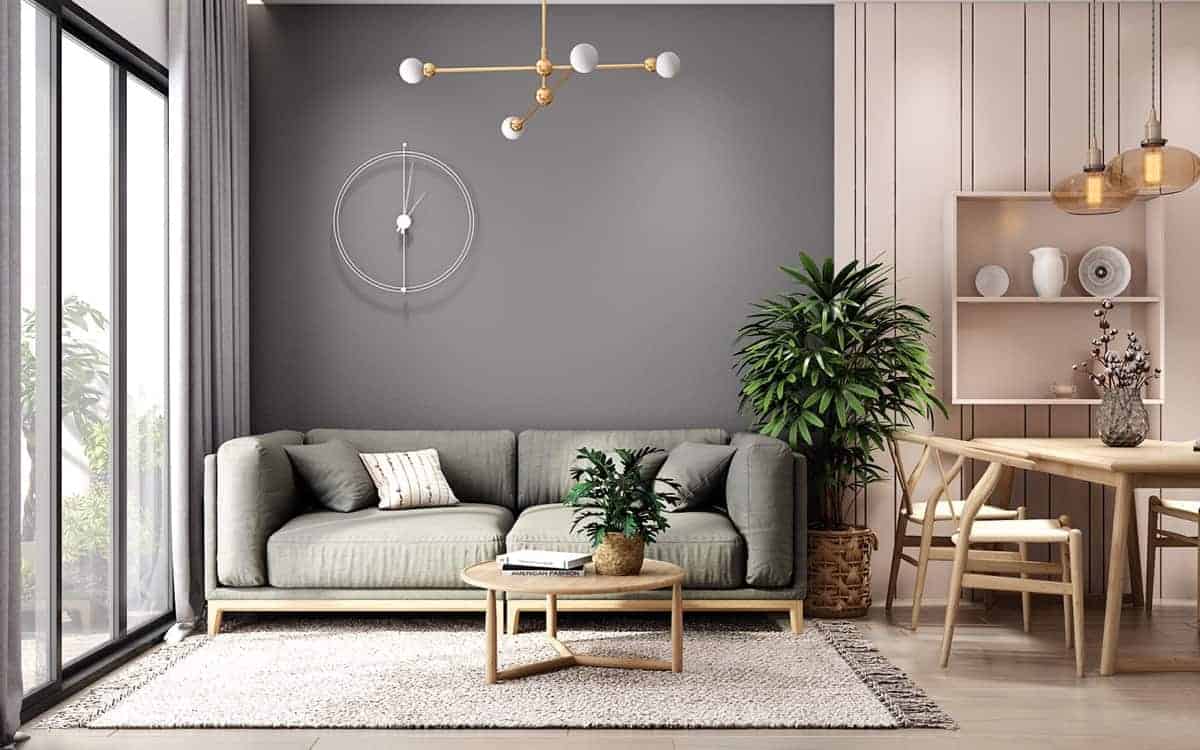 Decorative Glass
Nowadays, decorative glass plays an important role in interior design. Both colored and textured glass can be customized according to the way it is used. In fact, the choice of this material is very effective.
Decorative glass as a material for kitchen cabinets, floors and stairs is absolutely trendy.

Glass windows and doors are also becoming to be used more in the construction industry. Furthermore, decorative glass makes the space look more vivid and lifelike.
Marble
Marble is a rather trendy material that gives a touch of elegance and stylishness to any interior design.
The elements with this in interior design are not something new, particularly for kitchen and bathroom design.
As rather a luxurious material, marble inspires designers to use it in casual and effortless designs. At the same time, it is an outstanding appeal for any designer in case of rooms, like the living room.
The essential challenge here is the right use of its technical and decorative features.

Ceramics
Ceramics can be applicable for nearly any room due to their versatility compared with other materials. It is highly trendy to decorate the home with a wide range of ceramic patterns.

You can incorporate ceramic materials into your home decor in various ways.
The available variety of vibrant and darker shades helps to balance out the overall appearance of your room.
Ceramic elements, being rather inexpensive, perfectly provide your room with elegant and all-round style. You can make the elements even more attention-catching.

Use them in the forms of pottery, ceramic plates as wall decor or vases with exquisite plants.
Metal
As a perfect interior decoration element, metal is both a practical and uniquely stylish approach.
In the past, it was more common to use this material mainly in bathroom and kitchen design.
Currently, the use of it has expanded a lot.
Composition metal, copper and bronze are widely notorious as designer techniques.
Some examples include metal lamps combined with marble and glass or tables with concrete.

Black metal is becoming remarkably stylish. It is both strict and elegant, which allows integrating it into any interior to give the room a statuary illustration.
Natural materials as Interior Trends 2022
A new approach to interior design trends 2022 includes the binding of nature with our daily lives. There are a number of transparent ways to incorporate the elements of nature into our lives, and houses.
It can be through plants and beach sand, wood, stone, seashells, or straw.
This concept can develop into even more refined design with the combination of organic materials with various other textures.
You can also use natural materials for furniture, decor accessories, and floor coverings.

Multi-Functionality in Furniture Trends 2022
The latest trends for contemporary furniture models are multi-functionality, flexibility and the use of innovative materials.
All of these elements tend to accomplish dynamic lifestyle.
Multi-functional furniture can be adaptable for many situations.
By the help of its modular elements it will allow to rearrange any home decor. Innovative furniture solutions are both ingenious in their functionality and are very stylish.

Some possible uses of multi-functional furniture can include a folded chair-bed, transforming tables, or wall bed kits. You can explore and find many more futuristic ideas, for instance, fresh solutions for dividing a room or installing a bar.
Color Design Trends 2022
Colors add liveliness and temper to any interior design.
The right choice of color combination with touchable sensations can help to create unique atmosphere and feeling of space.
The natural color variations have a strong influence on the actual interior design trends.

Deeper variations bring warmth and characterization to any decor. Here are some interesting color options to try in home interior design this year.
Black & White
The huge contrast of black and white is always up to date. This combination is timeless with a touch of color on some decor elements.
The decoration with this two contrasting hues is primarily minimal and simple, with bright look. It can be applied in a bedroom with a good closet, soft carpet and proper natural light to achieve a warm and cozy design.

Gray
Darker shades have always been trendy in interior design, and 2022 is not an exception. Gray is a very classy and familiar color for nearly any room design.
Gray can be both as an accent and a main color in a room, aesthetically balancing the design.
It pairs perfectly with its deeper and lighter shades, adding perceptible delight and depth to the room.

Champagne
Champagne is one of the trendiest color options for 2022. This hue tends to make the room feel warmer adding a touch of exquisiteness to the interiors. This shade will help you to create a tranquilizing environment.
Champagne is great to combine with daring textures and metallic accessories for making the room look more compelling. It will also look outstanding playing around with gold and silver.
Innovative tendencies in interior design trends 2022
There are some thrilling perspectives for interior trends 2022 that are worth considering.
They include innovative industrial experiments and creation of new unusual materials by recycling and modern technologies.
A harmonic approach between nature and technologies will ensure inspiring approach in interior decor.

Recycling technique tends to reduce the usage of plastic, especially considering the great amount of plastic in oceans and other water bodies around the world. Transforming polluting rubbish into functional and fashionable furniture unit is an Eco-trend with lots of beauteous examples.
Vintage Furniture trends 2022
Opting for vintage suggests not only recycling but also having furniture that is long-lasting, More importantly this does not cause any pressure to the landfills.
Vintage pieces really look great and are an effortless way to merge sustainable products with your home interior.
There is an increasing popularity towards traditional elements in interiors.
This trend suggests classy shapes, lovely print designs, and paintings in corresponding designer frames.

The wallpaper, straps, and trappings are used to create sumptuous and splendid rooms.
In general, vintage furniture pieces can cost you very cheap or extremely expensive.
It depends on what exactly you are looking for. In any case you can be sure that it is worth the value it provides.