Japanese style living room ideas do not lose their popularity. According to the latest trends, the living room is not entirely in the traditional Japanese style but gives the main features of such an interior.
A Japanese living room design is perfect for any modern apartment.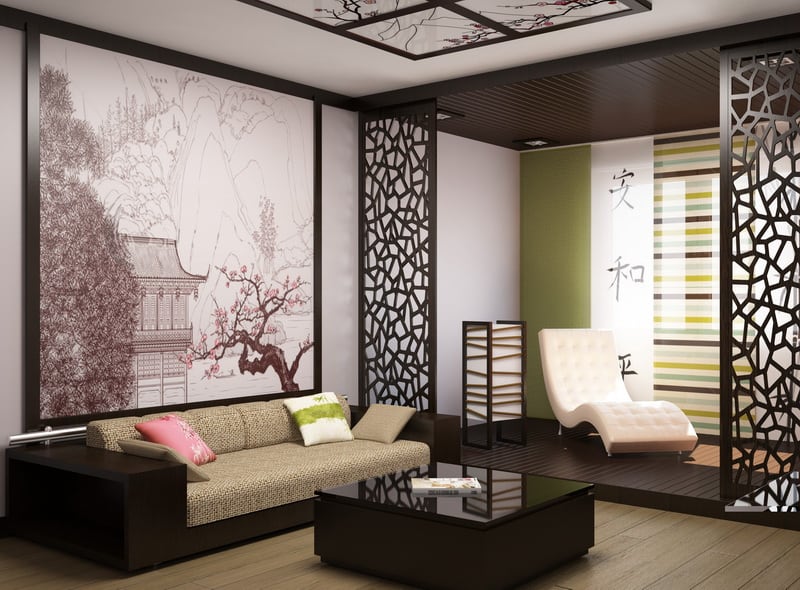 Japanese Style Living Room Ideas: Introduction
The main feature of such an interior is minimalism. Thus, you should have a compact and organized space, containing only the most necessary.
Meanwhile, the room is usually not messy, as the Japanese believe that energy should move freely through rooms.
Therefore, everything and any piece of furniture should be as functional as possible.
We associate Japanese culture with deep harmony and serene contemplation. Therefore, many people seek to embody oriental motives in the interior of their apartments in order to escape from the modern bustle and tension.
A Japanese style living room can become not only a space to relax after a working day but also a sophisticated highlight of the design of the whole house.
What kind of furniture, decoration, space organization to use? Here, in this article, we will talk about it.

What Is Japanese Interior Design Called?
The interior design reflects both the philosophy and the way of life of the Japanese.
Despite the export of luxury goods from China, they remained true to the minimalist tradition: everything superfluous destroys natural beauty. In addition, everyday life left an imprint on the formation of the style.
Frequent earthquakes and the small size of the area for living contributed to leaving only the most necessary things in the house.
Practicality, pacified brevity and functionality have become the main requirements for interior design. They remain unchanged to this day. Leading experts have adopted the same features in the field of home decoration and successfully embody them in different parts of the world.

How Can I Decorate My Room in Japanese Style?
The popularity of the Japanese style in European countries is not at all accidental. It embodies the best features of minimalism. In other words, it adds to this direction a sense of closeness to nature and a peaceful mood.
Japanese philosophy claims that beauty can be in emptiness, and free space has a beneficial effect on the mental and physical state.
The main features of interior design are:
Natural materials;
Strict and laconic forms;
Compact furniture;
Soft light;
An abundance of free space;
Discreet colors;
Smooth surfaces.
Other features include the functionality of the furniture and the active use of the zoning principle. You can divide a room into parts for different activities using traditional Japanese screens or different colors of the wall and floor decoration.

Color Palette in Japanese Inspired Living Room
The color palette of the Japanese style living room combines two seemingly opposite things – restraint of tones and deep contrast. The color palette of the Japanese-style interior has been greatly influenced by the people's desire to live in harmony with nature.
As a background color (for walls, floor, and ceiling), moderate pastel shades are suitable: beige, brown, gray, white. For a more varied interior, you can choose a different color for one of the walls than for the others.
Other elements of the room – headset items, accessories – can be in deeper colors – black, red, green, and burgundy. After all, it is the unity of opposites that reflects the essence of Japanese philosophy.
Advice! When choosing colors for a Japanese style living room, you should refrain from flashy tones that attract attention. Remember that an atmosphere of serenity and tranquility should prevail in the apartment.

Japanese Style Living Room Ideas: Materials
Naturalness has become one of the distinguishing features of the Japanese interior. It is designed to distance the owners of the apartment as much as possible from urban urbanism and bring them closer to nature. Therefore, metal and plastic should be completely excluded from the interior. They look heavy and inappropriate. In addition, the best choices for a Japanese living room design would be:
Natural fabrics (cotton, linen);
Wood for cladding, furniture;
Bamboo as a decoration;
Rice paper;
Clay products;
Willow twigs for wicker furniture;
Glass surfaces.
A careful selection of textures will help create an original and stylish design. If you do not have the opportunity to purchase expensive natural materials, find more affordable alternatives from their substitutes.

Finishing: How Can I Make My Home More Japanese?
As already mentioned, in the Japanese living room, the decoration is made only from natural materials. In other words, everything is as natural and unprocessed as possible.
Properly selected wall, floor, and ceiling finishes help create a special atmosphere in the room and emphasize the chosen direction in the interior.

Japanese Living Room Design: Walls
For the decoration of living room wall surfaces in the Japanese style, discreet matte shades and a small amount of paint are ideal. Hieroglyphs or other Japanese characters will fit perfectly into the interior.
It is also possible to use stucco ceramics and treated plaster. In rare cases, you can use wall murals with a thematic print. If the dimensions allow, the walls of the living room can have a wood paneling finish. For instance, traditional Japanese niches – Tokonoma – will look original.

Floor
Japanese life is spent almost entirely on the floor, so the decoration should be approached with special attention. The best option would be a light-colored wood design.
Nowadays, this type of decoration is relevant for private houses, and in the apartments, it is replaced with linoleum, parquet board, or laminate.
Choose from porcelain stoneware floors, including wood-like textures or stone. Tatami mats near the work or dining area will be a great addition.

Ceiling
The simplest design option for the ceiling surface is painting or whitewashing. But, if you want to bring your design closer to Japanese originality, and the ceiling height allows, you can build a more complex structure. For this, the entire ceiling area is divided into squares, and wooden beams are attached.
The interior can be painted or decorated with a matte, fabric stretch fabric, and the beams must be left in their natural form.
Traditionally, light wood is proper for ceiling decoration. However, in the modern European interpretation, the use of tension structures is allowed.

Furniture for Japanese Inspired Living Room
Since the Japanese style living room ideas are based on the direction of minimalism, furniture is practically excluded from it. For instance, a bulky set is capable of breaking the subtle harmony.
So, down-to-earth and floor furniture elements will be the ideal solution. In traditional Japanese interiors, a mattress appears instead of a bed, and a usual sofa.
But in modern styling it is recommended to use:
Low sofas without legs, armrests;
Table with pillows spread out around;
Open shelves, glass surfaces;
Furniture hidden in walls or disguised.
Furniture usually has a simple shape and smooth surfaces.
Also, a fresh solution for any living room will be an original Japanese headset. Time spent looking for matching ethnic accessories are not in vain. You get an unforgettable atmosphere of comfort and enthusiastic responses from guests.

Japanese Style Living Room Ideas: Lighting and Decor
In the Japanese interior, diffused lighting looks harmonious. The interior lighting of the ceiling in this case will be a very profitable solution. In addition to it, you can install central pendant chandeliers.
Lamps with shades of wicker bamboo, rice paper, straw look beautiful. The Japanese prefer regular geometric shapes. So, lighting fixtures are in clear square, rectangular, or spherical outlines.

Although the Japanese style rejects lush decor, it is nevertheless necessary for the room to take on a themed design, not seem boring and deserted.
To do this, use such details as wall scrolls with wise quotes, wallpaper with images on Japanese themes, prints.
Above all, ceramic and porcelain figurines, vases, installed in narrow niches, will become ideal decorations.