Trending light fixtures 2022 are one of the most essential aspects for home decor design. You can greatly influence your home environment by the help of the lighting and fixtures' positioning. Interior lighting can have some modifications according to particular rooms.
Each room requires differing reflection of the functions and space feeling.
Lighting design is an ever-changing technological solution with various shapes, sizes, metals and finishes.

Year by year, you have more and more design options available for onward fixtures and bulbs.
Nowadays, you can find a large variety of lighting styles, such as Art Deco, vintage lighting, mid-century and many more.
Whereas, new light fixtures for 2022 do not suppose root changes in light fixture design, here are a number of inspirational trends to consider for your home decoration in 2022.
Interior Lighting Trends 2022 in Vintage
For modern home retreat promoting a simple lifestyle, the best solution is turning to vintage lighting and furniture. Although lighting renewal is not a radial interference, in fact it is a very effective design  promising a prominent lift in home atmosphere.
Vintage style bulbs provide 2022 retro lighting trend with the nostalgic design fixtures.
Moreover, these cone-shaped bulbs will make your home a perfect place to live in if you are a lover of vintage style. As a result, you can utilize them in the living room or in the kitchen.
Vintage bulbs can also be found in modern LED lighting, thus allowing you to use them for a longer period of time and economize power and money.

Chandeliers as Trending Light Fixtures 2022
Living room lighting fixtures are being updated for every year, but the timeless beauty of chandelier style remains the most attic of all ceiling light trends 2022. In general, they are fixed in the center of the ceiling as the main source of enlightenment and art work for the room.
The flexible shapes of chandeliers accomplish the living space, and the candle-bulbs provide a versatile lighting that moderates shades and emphasizes the high points of the room.
Don't miss our articles on:
Interior designers suggest using chandeliers that will look impressive and on balance with the complete home interior style.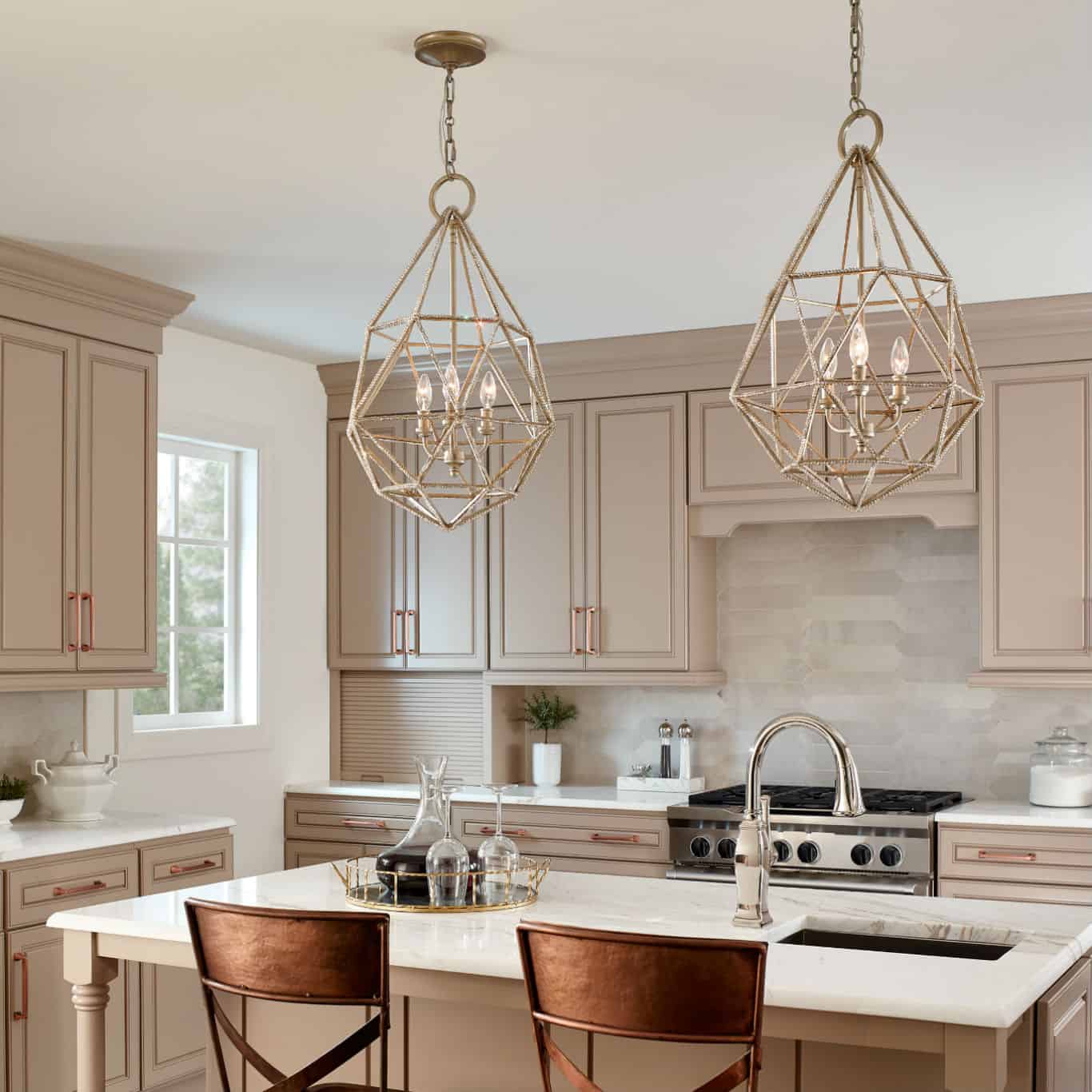 Geometric Lighting Trends for 2022
There are more and more designers opting for sculptural light fixtures as conspicuous central room spots.
The common liking for sculptural light fixtures outgrows, having a major focus on geometric fixtures.
You can try the innovative designs with floor lamps in geometric shades, mix and match for a brightly colored geometric table lamp with illustrative shades.
As an alteration, you can go for reiteration of toppings with straight lines that makes the space look higher and roomier.

Retro lighting trends 2022 for Living Room
The retro trend can be as simple as placing some natural materials-based lampshades in your living space.
For more contemporary style, you can go for a plain, levelheaded fabric or bamboo hanging lamp in metal or crystal material.

Retro lighting is about straightforward finishes, neutral hues and an accentuation on metal. In contrast to the traditional style, you can go for smoother metals, that are more affluent, diverse shades and alternating outlines.
There are many retro fixtures having more refined details that look like an art form.
In particular, you can use actual retro lighting to go for an out-and-outer turn. They are right-down for kitchen, dining room or for wall lighting.

Kitchen Lighting Trends 2022
Of course, each room lighting fixtures have their special characteristics, but the kitchen has always been of the essential importance in connection with efficient lighting.
The lighting features in the kitchen don't need to be limited with just one-end illumination.
You can create a high-tech reflective task lighting for the counter working area, which will be highly appreciated by women and pendant lights for the eating table area in the kitchen.
Pendant lights, accessible in varied textures, sizes and values, can express the nature of your home.
They will add accent lighting to your kitchen, as they provide relaxing atmosphere which will help you to calm down and also admire your guests.
Bathroom Lighting Trends 2022
Trending light fixtures 2022 for bathroom design tend to be in minimal elements, simple but slender. Similarly, minimal trends provide an ideal chance to accent the ceiling, floor, mirror or even bath lights.
In addition, this trend can go perfectly with any kind of bathroom. Light strings placement on the ceiling or even floor will make your bathroom look actual and modernistic.
Exquisite pipe lights can be an excellent practical and up to date bathroom lighting option for the mirror either on the left and right sides or the top and bottom. The lighting of the mirror from behind will add a high-end and splendid glossy effect.
New Light Fixtures for 2022 with Natural Elements
Involving natural elements in your home decor allows you and your home to closely connect with nature.
So, if you enjoy having nature incorporation with your home environment, you can take the privilege of using home lighting materials of natural origin.
Natural material for interior lighting trends 2022 can include straw, wood, cane or corks.
These materials will certainly help you feel relaxed at home effortlessly. Woven lamps will be an inventive way to lighten a girlie bedroom.

2022 Lighting Trends for Dining Room
Dining room is the main area of the home, used for various forms of activities, like eating, hosting guests, or anything else you prefer to do there.
It should have proper lighting as an essential area in any home, whether you place a simple or multi-purpose lighting fixture. Here are some variants for dining area lighting for your consideration.
Minimal
Minimal decor is a real challenger, since the fresh touch of minimal lighting fixtures feels grand and airy. So, the use of an unvarying design will emphasize your subtle taste.
Minimal is about freshness, efficient styling and everlasting allurement. This style inspiration is a fine idea for dining room lighting but can also go perfectly with nearly each room of your home.
Sculptural
Art mustn't be limited only with paintings. Lighting can be an important decorative art integral for home. One of the most exciting lighting fixture ideas for dining room is the sculptural lighting design that is sure to create an expression with a sense of voguish twist.
A vivid change in your dining room can include sculptural lighting fixtures which will revive the atmosphere in some sense.
This unmatched and outlandish design will be eye-catching and highly impressive for your guests.

Drums
Pendant lighting is especially notable in the forms of drum lights. Firstly, these round-shaped pendant lights are associated with drums for their scale and size. At the same time, pendant drum lights are audacious  lighting ideas for dining room, if you would like to make an astonishing impression on your guests during formal dinners.
Drum lights should be placed in the middle of the dining room for the right regulation of the light in the whole room.
You can opt for two, three big or four and more small drums easily playing with scales and the placement order even by combining different sizes.
Ceiling light trends 2022
Fan light
Fan lights are amusing forms among ceiling-attached lighting fixtures. The contemporary fan lights come in a lot of varieties. They can include multiple lamps on three or more fan arms, or spotlights like track lighting. In particular, special bulbs must be used for them that are persistent to the fan vibration.
This practical and casual lighting approach can be found in plenty of styles with clever designs. Besides, for softer and more intimate lighting, a selection of dimly fan lighting fixtures will help to create a mood.
Ring Light
One of the most magnificent ceiling light fixtures 2022 are ring light fixtures which represent a superb way of adding graceful touch to your living room or dining room.
The symmetric design of circular ring light fixtures can be easily accompanied by any design style.
Furthermore, they also show off perpetual design elements ensuring to remain in style for a long period of time.

Track Lighting Trends for 2022
Comprehensive track lighting has a wide range of efficiency. It can serve as a down light, spotlight or an accent light. Track lighting system can serve as an entire enlightenment with proper lighting features.
Track lighting is also very flexible, as it gives an opportunity to modify the emplacement and direction of the separate fixtures to fit the room adjustment.
Matte Black Light Fixtures 2022
Black is one of the trendiest lighting fixtures for 2022. Currently, it is an up-to-date neutral for interior design after years of ignorance. It's fashion-forward, engaging and cutting-edge – a notable alternative to traditional metallic.
The most consumable and dramatic designs are with matte black finishes.
Matte finish is a modern appeal, and it is highly trendy nowadays. By using the contemporary style of lightening with matte black in combination with tradition will definitely help you to make a statement.
High-Tech Interior Lighting Trends 2022
The use of smart home devices has greatly increased recently.
So, lighting fixtures are not an exception. The uses of LED smart light bulbs is getting more and more popular. Lighting trends are also altering with the development of technologies.

Nowadays, you have the opportunity to use any LED color you want.
The options are not limited. By the help of special apps, you can even make spectacles inside your house.