Baroque decor emphasizes modern living room owners' wealth and good taste, reminding old royal house interior. Fantastic gilded finishing combined with exquisite furniture makes refined interior.

Baroque interior is recognized by massive shapes and excesses, so realize it for spacious rooms only. Let's discuss it in our «Living room design ideas: Baroque living room» article.

Baroque decor: Features and colors
Baroque living room is recognized by several features.
Refined wooden furniture
Heavy-weight textiles
Massive curtains
Antiquarian items
Crystal lusters
Uniform soft light distribution
Walls' and ceiling's exquisite finishing.
You're welcomed to use all saturated shades for the living room, including the most popular Baroque decor colors, such as raspberry, emerald green, white, sapphire, dark red, gold ivory.
You will also like:




Baroque living room: Finishing
Baroque living room finishing should be qualitative with diverse decor. Use following materials.
Textile and marble
Leather and natural wood
Stone and glass
Bronze and plaster.
Use lacquered parquet boards or natural stone for floor. Cover it with exclusive ornamented carpet, preferably hand-made, to make your modern living room unique and "old-styled".


Walls shouldn't be covered by ordinary wallpapers! Baroque living room composition would be complicated, made of drywall. You're welcomed to use exquisite massive mirrors, preferably in gold or bronze tones frames. Stucco work, mural and columns would make interior look festively, so your modern living room gets spirit of Baroque period.
Ceiling should be white or painted. Use painting, arches, bass-relief, bay window. Natural lacquered wood would be the best material for door and window frames. Inlays and carving are necessary for Baroque decor.

Living room design ideas: Baroque furniture
Add furniture reminding the palace room with it's' style. Furniture should be decorated with carving, gilt, forge. You're welcomed to add leather couch with the same style armchairs and massive round table in the center. Surround it with chairs upholstered with velvet. Decorate armchairs and coach armrests with gilt or ivory incrustation.

You should use commode, console and low journal table if it's necessary. Baroque living room furniture placement needs some symmetry and leaving free space in room's center and corners.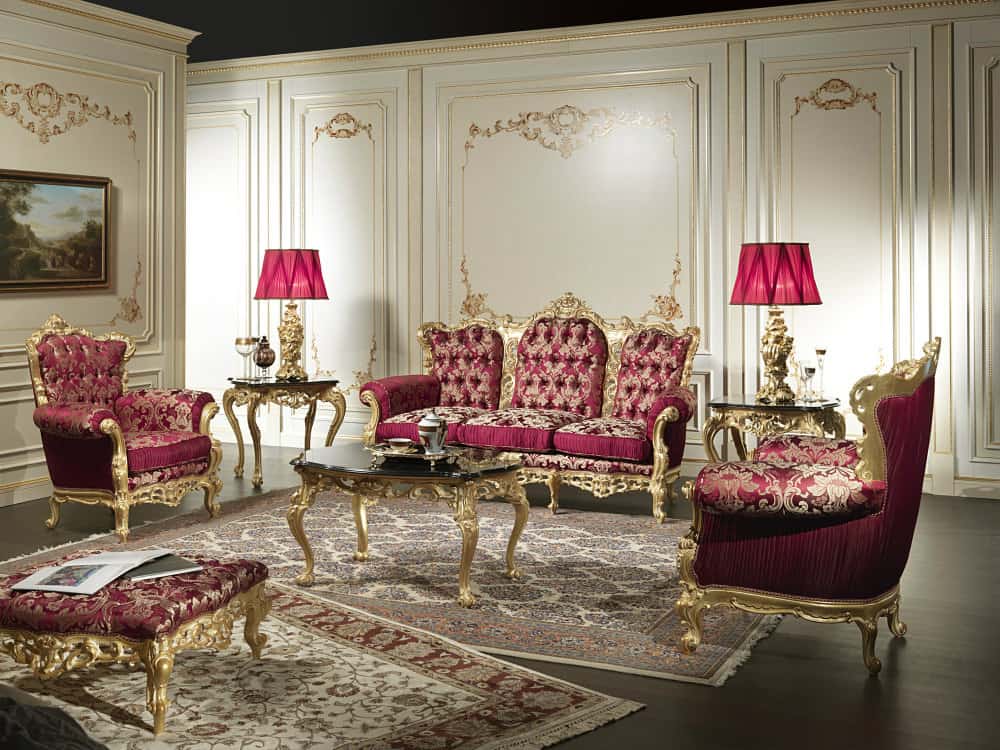 More living room design ideas and tips: Baroque decor items
Art is in the air! Use beautiful Baroque sculptures, vases and paintings.
Gold-embroidered pillows and tablecloths make modern living room interior festive and filled with light.
Show your interior magnificence with massive rich decorated mirrors, lights and theatrical velvet curtains.



We hope, our «Living room design ideas: Baroque living room» article would help you to create your own small kingdom of luxury and endless feast!