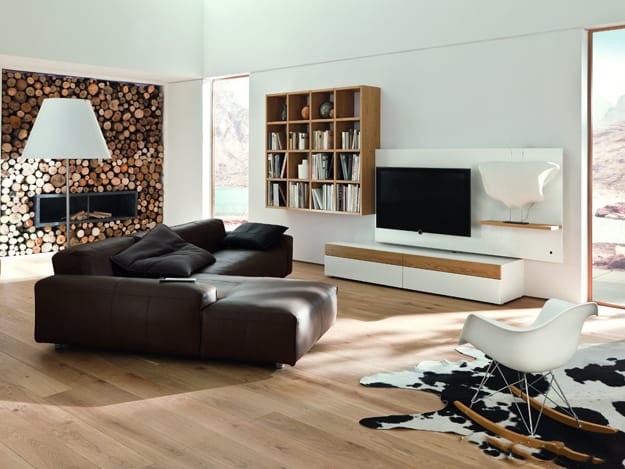 Last century end people became tired from industrial atmosphere and understood importance of clear environment. Urban residents' nostalgia for nature and happiness from fresh air and bright sun brought to Eco style creating.
Ecologically clear natural materials belong to interior trends 2017. Moreover, designers predict Eco style should become XXI century most popular interior design trend. Let's start our art journey to nature in «Living room design ideas: Eco style» article.

Interior trends 2017: Modern living room in nature colors
Eco style interior should become nature oasis in concrete environments. You should just imagine your favorite landscapes to find best living room decor color scheme. Just remember some rules and tips.
Eco style interior colors wouldn't be too bright and garish. General living room decor should make calming effect.
Latest eco living room design ideas bring back to light colors, especially white.
You're welcomed to find relaxing landscapes images and take its' basic colors to your interior.
Take a look at our articles about:
For example, you would use:
sky blue + sandy + white (sea landscape colors);
light green + ivory + light wood (bamboo grove);
Dark brown + green + white (spring wood).



Living room decor: Eco style finishing
Eco style creating most important step is finishing! Everything in living room decor should be pleasant to touch, beautifully textured.
Eco style interior materials:
wood;
stone;
glass;
tile;
paper;
natural fabrics, such as linen.

Real Eco style floor causes desire to walk barefoot. Use wooden materials for living room floor, such as parquet or boards. Water-filled transparent floor would make unique living room decor and feeling of walking right on water surface!
Ceiling should be simple, light colored, without gloss, sometimes decorated by wooden beams.

Use any natural material for eco-friendly modern living room walls: wood, decorative stone, bamboo panels or even seashells. Photo wallpapers depicting landscapes and ordinary papery wallpapers with floral ornaments fit too.

Use such interior trends 2017, as 3D panels or relief textures reminding something natural, such as water surface rippling, morning dew, sand or grass texture in living room decor.
Be careful with wooden materials! Don't use it too much!

Modern living room: Eco style furniture
Interior trends 2017 dictate using furniture from ecologically clear natural materials anywhere it's possible. Eco furniture would be completely safe for your health. Prefer minimalistic comfortable wooden furniture with rounded or «high-tech» shapes. Soft natural textiles would fit Eco living room best.

Don't use carvings! It would transform your living room interior to Country style!
Use a small amount of plaited furniture. Small stump-chairs would make living room decor unique and vivid.

Living room design ideas: Eco style living room decor
Eco style living room design ideas were brought right from the heart of nature! Look at wonderful tips below!
Don't only simulate nature, bring it with you! Use flora and fauna in living room decor. Add built-in or ordinary aquarium, home plants, green «road» on table center or even vertical mini-garden decorating wall!
You're welcomed to use crazy and unbelievably beautiful Eco style idea! Moss wall decor looks wonderful both as green panels and letterings creating way.
Soft green grass simulating rugs are what you need for modern living room perfect cozyness!
Romantics, who dream about rest with long conversations and guitar sounds near the campfire, should bring its magic beauty in living room interior with bio-fireplace.
Hopefully, our «Living room design ideas: Eco style» article will induce you to create your own green paradise in grey concrete jungle.