Contemporary Indian interior design considers being interesting phenomenon. It's modern and traditional national decor combination. We'll accent attention on ethnic interior design ideas, as they're most exotic and trendy. Indian home decor came popular thanks to its unusual atmosphere, providing real relax – for body and soul. Comfortable furniture pleasing to eye is only beginning! Indian philosophy reflects in interior, making it unearthly harmonic.
We've already wrote about Indian kitchen. Here we prepared common recommendations ones, who needs orient in style or whole Indian home decor. Read our «Indian interior design: Tips and photos of Indian home decor» article.
Colors and finishing: Indian interior design
Color scheme plays very important role in Indian interior design. Bright, juicy and tart colors predominate: green, purple, sunny yellow, burgundy, blue and even exquisite gold. Everything should shine. So, bright colored Indian home decor elements used often.
Walls usually painted in softest colors, though, exceptions are allowed. Use richly patterned wallpapers simulating expensive and luxurious fabrics, if you like accented walls. Here interior design ideas should include ethnic features. Make wooden walls finishing with typical carvings for that aim.

Indian home decor often catches eye with bright ceiling. Stretch ceiling, maybe, with photo prints, will bring contemporary breath into Indian interior design. Multi-leveled ceilings provide some lofty atmosphere.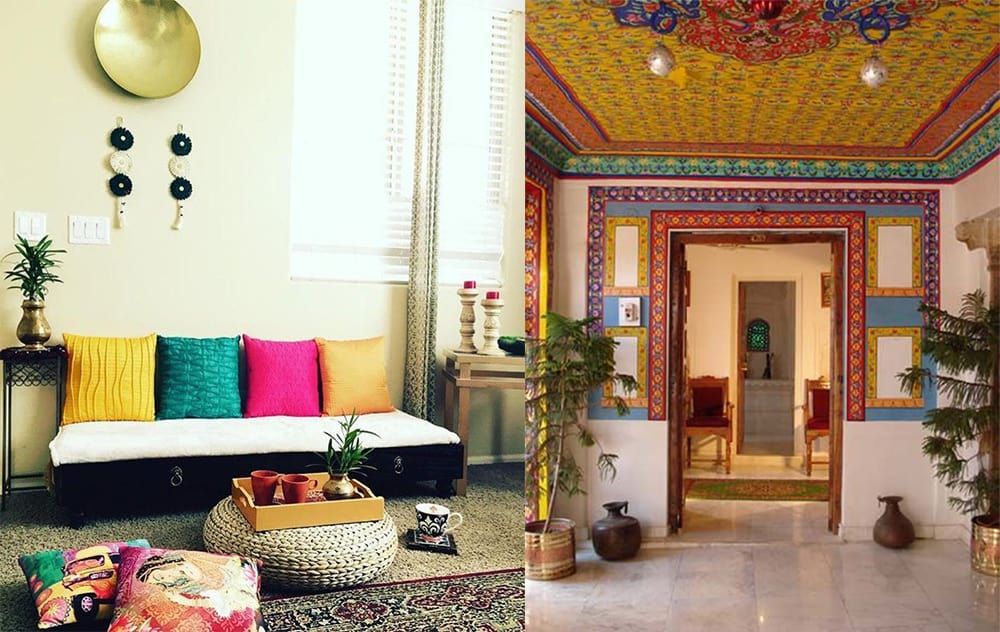 Any flooring looks good, but best options are wooden and stone ones.
Indian home decor: Furniture and accessories
Indian interior design includes handmade furniture from natural wood. At first glance it should seem little rough. But then you can notice it's decorated with incredible beauty carving or inlaid with mother of pearl. Include bright mosaics into your interior design ideas and furniture decor also.
Richly decorated folding screens are very popular dividers for Indian home decor. Such zoning makes great impression! Light play continues in big mirrors with massive gilded or wooden carved frames. Fond of hand-made? Include your works into interior design ideas. Crafts from beads, wood or batik suit best. Elephant, as symbol, appears as statue or elegant tabletop support.
Hopefully, our «Indian interior design: Tips and photos of Indian home decor» article made you create vivid exotic design for your home!