Living rooms, made in Japanese interior design, always looks very restrained and noble. Such interior design combines both aesthetics and high practicality, and also feeling of closeness to nature. Today we will discuss « Japanese interior design; Japanese living room».
Typical features of Japanese house
Japanese decor is characterized by such features as simplicity, conciseness, clear lines and plenty of space. While making Japanese living room natural materials as bamboo, rattan, wood or stone should be preferred, because they have natural texture.
For wall finishing we recommend using wood panels, rice paper, straw or natural cork, because these materials not only seems aesthetically pleasant, but also can hide roughness of surfaces. As Japanese house ceiling cover can act combined structure consisting of plasterboard and the stretched canvas. For decoration of Japanese house floor perfect mat bamboo board or laminate where can be laid the tatami.
Japanese living room colors
Calm and neutral color scheme prevail in Japanese room decor, which dispose philosophical thinking. In such interior design will be well looked white, cream and beige colors and natural shades of light wood, rice paper, brown and green bamboo, Sakura and lotus. Adding bright and contrasting notes into Japanese interior design is possible by means of dark walnut, ash-tree or cherry tree parts. But keep in mind, that minimalist design allows the use of only three basic color shades, so in Japanese decor restrained color scheme is preferred.
 Japanese interior design; Japanese furniture
When choosing items of furniture for Japanese living room, it's necessary to bear in mind that pieces should have as minimum height as possible. Typically, such items are painted in black color and have smooth varnished surfaces. Another distinctive feature of Japanese room decor is absence of any decor. Wardrobes made of natural wood, sliding structures made under Japanese screens can be placed in Japanese house and small shelves can be set on walls. Create an exotic atmosphere in east country room is possible by use of decorative niches "tokonoma", decorated with exquisite ikebana.
"Fusuma" walls, pasted over with rice paper on both sides are used for space zoning in Japanese room decor. These structures are usually decorated with beautiful images of flowering plants, trees and birds.
The basic philosophy of Japanese interior design is plenty of space, filled with free space and light, therefore in such living rooms setting of dining tables, chairs and sofas is not accepted. However, traditional chairs quite possible to replace with small straw puffs, and instead of bed install on the podium convenient structure and place pillows there.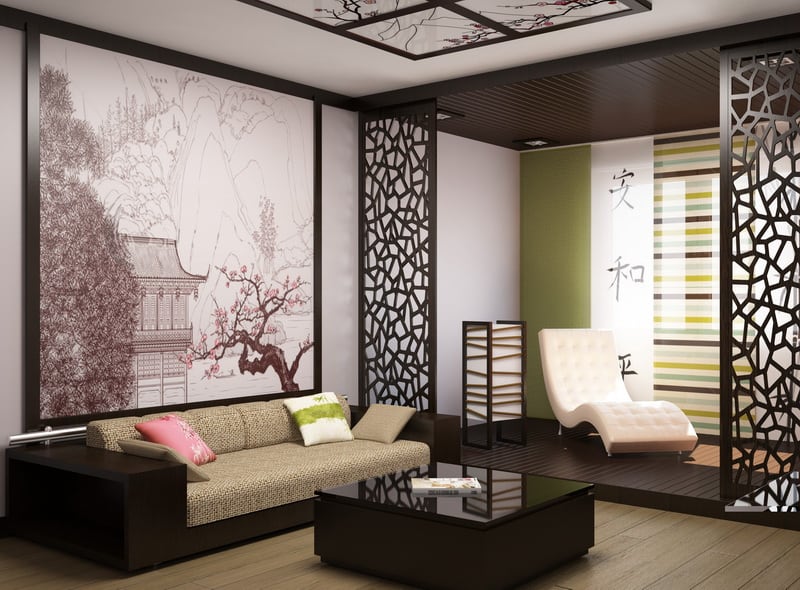 Japanese decor
Living rooms made in Japanese decor, characterized by austerity and minimal amount of decor. In Japanese room decor cannot be found family photos in beautiful frames, various souvenirs or textile products with hand embroidery. Space in Japanese living room could be enlivened by using miniature figurines, vases, ceramic dishes having a simple form, and beautiful compositions created from pebble stones.
Instead of conventional curtains and blinds, in Japanese decor are used shutters made of bamboo and straw or roller blinds decorated with Japanese paintings. As the lighting in Japanese living room can act lamps with lampshades made of silk or rice paper. Hieroglyphics, applied on walls and variety of decorative elements will accentuate style's ethnic orientation and will add national flavor into interior design.
Hopefully « Japanese interior design; Japanese living room» article will help to decorate your living room.
(Visited 785 times, 1 visits today)