Shabby chic interior design increasingly appear everywhere: at rooms, whole houses, beautiful shops and even offices. Such interior decorating ideas surely attract creative people and aesthetes. Shabby chic means old style, refined antique items combination with aging features. So, it gives you opportunity to give second life to aged furniture from swap meet or ones from attic. We'll give you some tips for DIY interior design also to help it.
Shabby chic interior design duality allow it's using for everyone: women, men and children. Despite fact that it's more often chosen by women, shabbiness, antiquities collecting passion realization opportunity attracts men also. You'll need just competent colors choice, depending on room's host. In addition, Shabby chic interior design can include another, especially historical, styles' features also.
So, read our «Interior decorating ideas: Shabby chic interior design» with whole family.
Shabby chic interior design: Main principles
Shabby chic interior design traditional color scheme bases on pastel colors. They're often associated with sweets: white, creamy, marshmallow pink, mint, light blue.
Brighter colors: strawberry, grass green, vanilla-yellow, as in baking, more often appear as inclusions. Thought, keep in mind important detail: Shabby chic assumes "dust of time" effect. So, even bright colors should look as if powdered, muted.
Men will like interiors in the white-and-gray range more. Add more abrasions with identification of wooden surfaces. Some eclectic solutions with industrial or rustic elements presence are welcomed. Such interior decorating ideas should add brutality notes without losing Shabby chic aesthetic charm.
If room was designed for gentle lady or little princess use traditional tender rose or any flower, birds motifs.
Kids would like elegant decor with typical childhood themes: rabbits, cats, angels like from Victorian postcards.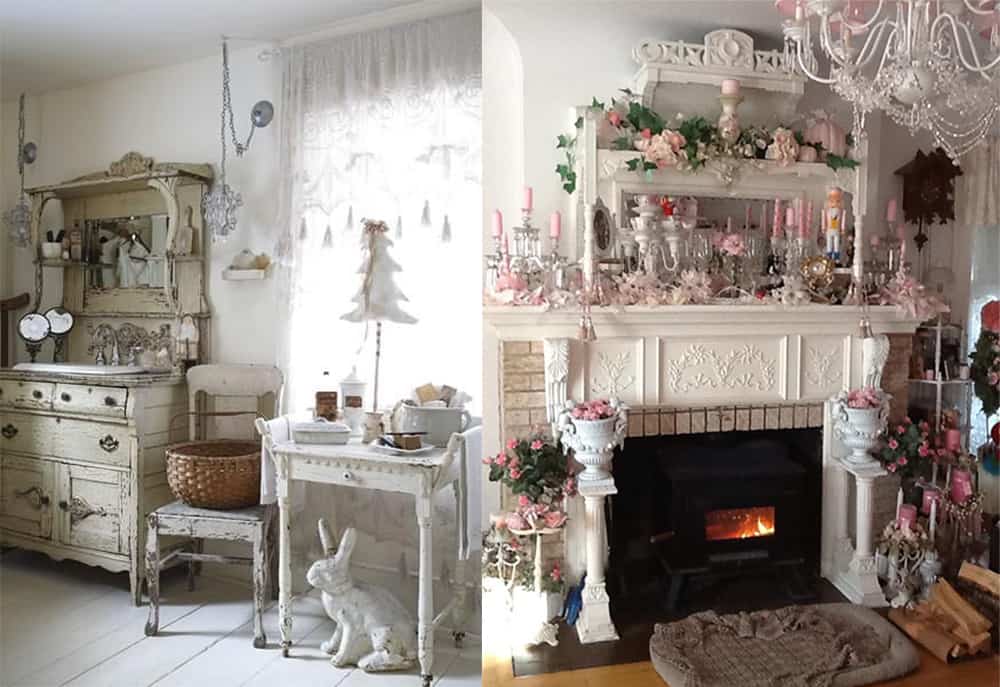 Music sheets, Baroque, Steampunk or Gothic patterns often loved by everyone! Love handmade? Make DIY interior design, as you like!
Walls are often fair colored, one-toned. Though you can use tender patterned wallpapers also.
Flooring with abrasions should add even more beautiful antiquity spirit. Though, it's not required – every simple option is good.
Shabby chic interior design require many unique attributes and elements. Best way to create unique items is using your imagination. Read about DIY interior design below!
DIY interior design: Shabby chic magic
Shabby chic interior design real charm concentrated in individual decor. Follow our instructions and create admiring DIY interior design!
Apply undercoat before any painting kind!
Easiest aging effect creating way: type an insufficient paint amount on roller, so that it remains semi-dry and stain item.
Need shabby surfaces to have interesting color? Choose two contrast toned paints: tone for abrasions and main color. Apply abrasion color paint, let it dry fully. Rub corners, protrusions, threads or other surface areas with wax candle and thus create invisible film. Cover with main color paint. After it has dried, carefully remove second paint layer from waxed areas with sandpaper. Apply transparent lacquer.
Think of your interior decorating ideas and then find corresponding cards for decoupage. Cards should be very thin. You may use napkins' layer with images. If you've preferred wallpapers or books' pages, pre-soak them in water for 30-40 seconds. Apply PVA glue first to item's surface, and then on drawing's backside. Neatly straighten by roller or sponge.
Hopefully, our «Interior decorating ideas: Shabby chic interior design» inspired you for great home makeover! Create and share your incredible works in comments on our Facebook page and follow: https://www.facebook.com/houseinterior.net/