Wallpaper trends 2018 directed not only on beauty, but on functionality also. Newest technologies allow facilitate cleaning, space modeling, optical illusions creating. Modern interior design works on surfaces defects correction also, and right chosen wallpapers play important role in it. So, we'll talk not only about color schemes here.
Contemporary wall design ideas should be really interesting and useful theme to discuss. Read our «Wall design ideas and tendencies: Wallpaper trends 2018» article.
Wallpaper trends 2018: Aesthetics
Wallpaper trends 2018 pleasing with their diversity. Practicality stays important, but aesthetic side still plays main role in wallpapers choice. And it's natural, cos wallpapers give mood for modern interior design.
Modern digital prints possibilities give new life for simple flat wallpapers. They'll imitate 3D, differently texturized surfaces. So, wallpapers change only should fully transform your space. For example, these are wallpapers, simulating brickwork, cracks, bamboo, wood or even library.
Try some «volumetric» ones, with naturally looking light glares. Other option: matt and glossy surfaces alternation, creating 3D or embossement effect. Think of such wall design ideas – how they will look with different lighting?
Geometric patterned wallpapers
It's beautiful echo from past century in modern interior design. Strictly geometric wallpapers fit Retro, Midcentury and Eclectic styles. You're welcomed to try some joyful wall design ideas also: uneven polka dot or children drawing style patterns.
Wallpaper trends 2018 sometimes lead to Wonderland! How would your wall look, if magical forest stood right opposite it? Those prints give such impressive feeling!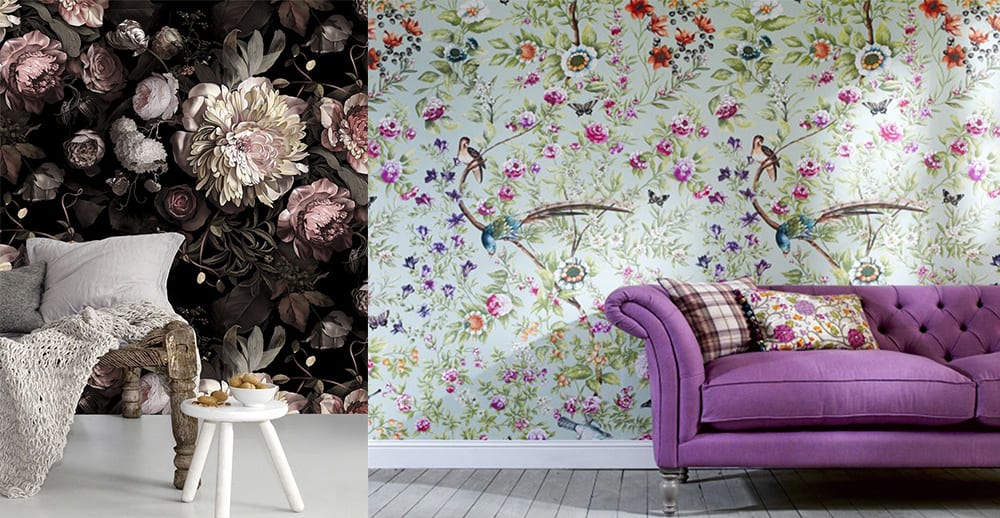 It's best alternative for painting.
Wall design ideas: Materials, colors
Wallpaper trends 2018 take care about your time also.
Vinyl wallpapers are very durable and easy to clean.
Non-woven wallpapers – it's very durable option also. Glue should be added on walls. It makes wallpapers' glueing easier. Non-woven wallpapers can be painted.
Textile wallpapers look beautiful, but cleaned harder.
Liquid wallpapers gain popularity in modern interior design. They solve seams problems fully!
And some more tips for wall design ideas.
Have deffective walls? Choose dense wallpapers, non-woven mask best.
Haven't too concave surfaces been fully aligned after priming? Highlight them to make look little convex! Find appropriate wallpaper or work with metal spray paint on non-woven ones.
Vertical stripes make walls «higher».
Contrary to prejudice about beige's practicality, warm tones make space look smaller.
Wall trends 2018 include decorating elements, as florariums. Think of about wallpapers ensemble with them. One-toned fit rich decor best.
Avoid too light pastel tones abundance in countries with frequent cloudy weather! Such wallpapers would look attractive at shop, but become greyish with natural light in your home. Artifical light often turn them yellow.
Hopefully, our «Wall design ideas and tendencies: Wallpaper trends 2018» article inspired you to find best wallpapers for your home!
(Visited 109 times, 4 visits today)