Each person who prefers to work at home needs a home office. Regardless of the fact it's a private house or apartment, if desired, you can always select a place within it. Home office decor has a great importance for creating the appropriate atmosphere. Therefore, each element is important in home office decor – from the furniture to the smallest detail, such as office accessories. In our review of home office ideas 2017 we will try to help equipping your home office with the greatest comfort, and in the photos you will see good examples of home office arrangement.
Choosing a home office design
The design of such a place, as home office, can tell a lot about owner. Kind of activities and income level certainly affects home office design and in addition, it's also the interpretation of the owners mind. The main thing is that the atmosphere of your home office should be comfortable and set up a working mood.
Zones are allocated through the light by installing modular partitions, a combination of floor coverings and ceiling types. All these are possible to realize in a private home or in a large apartment, and besides there are several solutions for small area.
Home office colors
Color palette is the key component in the home office design. It is better to do all kinds of work with numbers in room that is decorated in pastel colors with a few bright accents that help to be distracted from time to time. Bright contrasting colors stimulate imagination, so they are relevant in home office for creative people. Comfortable room, designed in a classic palette will be appropriate for meetings with business partners or customers.
Home office ideas in British style
This home office style expresses the owner's status and significant position in the society. The furnishing is aristocratic, reservedly luxurious, emphasizing the impeccable taste of the owner.
Furniture should be natural, minimally processed, preserving the natural texture of the wood; it is monolithic with coarse features, large configuration. It is rubbed with wax or covered with varnish. Cushioned furniture, starting from the wooden armrests and ending with fillers from horse hair, lint or hollofayber, are also completely natural. When choosing the image of upholstery fabrics, preference is given to the classic cage or strip.
Home office classic design
Luxurious furnishings match the classic interior. The style also requires massive furniture from precious, but lighter wood, trimmed with bronze. On the foreground, table is firm, with 2-bollards, reliable, designed for long usage. Sofas and armchairs for home office classic design are sheathed with noble velvet or leather warm pastel shades.
Modern home office style
In standard apartments arrangement of classic office is very problematic. Therefore, functionality and ergonomics are basic here. If it is not a separate room, but only a dedicated area, the style, color of the furniture should be in harmony with the overall house interior design.
Home office design photos
We gathered some home office design photos to find style, which is more appropriate for you.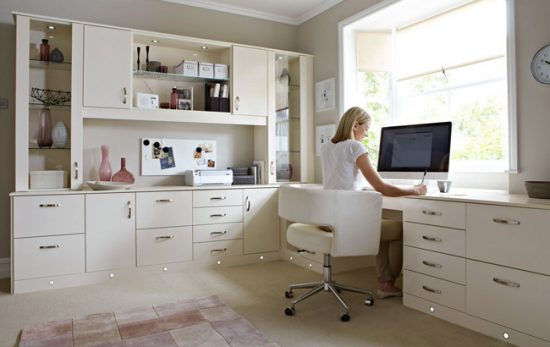 (Visited 664 times, 1 visits today)