All shades of violet created by controversial red and blue tones mixing. Psychologically, purple color is comfortable for creative, lateral thinking and imaginative people. Purple shades stay in interior trends 2017 and gives wide range of bedroom ideas for different personalities. No wonder, your teens would choose such unordinarily color for their room.

We prepared both boys and girls room tips and ideas in our « Home decor trends 2017: Purple teen room» article.
Teen room decor: Purple dreams shades
We use general world «purple» in our text, but, of course, you and your child can use any shade you like.
Take a look at our articles about:
Let's list most used violet and purple shades.
Violet Red (the warmest shade).
Plum (juicy dark deep purple).
Indigo (violet blue shade).
Aubergine.
Fuchsia (or Magenta in web-colors).
Lavender.
Lilac.
You would use few purple shades for teen room decor; mix it in ombre techniques of painting or lighting if you like it.

Bedroom ideas with purple should be very interesting because of it's influence specificities. Dark purple shades are sleep-inducting, so use it as basic interior color, if room should be only for sleeping. If room is intended for studying also, use deep purples only for teen room decor elements. Very dark plum and aubergine shades look awesomely modern and stylish in boys' rooms, light shades, such as lavender, lilac, pastel violets and purples create light romantic and dreamy atmosphere.

Bedroom ideas: Purple combinations for teen room decor
Discussing color combinations with your teen is required! Purple is simultaneously cool and warm, basing on red and blue, so this wonderful fire and ice embodiment would be completely transformed by surrounding colors and even change the whole interior style!
Darker purple shades reflect light better and have more color combinations options.

General bedroom ideas for teen room should be bolder and brighter; don't be afraid from unusual experiments.
Let's list some colors fitting with purple.
White.
Silver and grey (one of interior trends 2017).
Beige or Ivory.
Black.
Pink (for girls room only!).
Green
Coral, Orange or Red (use for preferably boys teen room decor elements).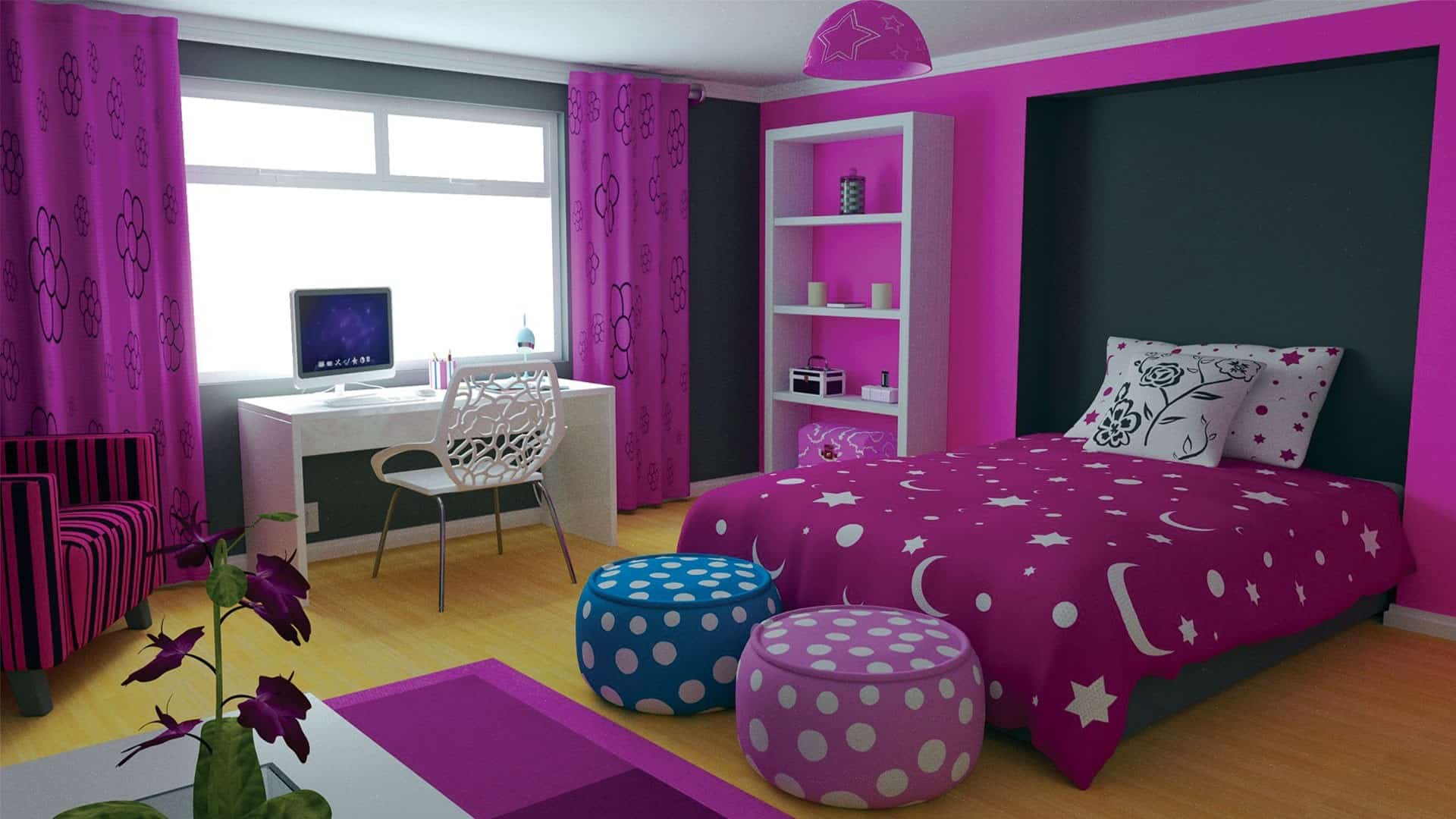 Interior trends 2017: Purple teen room finishing
First let's discuss purple teen room finishing options.
Combine them with light colored laminate and ceiling. If your teenager doesn't love creepy interiors, choose light colored furniture also not to overload it. This option lets include such interior trends 2017, such grey laminate and transforming light tone surfaces with lighting.

Light lilac or lavender walls.
Preferable option for romantic girls room – combination with white or any light colored furniture. Dark purple furniture looks more modern and vivid.

Combining light and dark shades in whole finishing.
Such option should be used for zoning or creating one of stylish home decor trends 2017, called ombre.
Use it in any light basic color interior. Add Purple curtains, textiles, wall clocks, toys or rugs.
Purple teen room: Bedroom ideas wide range
Teen room decor should be thematic and reflect your children interests.
Who said purple colors fit to girls room only? Look at these creative boys rooms!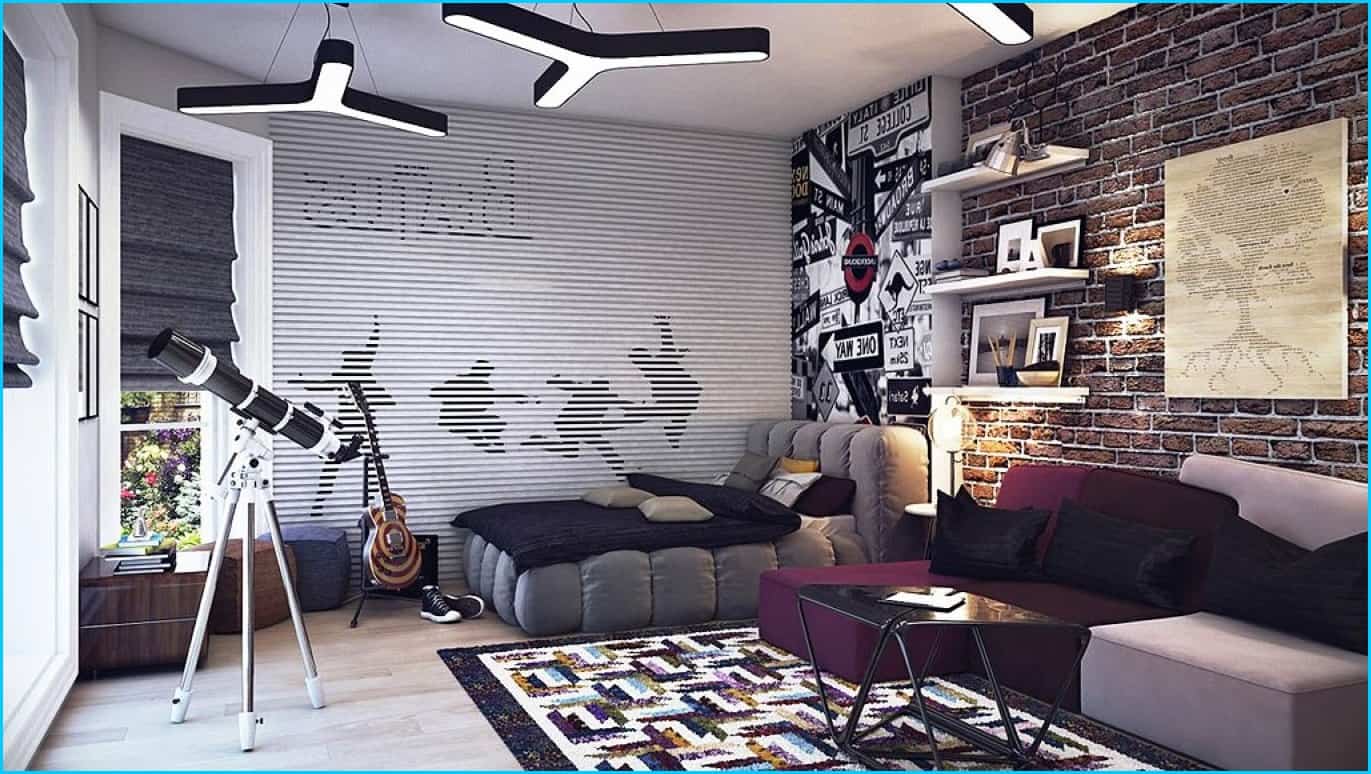 Both teen boys and girls would adore their own purple spaceship, if they're fond of science fiction!

It's seems so hard to find good bedroom ideas for teens, who love unusual art, dark scene or creepy movies, like Tim Burton ones. Don't stop your children creative minds; give them green (or purple) light!
Glamorous light lavender room, especially with high-tech LED lights should become great gift for modern princess!
Color lighting is included in interior trends 2017. Lilac lighting should give fairy tale look to any light colored room. Darker purple light creates mystic mood. For example, you can make such magic and simple teen room decor for your young fairy!

Hopefully, our « Home decor trends 2017: Purple teen room» article inspired you and your teens to have much fun, creating cozy, functional and eye-catching room together! Wait for new interesting stuff from us!