Are you searching something for unique teens? Does your child have a lot of interests, like fantasy literature, art, geography, futuristic and industrial style, hand-made or history? We invite you to read our inspiring "Room decor for teens: Steampunk bedroom" article together!

Steampunk interior design
Incredible Steampunk interior design uses unbelievable combinations of historical Victorian style and industrial hardcore, Gothic and futuristic images. Despite this, Steampunk is a very romantic style, creating fantasy and adventure books atmosphere.
You will also like:
If you need teen bedroom ideas for all-rounder and imaginative personality, Steampunk would be the best choice.

This unique style originated in 80-s of the past century, a time of science fiction growth.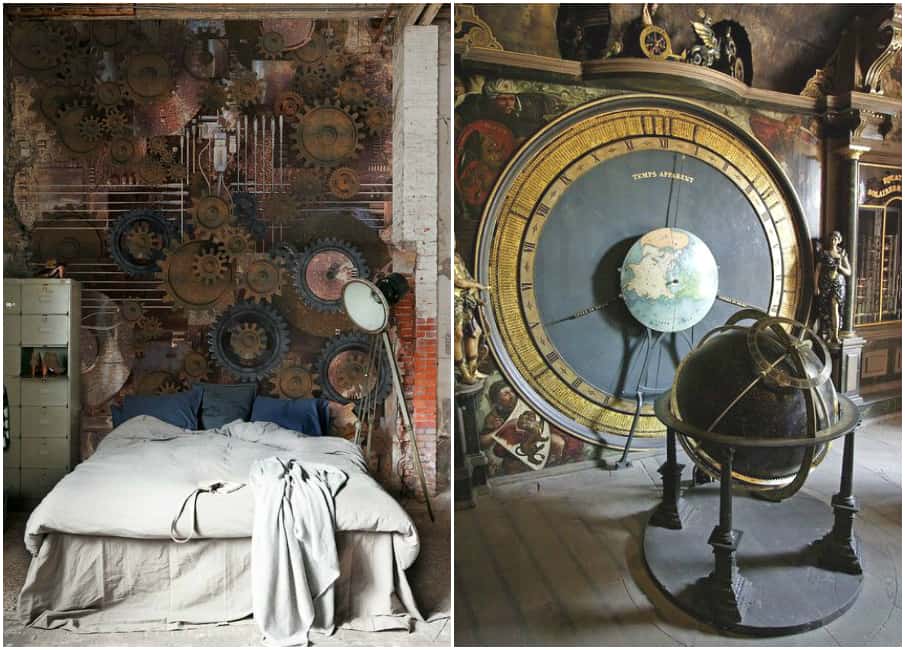 Steampunk interior design concept is based on using steam engines and their parts, such as gears, pistons, levers.

Teen bedroom ideas: Steampunk decor
Rules for Steampunk bedroom:
Victorian style antiques and decorative element's presence.
Availability of vintage furniture and natural materials for finishing.
Using of hand-made items in room decor.
A character feature of Steampunk interior is flaunting communications and pipelines. Heating batteries embellished with decorative pipes can become an unusual and attractive accent.

Steampunk styles' great benefit is your children's thirst for knowledge stimulation. Teen bedroom often has a study zone also. Listen attentively what your teen is fond of and add it in interior together!

We have few great teen bedroom ideas for you:
Does your teen love geography, history or, maybe, adventure stories about treasure islands? You need maps and globes in your Steampunk interior design!
Terrariums or plants in industrial style pots will make the room cozy and closer to nature.
If you or your children love making flying machines, ships or some engines models Steampunk bedroom will become your personal museum!
Good news for girls who are into handiwork! Your handmade needle laces, artificial flowers, beaded sculptures and other artworks would organically supplement Steampunk interior design and make it more romantic.
Room decor for teens gives space for imagination. Flying machines and engines theme would be used for anything from pictures on the walls to furniture shapes.




Colors and materials in Steampunk interior design
This trend favors use of wood, brick and stone, glass and metal. You may use laminate and acrylic paints to simulate wood and metal textures. Prefer noble shades of brown with beige and light grey for Steampunk bedroom. You're welcomed to use bright fantasy colors also, such as emerald green, burgundy, wine, rich blue. Don't forget about bronze and brass shades.

Teen bedroom ideas for Steampunk style are simple and unbelievable. Avoid fangled furniture; old-style items would look much better. Use warm light. Vintage themed, sometimes hand-made, lampshades in room decor for teens are very impressive.
Use paints or artificially aged plaster which shows fragments of brick walls for finishing.


Blackout curtains from natural fabrics are preferable for Steampunk bedroom windows. If your teenager loves unusual design, make bed headboard surreal simulating the connection of various mechanical details and pipes.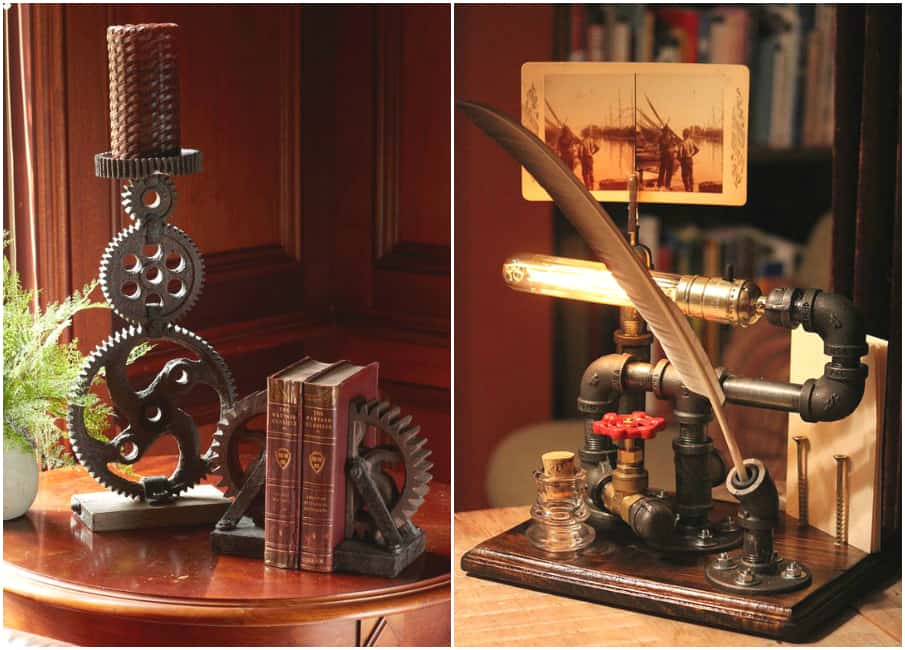 Steampunk interior design creates effect of time machine as if you are immersed in new, alternative world. Hopefully our «Room decor for teens: Steampunk bedroom» article will help you to make your teenager happy with the best place for dreaming and creating.