After publishing an article about teen boys bedroom ideas, we couldn't ignore and leave without attention, teenage girl bedroom ideas. This is equally important and interesting as boys. And when we started to prepare publication, it was a little puzzled.

It appeared that most of the proposed interiors by designers for young girls look like Barbie houses. And after reading girls feedbacks, we realized that many of them consider such room as "kids room" and quite unsuitable for maturing teen girls. Although, we must give credit to, after all, there are those who like "glamorous" options. Indeed, if interiors are created, it means that someone need it …
You will also like: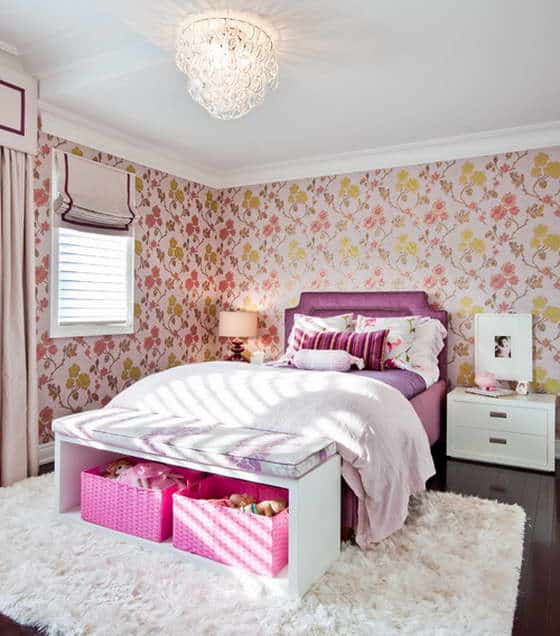 Before you begin renovations of teenage girl bedroom, will be good to consult with the child and take her preferences into account. In our article you will find interesting teenage girl bedroom ideas, that may become an example or inspiration to create your own personal design.
So it happened that by color and style teenage girl bedroom ideas were divided into two "camps":
First part love "girlish" rooms, pink and glamorous;
second part like on the contrary, ascetic, more like "boys'".
These both interiors we have touched in details in articles "Teen boys bedroom ideas" and "Girls room ideas 2017."
Besides pink tones, designers often offer shades of blue, starting from turquoise to pale blue. And indeed these interiors might look bright or gentle enough, depending on the preferences of young hostess.
Radically minded teenage girls will like look of graphically black and white interiors.
Energetic, modern girls will like orange accents in teen girl room decor. The main task when remodeling teenage girls bedrooms is highlighting each zone and creating an atmosphere for each activity, and it shouldn't spoil overall styling of room. In order to delimitate teen girl room decor, will be best to use different shades of wallpaper.
Absolute majority, irrespective of color preferences, will enjoy light, almost white design teen girl room decor with some flower and colorful details. Do not forget about the artificial lighting. It must necessarily be over the bed, on desk and mirror. So you will save the child's vision.